Currently viewing the tag: "Business Model Innovation"
Scalability is defined as possible meaningful changes in magnitude or capacity.  In business terms, it's the capability of a system to enhance productivity upon resource augmentation.  Scalability provides an organization the capabilities to develop compelling value propositions—that are hard to imitate by the rivals—and achieve profitable growth even in the wake of external threats, cut-throat competition, stringent laws, or financial downturns.
Today's challenging business ecosystems and economic outlook demand from the enterprises to develop novel and Scalable Business Models that are able to leverage positive returns on investments.  To accomplish this, leaders need to identify and eradicate any capacity issues, enhance collaboration with existing partners, build new partnerships, or develop platforms to work with their opponents.
Executives should invest in scaling options only when they are sure to boost returns.  They have to be quick to exit a business when returns on investment to scale backfire.
5 Patterns of Business Model Scalability
Benchmarking a number of successful organizations reveals that their Business Models were flexible enough to sustain internal and external pressures.  Business Model Scalability hinges on aligning the strategic partners and Value Propositions to serve the customers.
To drive Business Model Innovation (BMI), leading organizations consistently display 5 critical patterns of Business Model Scalability:
Operate with multiple distribution channels
Eliminate typical capacity limitations
Outsource capital investments to partners
Allow customers and partners assume multiple roles in the business
Create platform models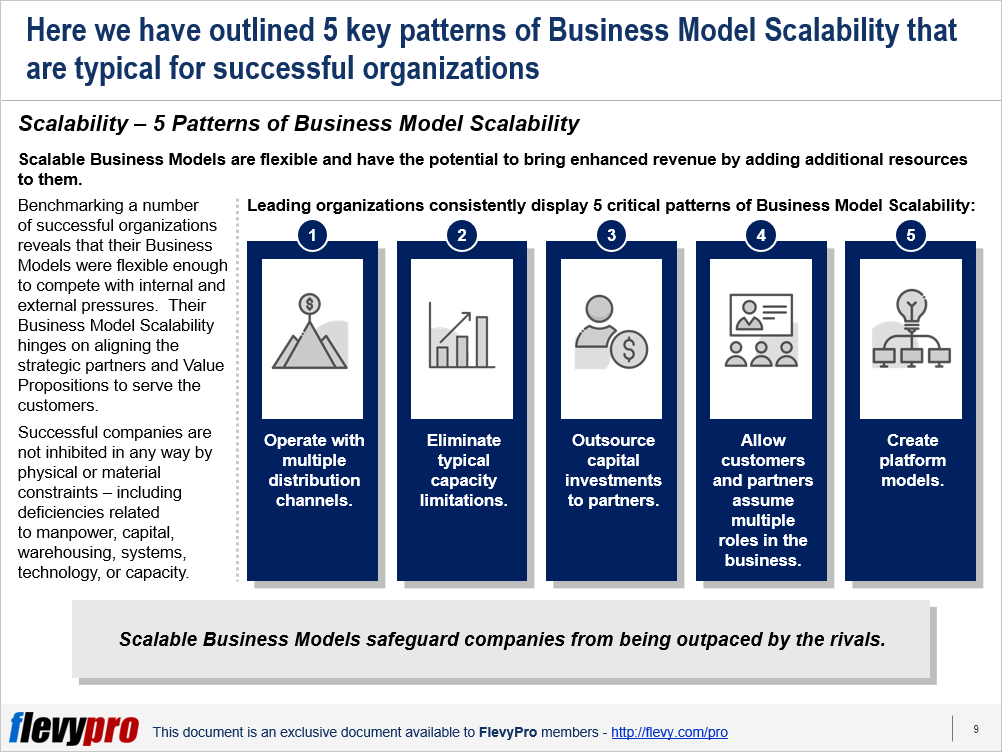 Operate with multiple distribution channels
Successful businesses achieve scalability by selling through multiple distribution channels.  Well-known businesses—e.g., Google and Apple—have extensively studied and implemented adding additional distribution channels.  By avoiding cannibalization of sales through existing channels, this has allowed them to spread overhead costs and profit from increased sales.  Additional channels help businesses expand clientele and uncover new opportunities.
Eliminate typical capacity limitations
Scalability necessitates finding ways to overcome capacity limitations that hamper various industries.  Well-known companies achieve scalability by overpowering any limitations that constrain various businesses.  Successful companies are not inhibited in any way by physical or material constraints—including deficiencies related to manpower, capital, warehousing, systems, technology, or capacity.  For example, managing costs related to creating R&D facilities and innovating new products that often impede the entire pharmaceutical industry.
Outsource capital investments to partners
Top businesses achieve scalability by transferring or sharing cash flow and working capital requirements with the partners.  They optimize their capital and cash flow limitations and prioritize their crucial investments.  They adopt Business Models geared toward creating open platforms that allow them to shift these expenditures to their strategic partners.
Allow customers and partners assume multiple roles in the business
Scalable businesses work in conjunction with their strategic partners and customers.  They offer multiple roles to them and leverage mutual resources for growth of their businesses.  They collaborate with each other through joint ventures or through informal mechanisms—e.g., core platforms—which they utilize to share distribution methods, loyalty programs, and resources.  They have a "laser" focus on the factors that are of value to their customers, and develop (and enrich) their value propositions based on that.
Create platform models
Top businesses build platform-based Business Models that work on the principles of partnership and scalability.  They use their platform-based Business Models to foster relationships with and convert their rivals into partners—by letting them share their platform and generate incremental revenues, for instance, through benchmarking data and "ease of use" sales.  Visa Inc. is an example of how businesses connect with shoppers using Visa's credit card platform.
Scalable Business Models are more likely to generate rapid returns.  However, these Business Models demand utilization and alignment of capabilities that the organization, its strategic partners, and customers possess.  Execution of the patterns of Business Model Scalability involves categorizing key resources and initiatives required to enable synergistic collaboration and superior product / service offerings.
Executives can make use of these 3 potential levers to achieve Business Model Scalability that provide an implementation roadmap for both novel or revamped Business Models:
Determine potential strategic partners
Brainstorm a scalability plan
Select viable and scalable Business Model options
Interested in learning more on the 3 potential levers to scalability?  You can download an editable PowerPoint on Business Model Innovation: Scalable Business Models here on the Flevy documents marketplace.
Are you a Management Consultant?
You can download this and hundreds of other consulting frameworks and consulting training guides from the FlevyPro library.
Supply chain thinking used to be limited to the managers of a few global companies—companies that were struggling to coordinate internal information and
materials. This, however, led to an exciting boom in cross-business coordination based on Supply Chain Management concepts.
Today, the field has broadened and shifted over time. Current supply chain trends—differentiation, outsourcing, compression, and collaboration—are being used to restructure supply networks and improve coordination. As more companies integrate their networks, capabilities are improving. The levels of product customization and business complexity are also increasing. As this continues, Supply Chain Management is being used in new ways to create uniquely defined customer relationships anchored on appropriate Customer-centric Design.
The field of Supply Chain Management will continue to influence companies. The best way to understand the impact of a long-term trend is to examine how the trend has changed the way executives view their businesses and what issues they choose to focus on.
Rationale Behind Supply Chain Management
Supply Chain Management is the design, planning, execution, control, and monitoring of supply chain activities. It is the management of the flow of goods and services. Essentially, Supply Chain Management addresses the fundamental business problems of supplying products to meet demand in a complex and uncertain world.
Conceptually, Supply Chain Management draws on the value chain concept of business strategist, Michael E. Porter. It conveys the idea of looking at the supply chain issue at the multi-company level.
As the global business environment becomes more complex and competitive, there have been shorter product life cycles and greater product variety. Due to this, it has increased supply chain costs and complexity. The birth and growth of outsourcing, globalization, and business fragmentation has resulted in a crucial need for supply chain integration. Coupled with advances in information technology, this has led to the creation of greater opportunity for Supply Chain Management.
Why is Supply Chain Management essential at this time? There is now an increasing need to create net value, build a competitive infrastructure, leverage worldwide logistics, synchronizing supply with demand, and measure performance globally. Only Supply Chain Management has a systematic process to satisfy these increasing demands.
With the increasing application of Supply Chain Management, there have been shifts in the view of management and influencing Strategy Development.
The 6 Core Pillars of Supply Chain Management Thinking
The 6 Core Pillars of Supply Chain Management Thinking are the major shifts that have redefined management's view which is far different from traditional Supply Chain thinking.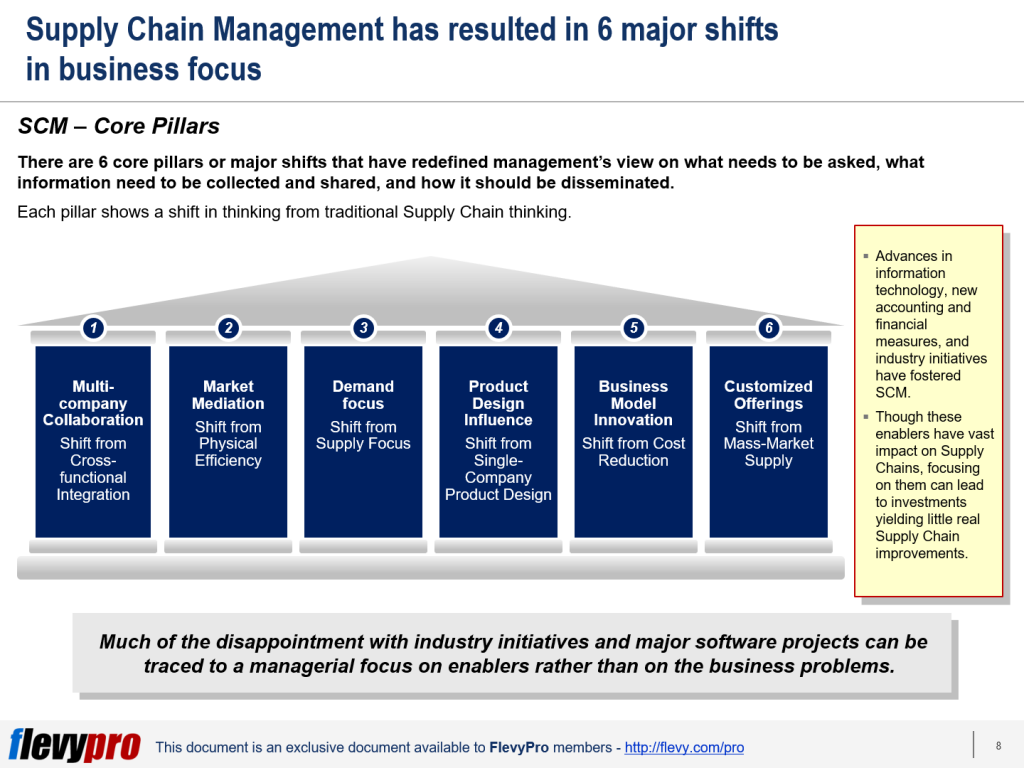 The first Core Pillar is Multi-company Collaboration. This is the shift from cross-functional integration to multi-company collaboration. Traditionally, Supply Chain thinking was focused on integrating within their companies. But with the new Supply Chain Management perspective, the focus now is on integrating across companies to coordinate and improve supply.
With the shift in thinking, what is asked now is how do we coordinate activities across companies, as well as across internal functions, to supply products to the markets. This is a great deviation from the traditional thinking which ask how do we get the various functional areas of the company to work together to supply product to our immediate customers.
With the first Core Pillar, we get to achieve significant breakthroughs. There are lower supply chain-related costs and improved responsiveness within a chain of companies.
The very essence of Multi-company Collaboration is rethinking how organizations align goals and make decisions.
The other Core Pillars are Market Mediation, Demand Focus, Product Design Influence, Business Model Innovation, and Customized Offerings. Each core pillar is considered an enabler that has a vast impact on Supply Chains.
Interested in gaining more understanding of the 6 pillars of Supply Chain Management (SCM) thinking? You can learn more and download an editable PowerPoint about the 6 Pillars of Supply Chain Management (SCM) Thinking here on the Flevy documents marketplace.
Are you a management consultant?
You can download this and hundreds of other consulting frameworks and consulting training guides from the FlevyPro library.
Subscribe to our Newsletter

PowerPointing Templates

Error: Twitter did not respond. Please wait a few minutes and refresh this page.