Currently viewing the tag: "strategic planning"
The amount of time the Board of Directors spend on their work and commit to strategy is rising. Directors say they dedicate more time now to
their Board duties than ever before.  In fact, since 2011, the directors have cut in half the gap between the actual and ideal amount of time they spend on Board work.
In the newest McKinsey Global Survey on Corporate Boards, the results showed that strategy, on average, is the main focus of many Boards.  Yet, directors still want more time for strategy when they consider their relative value to their companies.  This is more than any other area of the Board work.
The Evolving Trends Influencing Board Work
In recent years, the amount of time the Board of Directors spends on Board work has increased.  Compared to 2011, directors now spend five more days per year on Board work. Another trend that is happening is the increase in time. As the number of days has grown, so has the amount of time spent on strategy.
Based on the survey, a total of 772 days was spent on Board work in 2013.  This has increased to 1,074 in 2015. Subsequently, 8.91% was spent on strategy in 2015 compared to 7.85% in 2013. With an increased focus on strategy, directors are dedicating more time on Strategic Planning and to discuss strategic issues.
In the next three years, directors would like to dedicate more time to Strategy Development and on organizational health and talent management. Directors want to increase the time spent on strategy due to its relative value to their companies.
The 3 Types of Boards
Performance of Boards based on overall impact, performance, and operation showed that there are 3 types of Boards.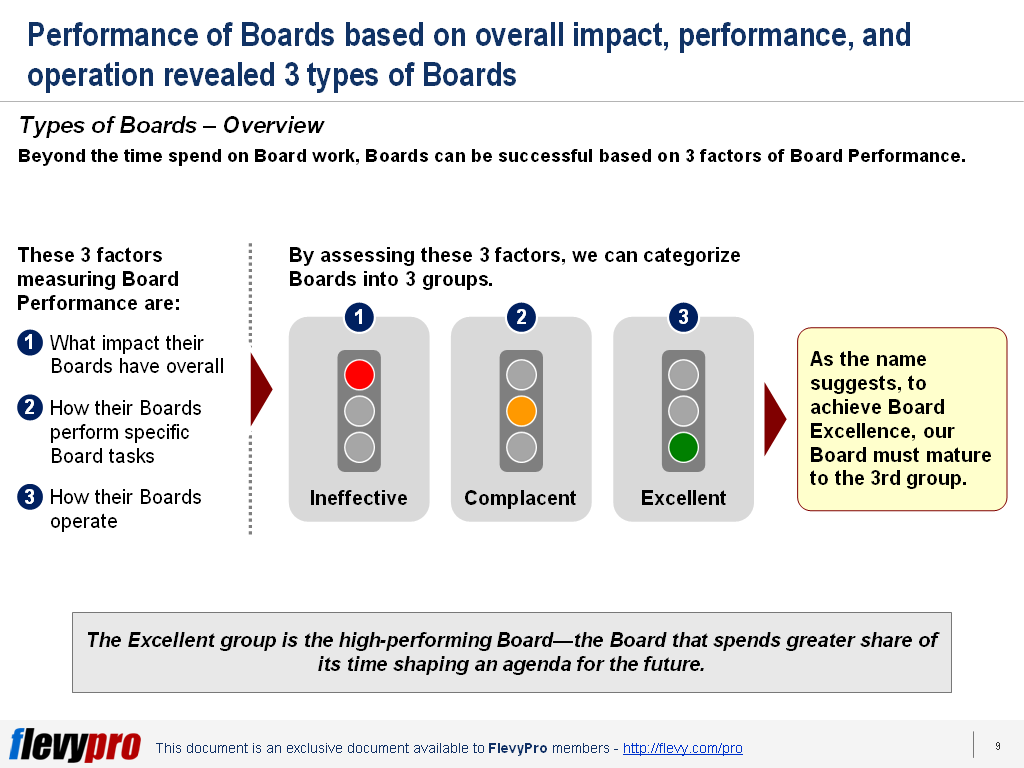 Ineffective. Ineffective Boards report the lowest overall impact and non-performance of tasks. They have the lowest overall impact on long-term value creation. Ineffective Boards are least effective at the 37 tasks required of the Board and they do not execute some of the tasks at all. Only a few are found to be effective at any one task.
Complacent. Complacent Boards have a much more favorable view of their over-all contributions. Half of the directors considered their Board having a very high impact on long-term value creation. Complacent Boards have been found to be effective in the performance of tasks on management review of financial performance, setting the company's overall strategic performance, and formally approving the management team's strategy.
Excellent. Excellent Boards are the most well-rounded of the 3 types of Board of Directors. Their overall impact is very high. Significantly, they project greater effectiveness in the performance of tasks than peers on every single task. Further, they are effective in strategy and performance management.
Achieving Board Excellence: What Does It Take
Those boards that reach Excellence are found to be effective at 30 of the 37 tasks undertaken by the Board. Compared to others, they stand out in the ways they operate. They have an especially strong culture and mechanism for feedback. They are more than twice as likely to conduct regular evaluations and ask for input after each meeting.
While this may sound daunting, achieving a value-creating Board is achievable. There are just fundamental principles that the Board needs to follow to achieve Board Excellence. One of these guiding principles is spending more time.  Across-the-board increases are often achieved with more time spend on Board work.
Interested in gaining more understanding of achieving Board Excellence? You can learn more and download an editable PowerPoint about Board Excellence here on the Flevy documents marketplace.
Are you a management consultant?
You can download this and hundreds of other consulting frameworks and consulting training guides from the FlevyPro library.
Many large corporations depend on M&A for growth and executives can boost the value that deals create. But poorly executed M&A can saddle
investors with weak returns on capital for details. In fact, the margin between success and failure is slim.
Many Boards are reluctant to cross the line between governance and management. The level of engagement is often outside the comfort zone for some executives and directors. As such, they miss opportunities to help senior executives win at M&A.
There is a need to modernize the Board's role in M&A. Modernizing the role of the Board in M&A can result in the alignment of the Board and management on the need for bolder transactions with more upside potential. Further, this is essential in achieving a competitive advantage.
The 3 Core Opportunities in M&A
There are 3 core opportunities for the Board to play an impactful role in M&A.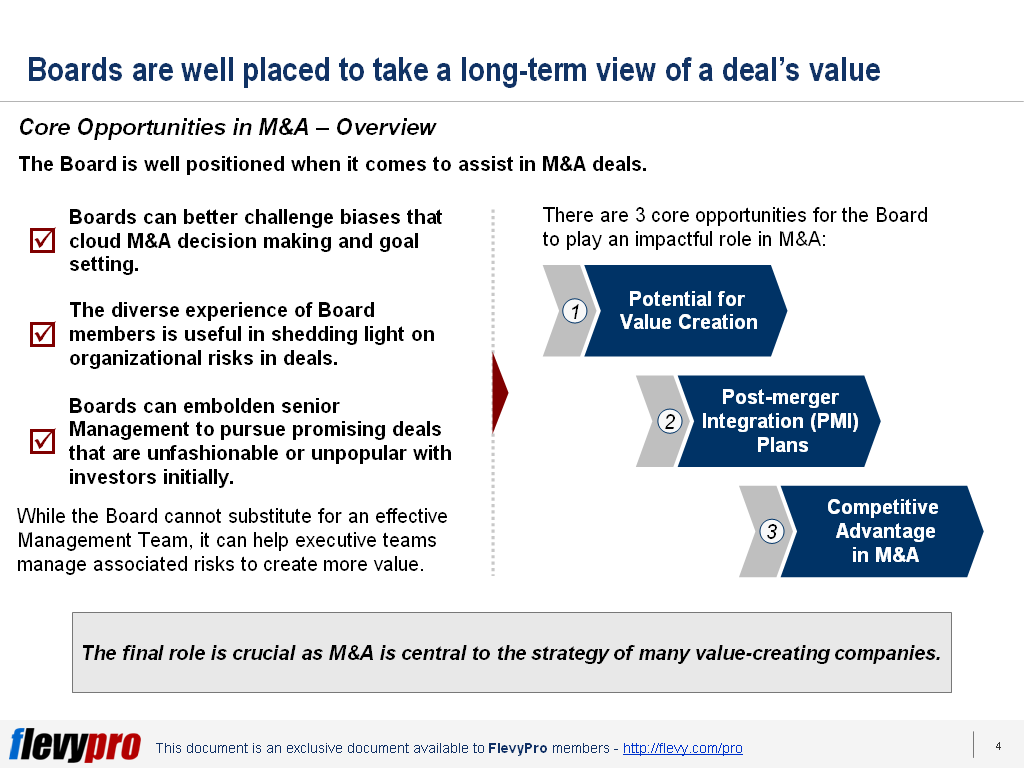 Potential for Value Creation. The first core opportunity, potential for Value Creation enables the Board to challenge the executive's thinking on potential transactions. This is an opportunity for the Board to maintain constant touch with the company's M&A strategy, the pipeline of potential targets, and emerging deals.
PMI Plans. This is an essential core opportunity that enables the Board to boost value creation to as much as 2-3x the net value. Post-merger Integration (PMI) Plans representat an opportunity to pressure test against stretch growth and cost goals before and after a deal. Greater variation in the quality of post-merger plans exist compared to financial analysis and pricing of transactions.
Competitive Advantage in M&A. Competitive Advantage is a core opportunity that is unrelated to a transaction's deadline. This is an opportunity to create a competitive advantage through M&A skills. These are corporate assets that can be difficult to copy. Making that decision to create a competitive advantage through M&A can lead to bolder decisions with more upside results.
The 3 core opportunities can promote greater Board engagement. When this happens, discrete deals can be converted into ongoing deal processes and dialogues that can deliver greater value from M&A.
Maximizing Core Opportunities to Attain the Greatest Deal
The potential of the 3 Core Opportunities to embolden the role of the Board in M&A is great. Organizations just need to have a good understanding of each core opportunity and the underlying key areas or dimensions of each key area. Let us take a look at the 1st Core Opportunity: Potential for Value Creation.
The Potential for Value Creation has 3 critical key areas that can challenge that lead opportunistic transaction to succeed. One critical key area is Strategic Fit.
Strategic Fit is key to determining why a company is a better owner than competing buyers. Deals driven by strategy succeed more often when they are part of a stream of similar transactions that support that strategy. This is a key element in Strategy Development.
How can we enhance the role of the Board relative to this key area? The Board can play a vital role in clarifying the relationship between a potential transaction and strategic planning. They are also in the best position to define how the deal will support organic-growth efforts in target markets and provide complementary sources of value creation.
The other key areas under the Potential for Value Creation are Financial Statements and Risks vs. Rewards. The Financial Statements is a key area that can correct the Board's tendency to put emphasis on price-to-earnings multiples which can be limiting. The Risks vs. Rewards, on the other hand, is a key area that challenges the Board to acknowledge uncertainties in pro forma.
The other 2 Core Opportunities also have their own essential points or dimensions the Board must focus on. Only then can these core opportunities be of the maximum potential of modernizing the Board's role in M&A and gaining the greatest value.
Interested in gaining more understanding of achieving Board Excellence through M&A? You can learn more and download an editable PowerPoint about Board Excellence: M&A here on the Flevy documents marketplace.
Are you a management consultant?
You can download this and hundreds of other consulting frameworks and consulting training guides from the FlevyPro library.
The pressure on Boards and Directors to raise their game has remained acute. A survey of more than 770 directors from public and private
companies across the industries around the world suggested that some are responding more energetically than others.
There is a dramatic difference between how directors allocate their time among boardroom activities and the effectiveness of the Boards. One in four directors assessed their impact as moderate or lower, while others reported as having a high impact across Board functions.
Today, the call to become more forward-looking and achieving Board Excellence is further highlighted. This is further emphasized when the Board and Management are pressured to find the best answers to global business concerns and issues. In Strategy Development, this becomes invaluable. It does not only lead to clearer strategies but also the creation of alignment essential in making bolder moves.
While these are essential, there is a need to raise the quality of engagement on strategy between the Board and Management for each group to achieve smarter options. This is possible only if organizations have high impact, strategic Boards in place.
High impact, strategic Boards have a greater impact as they move beyond the basics and face increasing challenges.
The Challenges that Today's Board Face
Business is fast-changing and rapidly transforming. The global economy is increasingly pushing businesses, as well as the Board to face a gamut of challenges.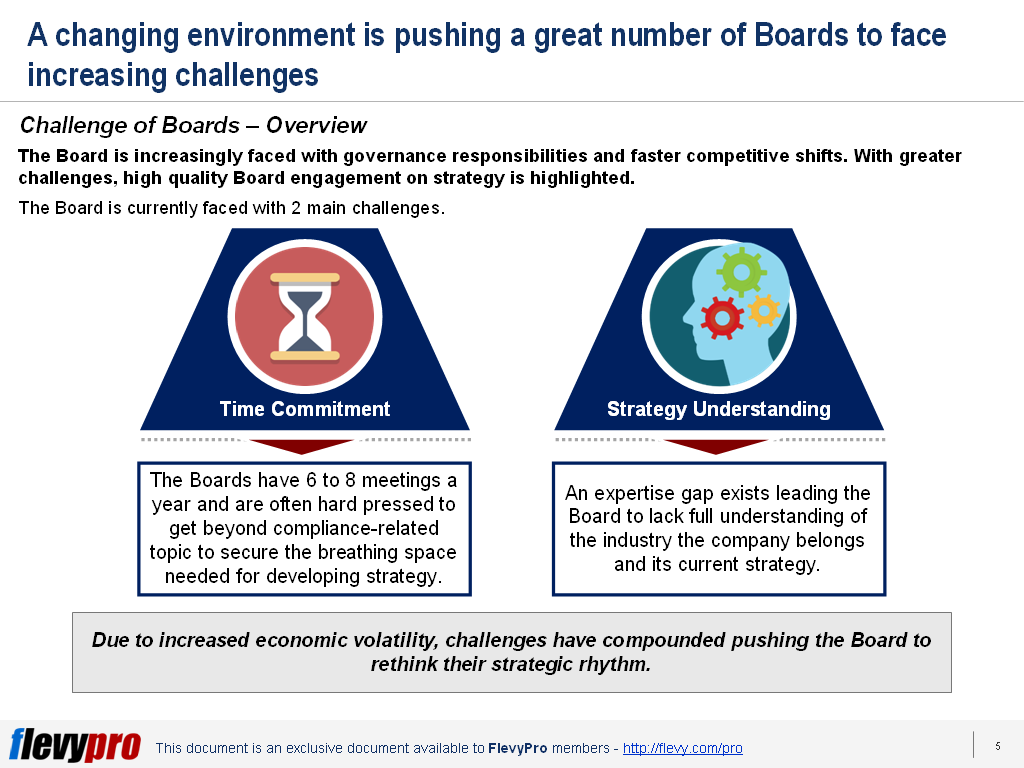 What are the 2 main challenges facing Boards today?
First is Time Commitment. Working at a high level takes discipline – and time. In fact, the greater time commitment is expected on high impact activities. The Board often have 6 to 8 meetings a year. As a result, they are often hard-pressed to get beyond the compliance-related topics to secure the breathing space needed for developing a strategy.
Often, it is the very high impact Directors who invest more time compared to moderate or lower average Directors.
Who are your very high impact Directors? They are those spend a total of 40 days a year working for the Board compared to 19 days of low impact Directors. An extra 8 workdays a year is invested in strategy and an extra 3 workdays a year are spent on Performance Management, M&A, Organizational Health, and Risk Management.
High impact Directors who believe that their activities have greater impact spend significantly more time on these activities compared to low impact Boards.
Second is Strategy Understanding. Why is Strategy Understanding a challenge for the Board? Limited understanding of the organization's strategy can result in the Board's limited engagement with the organization. Based on the survey made, only 21% of the Directors have a complete understanding of the current strategy. Often, Board members have a better understanding of the company's financial position rather than its risks or industry dynamics.
If we look at high impact Directors, they invest more time in dealing with strategic issues. In fact, they invest 8 extra workdays a year on Strategic Planning and discussing strategy compared to low impact Directors. High impact Directors center on Strategy Focus Areas which can, in turn, spur high-quality engagement from the Board on strategy development. The quality of Board engagement on strategy is enhanced, both when the engagement is deep and during the regular course of business.
The Board just needs to focus on 3 areas of discussion for the Board to enhance Strategy Development. One of them is Industry and Competitive Dynamics.
Interested in gaining more understanding of Board Excellence via High Impact, Strategic Boards? You can learn more and download an editable PowerPoint about Board Excellence: High Impact, Strategic Boards here on the Flevy documents marketplace.
Are you a management consultant?
You can download this and hundreds of other consulting frameworks and consulting training guides from the FlevyPro library.
Technological innovation and intensifying competition are forcing leaders to rethink how they use Key Performance Indicators (KPIs) to manage and direct organizations.  Digitization has reinforced the importance of Key Performance Indicators not only in enhancing employee performance but driving the overall organizational productivity.
The role of KPIs is becoming more dynamic.  KPIs are getting demonstrably flexible, smarter, and valuable in achieving strategic advantage.  Leading technology-driven organizations—including Amazon, Airbnb, and Uber—rely on metrics considerably and utilize KPIs to steer their strategy and evaluate success.  They perceive KPIs quite differently than traditional-focused organizations, and employ them as an input for automation, and to guide, regulate, and improve their machine learning tools.
To make the most out of these dynamic and strategic KPIs of this Digital Age, leaders need to be more insightful and knowledgeable.  They should be able to thoroughly determine which KPIs to analyze, how to measure them, and how to effectively improve them.  Understanding the value of selected KPIs and their optimization is key to aligning strategies; making the right decision to invest in data, analytics, and automation capabilities; and create a link between people and machines.
KPI Virtuous Cycle
The relationships and dependencies that clarify, educate, and enhance KPI investment are demonstrated by "KPI Virtuous Cycle."  By digitally linking KPIs, data, and decision-making into virtuous cycles, companies can align their immediate situational requirements with long-term strategic planning.  The KPI Virtuous Cycle has 3 key components, and it demands active cross-functional collaboration:
Data Governance
KPIs
Decision Rights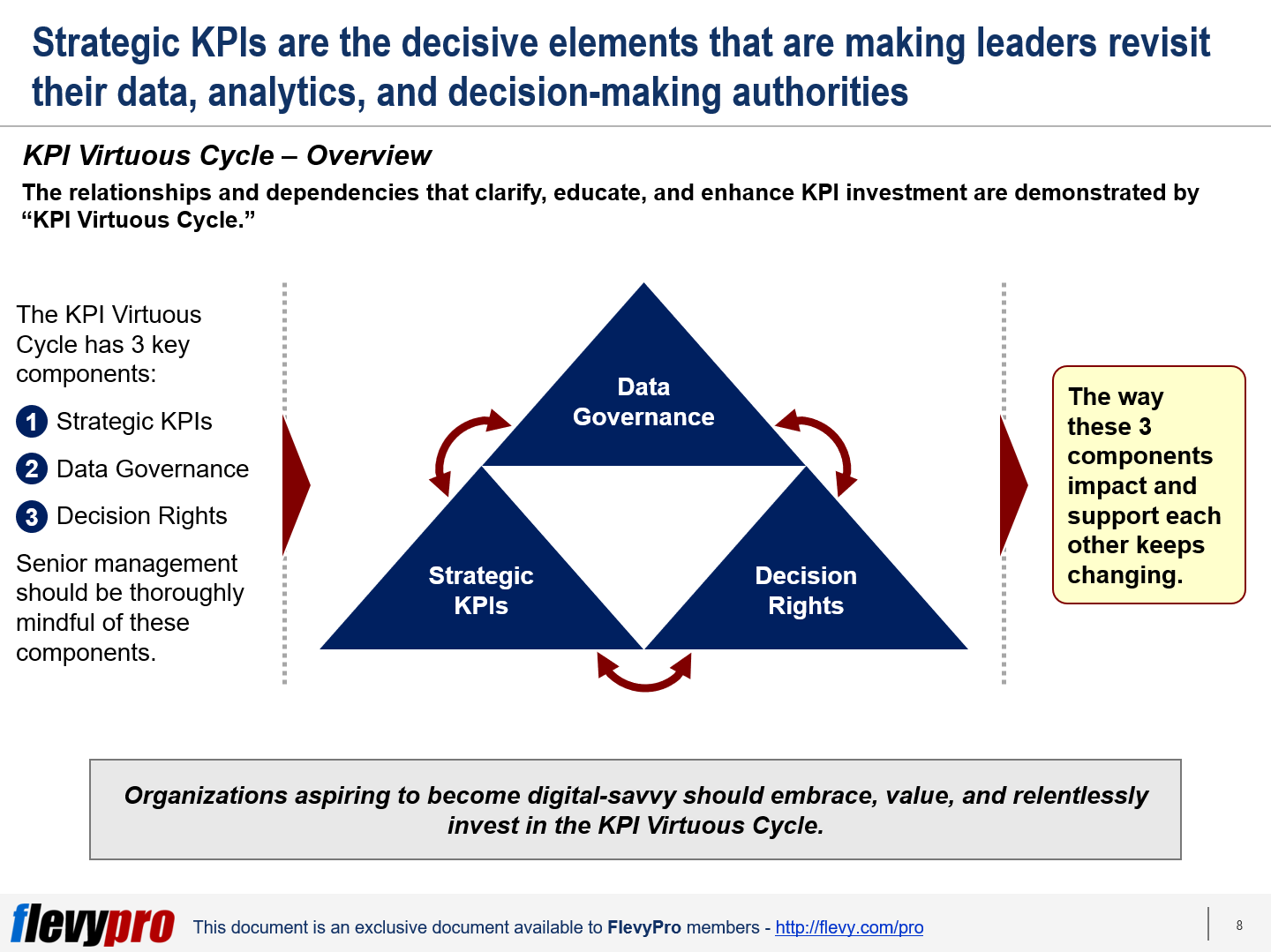 The way these 3 components impact—and support each other—keeps changing.  Organizations aspiring to become digital-savvy should embrace, value, and relentlessly invest in the KPI Virtuous Cycle.
Data Governance
The first component of the KPI Virtuous Cycle is about employing authority and control (planning, monitoring, and enforcement) through a set of practices and processes to manage organizational data assets.  Leading digital organizations consider data as a strategic resource, a valuable tool for measurement and accountability, and a mechanism to facilitate meeting strategic KPIs.  Data Governance frameworks are guided by strategic KPIs.  Organizations should know what data sets would be ideal to predict and rank—for instance, customers' lifetime value and their propensity to leave—to prioritize preemptive and preventive action.  Data and Analytics serve as a component of Data Governance.
Strategic KPIs
Strategic KPIs shape and govern enterprise Data Governance models.  These KPIs include financial, customer, supplier, channel, and partner performance parameters.  For instance, Data Governance initiatives in customer-centric organizations are prioritized to facilitate in realizing customer-focused KPIs—e.g., Net Promoter Score (NPS) and Customer Lifetime Value (CLV).  Enterprise Data Governance frameworks are strongly influenced and informed by strategic KPIs.
Decision Rights
Decision Rights ascertain the decision-making authority required to drive the business and strategic alignment.  Making decisions in such a way that it boosts organizational performance involves identifying the individuals explicitly involved in making decisions, charting an outline on how decisions will be made, reinforcing with appropriate processes and tools, and defining various decision rights scenarios to facilitate in automation.  It is, however, quite tricky to determine and assign decision rights when an enterprise is aspiring to empower its people and making machines function better.
Imperatives for Creating Dynamic and Strategic KPIs
For the KPIs to be strategically defined and become truly dynamic, the leadership needs to provide the required support by getting thorough data sets compiled and meaningful analytics performed.  At the same time, there is a need to:
Decide whether the decision rights needs to be assigned to individuals (rather than machines or vice versa.
Enhance the capabilities of people and machines.
Apply decision rights to generate data to identify and gauge productivity.
Identify the delays and bottlenecks between KPIs, data, and decisions.
Verify the diligence in the way KPIs, data, and decisions are mapped and monitored.
Interested in learning more about the components of KPI Virtuous Cycle, its applications, and Strategic KPIs?  You can download an editable PowerPoint on Strategic Key Performance Indicators (KPIs) here on the Flevy documents marketplace.
Are you a Management Consultant?
You can download this and hundreds of other consulting frameworks and consulting training guides from the FlevyPro library.
This week, LearnPPT added a new section to their site: Operational Excellence.
What exactly is Operational Excellence?
Operational Excellence is a set of business principles, tools, and frameworks aimed to achieving sustainable improvement of key performance metrics. Much of this management philosophy is based on continuous improvement methodologies, such as Lean Management (or Lean Enterprise), Six Sigma, Kaizen, Hoshin Kanri, 5S Workplace Productivity, and PDCA. The focus of Operational Excellence goes beyond the traditional event-based model of improvement toward a long-term change in organizational culture.
The page is currently divided into 4 main sections:
Questions, thoughts, concerns?  Go to my site (learnppt.com) and shoot me an email.
For other business frameworks, visit our library of consulting-quality business frameworks and methodologies here: http://learnppt.com/powerpoint/frameworks/.  These diagrams were professionally designed by management consultants. Give your presentations the look and feel of a final product made by McKinsey, BCG, Bain, Booz Allen, Deloitte, or any of the top consulting firms.
For a limited time, Flevy is offering a FREE download of the Strategy Development Discussion Deck.  To download this document, just go here:
This is a discussion deck template for a corporate strategy development session. In this discussion, we go through a 2-prong approach to growth and evaluate the merits of various growth drivers. From the 2-prong approach, various scenarios can be generated in the discussions and dashboards are used to evaluate each scenario.
You can find more details about the product (listed at $30) here:
https://flevy.com/browse/business-document/Strategy-Development-Discussion-Deck-91
Flevy is a marketplace for business strategy frameworks, PowerPoint templates, financial models, business presentations, market research reports, and other premium business documents. Download documents to expedite your projects or upload documents to generate passive income.
Subscribe to our Newsletter

PowerPointing Templates

Error: Twitter did not respond. Please wait a few minutes and refresh this page.