Currently viewing the tag: "Digital Transformation"
Richard Branson, British business and philanthropist once said: "One day, offices will be a thing of the past."
While organizations still need to travel to reach their physical offices, the rapid changes in the world are requiring business
Virtual Teams work well for an organization and is effective even from a communication perspective. In fact, it is known to complement well the Lean Management approach used by organizations. Studies from previous years have shown that well-managed, widely spread, Virtual Teams have been outperforming those that share office space. In fact, it has shown that using Virtual Teams can improve employee productivity by 45%.es to form Virtual Teams. A Virtual Team refers to a group of individuals who work together from different geographic locations and rely on communication technology such as email, voice conferencing services, fax, etc.
In today's highly competitive global economy, to be able to work smarter, organizations must be able to leverage the manifold benefits of a remote workforce. Likewise, organizations must also be able to manage challenges that come with working with Virtual Teams.
More organizations are opting to work with virtual teams. Virtual teams may have their benefits but it also has its challenges. Being able to manage these challenges will enable organizations to seize the benefits of remote workers.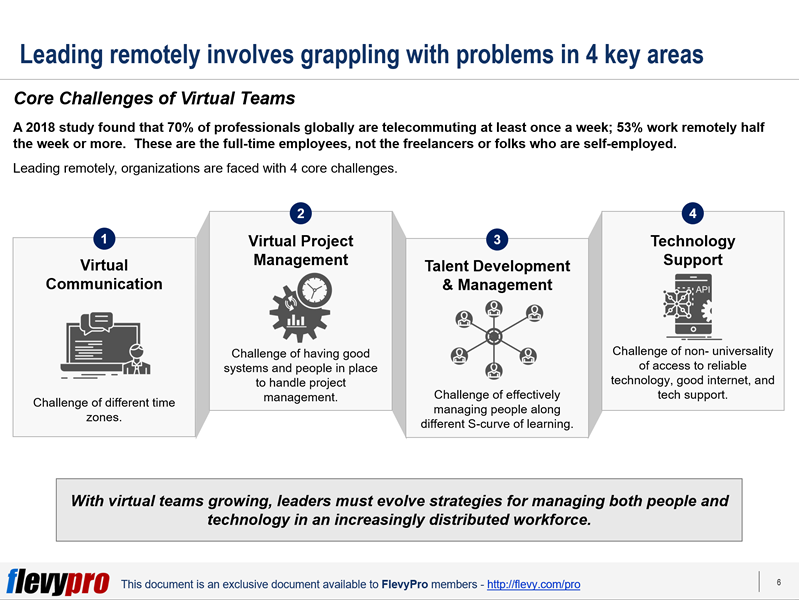 There are 4 core challenges that organizations face when working with Virtual Teams. Let us take a look at the 2 core challenges.
Virtual Communication. Having different time zones can be a challenge. This can lead to layers of complexity to the logistics of everyday communication. When time zones do not match, it can lead to less and less information being transmitted and can cause miscommunication. When working in a different time zone, there is a tendency to exchange information using email or instant messaging. But these may not be enough as it cannot convey as much meaning compared to vocal tone, facial expression, and physical gestures.
Virtual Project Management. When working with virtual teams, the business must have a proper system and people in place. Virtual Project Management may cause some confusion and even delays. While digital tools are in place to facilitate remote project management and collaboration, it can be difficult at times to tell what each person is contributing. In fact, organizations need to put up a system to track whether the members of the virtual team are doing their required tasks.
In this digital era, Virtual Teams are becoming the new face of business operation and aligning itself with Digital Transformation. This is a global reality that businesses must accept. However, working with Virtual Teams brings a lot of challenges not only in Project Management and Virtual Communication but also in Talent Development and Technology Support. Talent Development and Technology Support are two other core challenges that can make an impact on the Virtual Team. How it is managed will define the success of your Virtual Team.
In hindsight, Virtual Teams can also bring so many benefits. Hence, it is not surprising that despite the challenges, a lot of businesses still prefer to work with Virtual Teams.
One core benefit is increased access to top talent. The world has become a global market for expertise and talents. Businesses can extend their reach to other countries in their search for needed expertise. In fact, working with virtual teams will open opportunities for businesses to work with experts in various fields with various experiences. Being able to employ the best and the brightest is more than enough for businesses to continue working with Virtual Teams and conquering challenges. Businesses just need to have appropriate support programs to give Virtual Teams a home-field advantage.
Interested in gaining more understanding of  the challenges & benefits of Virtual Teams? You can learn more and download an editable PowerPoint about Virtual Teams: Challenges & Benefits here on the Flevy documents marketplace.
Are you a management consultant?
You can download this and hundreds of other consulting frameworks and consulting training guides from the FlevyPro library.
The global economy is currently producing nearly 300 million tons of plastic every year, Half of these is for single use. With the population
growing at a fast rate, we are requiring more resources than ever before. Yet, our finite resources are diminishing
Our economy has been built on the concept of a Linear Economy. This is Extract, Manufacture, Distribute, Use, and Dispose of. However, over the past few decades, we have transitioned to a disposable society as we generate waste at an unmanageable rate.
Today's Business Transformation calls for a shift to a Reuse Economy or the Circular Economy.  Moving towards a more Circular Economic activity could deliver benefits such as reducing pressure on the environment, improving the security of the supply of raw materials, increasing competitiveness, stimulating innovation, and others. Moving into a Circular Economy also means that companies are considering sustainable approaches to balance out opportunities for business and the preservation of the environment.
The Shift to a Circular Economy
The Circular Economy is an economic system aimed at eliminating waste and the continual use of resources. It employs recycling, reuse, remanufacturing, and refurbishing to create a close system. With Circular Economy, it minimizes the use of resource input and the creation of waste.
A Circular Economy has a great impact on sustainability. It maximizes the conservation of resources and the reduction of environmental pollution.
In a Circular Economy, industries can increase profitability while reducing dependence on natural resources.
Discovering the 6 Core Activities of a Circular Economy
The 6 Core Activities of a Circular Economy are stepping stones towards increasing productivity, cost savings, and generating greater economic benefits.
A Purview of Circular Economy in Action
Taking the 6-step journey to achieve greater sustainability can lead organizations to draw on the power of the Circular Economy to achieve greater value. Let us take a purview of a Circular Economy in action: The Waste Management Case Study
The Waste Management Case evolves in a scenario where the economic growth in emerging markets has raised living standards resulting in massive waste. As such, municipalities in these markets are spending up to half of the budget on solid waste management.
As a result of economic growth, there is massive consumer and industrial waste generated. In fact, metals extracted from tires in open backyard fires can cause great harm to human health and the environment.
We are in this dilemma right now. With the application of the Circular Economy, we can better address these problems by creating infrastructures to organize and manage waste supply chains. This can include digital transformation.
What is the underlying Circular Economy Principle? It is AGGREGATION. With this principle, we can aggregate volumes substantial enough to justify the business investment. We can enable companies to build the business from waste.
Interested in gaining more understanding of Corporate Social Responsibility: Circular Economy? You can learn more and download an editable PowerPoint about Corporate Social Responsibility: Circular Economy here on the Flevy documents marketplace.
Are you a management consultant?
You can download this and hundreds of other consulting frameworks and consulting training guides from the FlevyPro library.
"The only thing that is constant is Change." – Heraclitus
An epidemic of change is happening globally–reengineering, restructuring, and revamping! Workplaces seem to be launching one change initiative after another.  Digital Transformation is happening everywhere. Yet, the hard truth is that many change initiatives fail.
Change Management initiatives fail because of the way organizations view change. Often, change is seen as an isolated process. Organizations tend to focus on only one part of the organization in isolation. This can be a fatal error.
Everything in an organization is connected, and changing one piece can impact another. Hence change can only be successful if all interconnected pieces are considered. In 1965, Harold J. Leavitt designed an integrated approach to change, the Leavitt's Diamond.
What is Leavitt's Diamond?
Leavitt's Diamond is a framework for understanding the connection between the key factors in an organization, and building an integrated change strategy. This is an essential element in Strategy Development.
The Structure, Tasks, People, and Technology are the 4 essential components of the Leavitt's Diamond.
Structure – The Structure refers to the organization's hierarchical buildup and the layout of the various departments. However, this is not limited to its hierarchical buildup. It can also refer to the mutual relations that exist between departments and employees, the coordination between various levels of management, and the communication patterns.
Tasks – The Tasks refers to the functions individual employees are assigned within their jobs. This relates closely to the organization's goals on the strategic, tactical, and operational levels.
 People – These are your people – your staff, your employees. Beyond its physical countdown, this component also refers to all skills, competence, knowledge, and efficiency that employees bring to the organization.
Technology – Technology refers to the upgraded machines and devices, as well as systems and software applications that build up the performance of tasks within an organization.
Between these 4 components, there must be the right balance. Only then can change be successfully implemented.
From the Drawing Board to the Ground Running
Having a good understanding of the Leavitt's Diamond is important for organizations. However, the most critical is having it on the ground running. Each of the components must be identified, defined, and determined–your main tasks, your people, your tasks, and structure.
This is critical because you are building a basic framework for starting the change model. Without the right balance of Structure, People, Tasks, and Technology, the Business Transformation necessary will never occur.
Organizations must also take note that a primary change will always have an impact on each of the 4 components. A change in one component comes with changes in other components of the Leavitt's Diamond. When this happens, there is a need for necessary adjustments.
Taking The Impact of Change on Tasks As an Example
Change in People Component: Training or specific hiring policy can change staff and employees' knowledge and expertise.

What is the impact on Tasks? There is a change in individual tasks within the employees' job.
Change in Structure Component: Restructuring of departments, change in the arrangement of job positions, or even reorganization.

What is the impact on Tasks? A different way of working is expected from employees to include different ad/or additional tasks.
This is also expected when there is a change in Technology and a corresponding impact on Tasks. Organizations must need to take note that changes in any component must be aligned with changes in other components. Again, there must be a balance for Leavitt's Diamond Change Model to succeed.
Interested in gaining more understanding of the Leavitt's Diamond Change Model? You can learn more and download an editable PowerPoint about Leavitt's Diamond here on the Flevy documents marketplace.
Are you a management consultant?
You can download this and hundreds of other consulting frameworks and consulting training guides from the FlevyPro library.
Companies often know where they want to go when it comes to Strategy Development. Companies want to be more agile, quicker to react, and
more effective. They want to deliver great customer experience, take advantage of new technologies to cut costs, improve quality and transparency, and build value.
Yet, while most companies are trying to get better, the results tend to fall short. One-off initiatives in separate units do not deliver big enterprise-wide impact. Improvement methods that were adopted almost invariably yield disappointing results.
Senior leaders have a crucial role to take in making things happen. Business Transformation cannot be a siloed effort. A Next-generation Operating Model is essential to break through organizational inertia and trigger step-change improvements.
Understanding the Next-gen Operating Model
Companies need to commit to a Next-gen Operating Model if they want to build value and provide compelling customer experiences at a lower cost.
Integrated, Organization-wide Operational Improvement Program. This approach is focused on Customer Journeys and distinctive customer experience. The Integrated, Organization-wide Operational Improvement Program is a holistic approach towards how operations can contribute to delivering distinctive customer experience. It cuts across organizational siloes in both customer-facing and end-to-end processes. This approach is a preferred organizing principle. Having multiple independent initiatives within separate organizational groups can deliver incremental gains. However, the overall impact can be underwhelming.
Holistic Customer Journey. This is an approach that makes use of multiple capabilities instead of individual capabilities to achieve greater impact.
The holistic Customer Journey is achieved when the 5 core capabilities are utilized.
Discovering the 5 Core Capabilities
There are 5 core capabilities essential in unlocking the most value in the shortest possible time. Two of the 5 capabilities are Digitization and Advanced Analytics.
Digitization is the process of using tools and technology to improve journeys. It has the capacity to transform customer-facing journeys by creating the potential for self-service. It has the power to reshape time-consuming transactional and manual tasks that are part of internal journeys more so when multiple systems are involved.
Another core capability worth knowing is Advanced Analytics. This is the autonomous processing of data using sophisticated tools to discover insights and make recommendations. It provides intelligence to improve decision making and enhance journeys when nonlinear thinking is required. This is very useful in claims triage, fraud management, and pricing.
There are 3 other core capabilities that are essentially important in these days of Digital Transformation. These are Intelligent Process Automation, Business Process Outsourcing, and Lean Process Design.
Intelligent Process Automation is an emerging set of new technologies that combine fundamental process redesign with process automation and machine learning. It can replace human effort in processes that involve aggregating data from multiple systems taking a piece of information from a written document and entering it as standardized data input.
Business Process Outsourcing works best for processes that are manual. It uses resources outside the main business to complete specific tasks or functions. Back-office processing of documents and correspondence is an example of BPO.
The Lean process Design is one capability that helps companies streamline processes, eliminate waste, and foster a culture of Continuous Improvement. It is considered a versatile methodology as it can be applied in multiple processes.
Organizations can use these capabilities to achieve the greatest impact. The maximum effect, however, can be achieved when specific implementation guiding principles are followed.
Interested in gaining more understanding of the Next-gen Operating Model within the context of Digital Transformation? You can learn more and download an editable PowerPoint about Digital Transformation: Next-gen Operating Model here on the Flevy documents marketplace.
Are you a management consultant?
You can download this and hundreds of other consulting frameworks and consulting training guides from the FlevyPro library.
Lean Management plays a significant role in putting in place processes, capabilities, and tools to improve how businesses operate. But, the
Digital Age has increased both the opportunities for businesses who know how to react and the difficulty of getting it right.
Tasks performed by humans are now more complex be it accessing information in multiple formats from multiple sources or responding to changing market and customer dynamics at an ever-increasing speed. As an increasing number of tasks become automated or taken over by cognitive-intelligence capabilities, companies need to learn from lean management. Like a sprinter who needs all her muscles to be finely tuned and working in concert to reach top speeds, fast-moving institutions must have a system to continually synchronize strategies, activities, performance, and health.
Many organizations understand the need to change how they work and have embarked on numerous initiatives, yet few have been able to get beyond isolated success cases or marginal benefits. Most companies recognize the need for a Next-gen Operating Model to drive their business forward their Digital Transformation initiatives. But, how they develop it makes a big difference.
The Next-gen Operating Model
There are 4 core pillars of a Next-gen Operating Model. Putting these in place will ensure its successful implementation.
Autonomous, Cross-functional Teams. The first pillar is focused on empowering the team to own products, services, or journeys. Having autonomous, cross-functional teams, organizations can become nimble in building skills across their teams. They make anchor hires for key roles, set up rotational and train the trainer programs, and commit to ongoing capability building and training for key roles.
Flexible, Modular Platform. The second pillar is focused o supporting a faster deployment of products and services. Having Flexible, Modular Platforms will enable technology teams to better collaborate with business leaders in assessing which systems need to move faster.
Connected Management System. The third pillar focuses on driving a culture of continuous improvement that cemented on customer needs. A Connected Management System will ensure that Management systems are evolving to create feedback mechanisms with and between various operations and teams.
Agile, Customer-centric Culture. The fourth pillar is focused on speed and execution over perfection. Having an Agile, Customer-centric Culture is critical to success. It leads the change from the top and builds new ways of working across organizational boundaries. When functions and teams collaborate, effective time to market to reduced as well as operational risk.
The path to building up the Next-gen Operating Model follows well-defined approaches to guide organizations. These approaches will be every organization's guide to operating model transformation during the first 12 months.
Following the 4 Critical Approaches to Operating Model Transformation
The 4 critical Approaches to Operating Model Transformation works well when there is a broad and top-down organizational mandate for change. Before anything else, organizations must make sure that the change mandate is in place so that the entire organization is aligned with the proposed change.
One of the 4 Critical Approaches is the Innovation Lab. The Innovation Lab is a dedicated unit set up to be entirely separate from the historical culture, decision-making bureaucracy, and technical infrastructure of the main business. It hatches new business models in an informal setting. It is best used when there is a need to move very quickly in response to market pressures.
Mastering these various approaches will enable organizations to better go through the Operating Model Transformation in the most effective way to achieve Operational Excellence.
Interested in gaining more understanding of Operating Model Transformation? You can learn more and download an editable PowerPoint about Digital Transformation: Operating Model Transformation here on the Flevy documents marketplace.
Are you a management consultant?
You can download this and hundreds of other consulting frameworks and consulting training guides from the FlevyPro library.
Today's customers are better informed, better connected, and more demanding than ever before. CEOs are now concerned about Customer
Loyalty and they recognize that mastery of the customer agenda is essential. In fact, global leaders of successful businesses recognize that creating a customer-centric, digitally-transformed business is a top priority.
In this age of digital disruption, how can organizations engage customers, increase Customer Loyalty, and achieve profitable growth? What is most appropriate when it comes to Customer-centric design?
Almost every market is experiencing a fundamental change. Consumer expectations have shifted and digital technologies are making the biggest impact on businesses large and small since the start of the information age. Ultimately, businesses need to navigate the challenges of digital disruption and find new ways to create economic value and drive growth.
The challenge today is what it takes for organizations to be a Customer-centric Organization.
Unraveling the 6 Core Capabilities of a Customer-centric Organization
A Customer-centric Organization must have 6 Core Capabilities to compete in the Digital Age. In this global time, customer-centricity ceases to be a differentiator. It has become a matter of survival.
The first 2 Core Capabilities are Customer-directed. These are Customer Strategy and Customer Experience (CX).
Customer Strategy. The first core capability, Customer Strategy is focused on addressing changing customer needs and behavior. It involves the development of a clear view of customer behavior and intentions using data and analytics. Customer Strategy can be applied in several ways. It can be used to refine and develop a proposition or even inform major investments in new media content.
Customer Experience (CX). Customer Experience (CX) is that core capability that generates a significant competitive advantage – a double revenue growth against industry counterparts. It is being able to respond to customer needs balanced with understanding the values customers bring to the enterprise. The world's most advanced customer businesses often undertake customer journey mapping and experience design which are critical to executing customer-centric change.
The second 2 Core Capabilities focus on front office capability and across the enterprise value chain. These are Sales & Service Transformation and Connected Enterprise.
Sales & Service Transformation. As the third core capability, Sales & Service Transformation is essential to becoming a customer-responsive business. This is a newly digitized and fully integrated front office capability that can attract, engage, acquire, and continually engage with customers. With the modernization and transformation of front office functions, Marketing, Sales, and Service teams get to have better ideas on how to work together more effectively. This leads to a full end-to-end Business Transformation.  A core concept to Service Transformation is the development of Service 4.0 capabilities.
Connected Enterprise. Focused on delivering differentiated Customer Experiences, Connected Enterprise is an architecture of fundamental capabilities that work across the Enterprise Value Chain, from back office operations through customer-facing interactions. The application of Connected Enterprises has led to companies experiencing an increase in annual revenue and a positive return on investment.
The third 2 Core Capabilities are Data & Analytics and Digital Transformation — your company's response to a highly demanding digital market.
Data & Analytics. The fourth core capability is Data & Analytics. This core capability is focused on creating actionable insights that drive profitable growth. With the use of Data & Analytics, it can uncover patterns of customer behavior, relevant social media influencers, and channel preferences. It is useful in personalizing propositions, channels, marketing communication, and the experiences offered to customers.
Digital Transformation. The sixth core capability, this is the core capability that can power new ways to engage customers, optimize operations, and transform products. Digital Transformation is delivering the right customer and digital technology. With the advent of virtual reality, augmented reality headsets, the Internet of Things, AI, and cognitive computing, it has changed the way customer-centric companies engage customers. Digital Transformation is not an overnight event. This is a series of incremental steps, each delivering a concrete business advantage.
Developing the 6 Core Capabilities is no easy task. It can be pretty challenging. Companies need to have a good handle of its key challenges and the right approaches to mastering the 6 Core Capabilities. When this is achieved, the high road to global competitiveness is achieved.
Interested in gaining more understanding of these 6 core Capabilities of a Customer-centric Organization? You can learn more and download an editable PowerPoint about the 6 Core Capabilities of a Customer-centric Organization here on the Flevy documents marketplace. There is a series of 3 presentations – Part I, Part II, and Part III that discusses all 6 Core Capabilities.
Are you a management consultant?
You can download this and hundreds of other consulting frameworks and consulting training guides from the FlevyPro library.
The Data Analytics Revolution is here. It is transforming how companies organize, operate, manage talent, and create value. In fact, advanced
data analytics is now a quintessential business matter. It is important for CEOs and top executives to be able to clearly articulate its purpose and translate it into action. Yet, this is not so.
CEOs and top executives are finding it difficult to articulate the clarity of purpose and act on it. It must not just stay in an Analytics department but must be embedded throughout the organization where the insights will be used. Leaders with strong intuition do not just become better equipped to kick the tires on their analytics efforts.  Leadership Development now calls for leaders to be capable of addressing many critical top management challenges. It now requires employing a range of tools, employing the right personnel, applying hard metrics, and asking hard questions.
Data Analytics is a means to an end. It is a discriminating tool for identifying and implementing a value-driving answer. It can unleash insights that could be the very core of your organization's approach to improving performance. This, however, cannot be achieved if there is no clarity in the purpose of your data.
Data Analytics Revolution: Are We Ready?
The Data Analytics Revolution is transforming how companies organize, operate, manage talents, and create value. But are we ready for this? A number of companies are reaping major rewards from Data Analytics. But this is far from the norm. More CEOs and top executives are avoiding getting dragged into the esoteric weeds.
Data Analytics have complex methodologies and there is a sheer scale of data sets. Machine Learning is becoming increasingly more important. For us to be ready in the onset of Data Analytics Revolutions, we need to be capable of addressing many critical and complimentary top management challenges. We need to be able to ground even the highest analytical aspirations in traditional business principles and deploy a range of tools and people.
To be properly equipped on the proper use of Data Analytics, we just need to develop a mindset for Purpose-driven Analytics anchored on 4 guiding principles.
The 4 Guiding Principles of Purpose-driven Analytics
Ask Clear and Correct Questions. The first principle focuses on generating impact the soonest. Hence, precise questions are asked based on the company's best-informed priorities. Here, clarity is essential.
 Identify Small Changes for Big Impact. The second principle focuses on generating gains even on small improvements. There is a need to identify small points of difference to amplify and exploit because the smallest edge can make the biggest difference.
Leverage Soft Data. The third principle focuses on getting quality insights and generating sharper conclusions. It is at this point wherein the use of softer inputs such as industry forecasts, predictions from product experts, and social media commentary are given more emphasis. Soft data is essential when trying to connect the dots between more exact inputs.
Connect Separate Data Sets. The fourth principle focuses on capturing the untapped value. This principle emphasizes the need to combine sources of information to make sharper insights. When different data sets are examined, the greater is the probability that problems can easily be fixed.
From Learning to Doing: Connecting the Dots
It is not enough that organizations learn about Purpose-driven Analytics. One also needs to be able to put these into effective use. Companies undergoing Digital Transformation must take a multi-faceted approach to analyze data to minimize overwhelming complexity. There are 4 guiding principles for Purpose-driven Analytics implementation. Using these principles will facilitate the effective use of analytics and transform outputs into action.
Interested in gaining more understanding of Purpose-driven Analytics? You can learn more and download an editable PowerPoint about Purpose-driven Analytics here on the Flevy documents marketplace.
Are you a management consultant?
You can download this and hundreds of other consulting frameworks and consulting training guides from the FlevyPro library.
In the era of the Fourth Industrial Revolution, we are approaching the age of automation. Together with this is the impending penetration of
digital technology into the labor force which can threaten to destabilize crucial aspects of how employees work by. This can undermine the stability companies depend on to be agile.
With the coming transformation, executives can resolidify their companies by developing a robust Digital Transformation Strategy. There is just a need for executives to adjust their leadership behavior, embrace digital workforce platforms, and deepen their engagement with digitally enabled workers.
Facing the Current Digital Landscape
Workforce Digitization and the powerful economics of automation require a sweeping rethinking of organization structures, influence, and control. According to a recent study made by McKinsey Global Institute, most industries have yet to fully digitize their workforce as these are lagging behind the leading digitized sectors. Digital Transformation is just not happening in most industries. Organizations have to realize that in Workforce Digitization, automation can devastate established assumptions on stability.
The hallmark of an agile age is the ability to be stable and dynamic. The McKinsey research further showed that the workers' roles and the processes that support them are the bedrock aspects of stability. These are the first and fourth most important factors that differentiate agile companies from the rest.
However, with the onset of automation, the workforce is destabilized. Jobs are disaggregated into component tasks and companies are forced to reassemble remaining tasks into something that makes a new kind of sense. On the other hand, job destabilization can have a dual-faceted impact. Organizations can either become more agile, healthy, and high performing or it can collapse into internal dysfunction.
The direction organizations will go will depend on how it can utilize Digital Workforce Platforms.
The Workforce Platform: Leading Organizations to Stability
Proper use of Workforce Platforms can help leaders restabilize the workforce and reconceive organizational structures to achieve stability. It has 4 core benefits of achieving stability.
Collaboration. Workforce Platforms can be effective staffing coordinators with a multiplex of roles. It can maximize the visibility and mobility of the best people within the organization.
Retention. It can bring science to talent management through the scientific process of retention. Workforce Platforms can help employees grow and develop as their career progresses.
Succession Planning. Workforce Platforms are effective in increasing employees' engagement in their work through Succession Planning. Through Success Planning, organizations are ensured that strategic capabilities, institutional knowledge, and leadership skills are retained within the organization.
Decision Making. A vital core benefit, it can create conditions where employees feel valued by their organization and are happy in their environment. This is crucial as it can create conditions where employees feel energized and empowered.
Workforce Platforms are effective in leading organizations towards achieving agility. It moves companies to go beyond a one-size-fits-all approach to human resource and talent management.
Maximizing the Benefits of Workforce Platforms.
Benefits gained from Workforce Platforms can further be maximized. This can be achieved when there are appropriate support processes in place. There should be dynamic scheduling and appropriate leadership decisions. Our leaders are our organization's architect. Being able to make the right leadership decisions can lead organizations to successfully maneuver their transformation in this age of automation. At this stage, Leadership Development plays a vital role.
Interested in gaining more understanding of Digital Transformation and Workforce Digitization? You can learn more and download an editable PowerPoint about Digital Transformation: Workforce Digitization here on the Flevy documents marketplace.
Are you a management consultant?
You can download this and hundreds of other consulting frameworks and consulting training guides from the FlevyPro library.
"All you need is your own imagination
So use it that's what it's for (that's what it's for)
Go inside, for your finest inspiration
Your dreams will open the door (open up the door)" Madonna
Madonna is a perfect example of reinvention. A very versatile actress, Madonna has the ability to adapt to new trends; someone that can send a lesson to companies struggling with their own digital revolution.
In this digital age, change is rewarded while being static is being punished. Companies must be open to Digital Transformation; a radical reinvention to find new, significant, and sustainable sources of revenue.  Incremental adjustments or building something new outside of the core business can provide real benefits and, in many cases, are a crucial first step for a digital transformation. But if these initiatives do not lead to more profound changes to the core business and avoid the real work of re-architecting how the business makes money, the benefits can be fleeting and too insignificant to avert a steady march to oblivion.
Discovering Digital Reinvention
Reinvention is a rethinking of the business itself.  Based on a Digital Quotient Research, reinvention requires significant commitment. First, the investment must be aligned closely with strategy at a sufficient scale. And second, digital leaders must have a high threshold for risk and must be willing to make bold decisions.
Digital Reinvention is not a throw-it-all-out approach. If you look at Apple when it moved from a computer manufacturer to music and lifestyle brand, it has reinvented itself while continuing to build computers.  Likewise, this is the case with John Deere.  John Deere is the brand name of Deere & Company that manufactures agricultural, construction, forestry machinery, and others. It continued to sell tractors and farm equipment while reinventing itself into a creator of online services for farmers.
Digital Reinvention is an innovative approach to laying the foundation for future growth while continually pushing improvement targets. Digital Reinvention is Business Transformation in action.
Approaching Digital Reinvention
Digital Reinvention will put new demands on leadership. Hence, an organization must have a strategic approach to Digital Reinvention: The 4Ds of Digital Reinvention.
Discover. The primary goal of Discover is to develop a tight business case for change based on facts. Organizations must discover what your digital vision is based on where the value is. This will shape your digital ambition, strategy, and business case.
Design. Designing, creating, and prototyping breakthrough experiences is the main focus of Design. It is reinventing and developing new capabilities and breakthrough Customer Journeys.
Deliver. This is the third phase where organizations need to gather speed and scale necessary for reinvention. Its primary focus is to deliver and develop a network of partners who can rapidly scale your ambition. There is a need to activate an ecosystem to rapidly deliver at scale.
De-risk. The 4th D, it is focused on structuring the change program, resources, and commercial model to reduce operational and financial risk. It is essential for senior leaders to focus on structural and organizational issues that can hamper the organization's ability to manage cyber risk.
Having a good handle of the 4Ds of Digital Reinvention will prepare leaders towards Digital Transformation and new challenges.  It will be able to come up with the right answers to key questions that will arise in preparation for Digital Reinvention. Coming up with the proper answers to these crucial questions can guide companies to reinvent themselves ad stay in the game.
Interested in gaining more understanding of Digital Reinvention? You can learn more and download an editable PowerPoint about Digital Reinvention here on the Flevy documents marketplace.
Are you a management consultant?
You can download this and hundreds of other consulting frameworks and consulting training guides from the FlevyPro library.
Technology, Internet, growth, and globalization have metamorphosed the way we work, play, and live.  They have even changed the fundamental laws of economics.  We are living in an economy that is quite different from the old manufacturing-based economy of the 1980s.  Fewer people are now employed in the manufacturing sector, who are anxious about the prospects of being replaced by machines soon.
The "New Economy" is a term economists started using in the 1990s to describe new, high-tech, high-growth industries that have been the driving force of economic growth since that period.  The new economy is also heralded as the Digital Economy, the Knowledge Economy, the Data Economy, or the eCommerce Economy.  Top technology enterprises—including Google, Facebook and Apple—have outpaced traditional firms around the globe by taking advantage of the new economy.
Leadership Development in this age of Digital Economy is a key challenge for most organizations.  More and more organizations, today, are revisiting what they are about and the meaning of leadership for them.  It's not about one person or even those residing at the top anymore.
MIT Sloan Management Review conducted a study of 4,000 executives from 120 geographies around the world to understand what defines a great leader in this changing world.  The study revealed striking results with most executives believed that their leaders lacked the mindset needed to produce the strategic changes essential for leading in the Digital Economy.  Enterprise-level transformation is what majority of leaders feared to embark on.
Mindsets are established set of attitudes held by someone that shape how a person interprets and responds to experiences.  A mindset arises out of a person's view of the world or philosophy of life.  To know about the Digital Economy leadership mindsets (i.e. leadership mindsets critical to survive in this new economy), the MIT Sloan Management Review's global study identifies 4 critical mindsets—based on in-depth interviews from executives worldwide and detailed analysis of data:
The Producer
The Investor
The Connector
The Explorer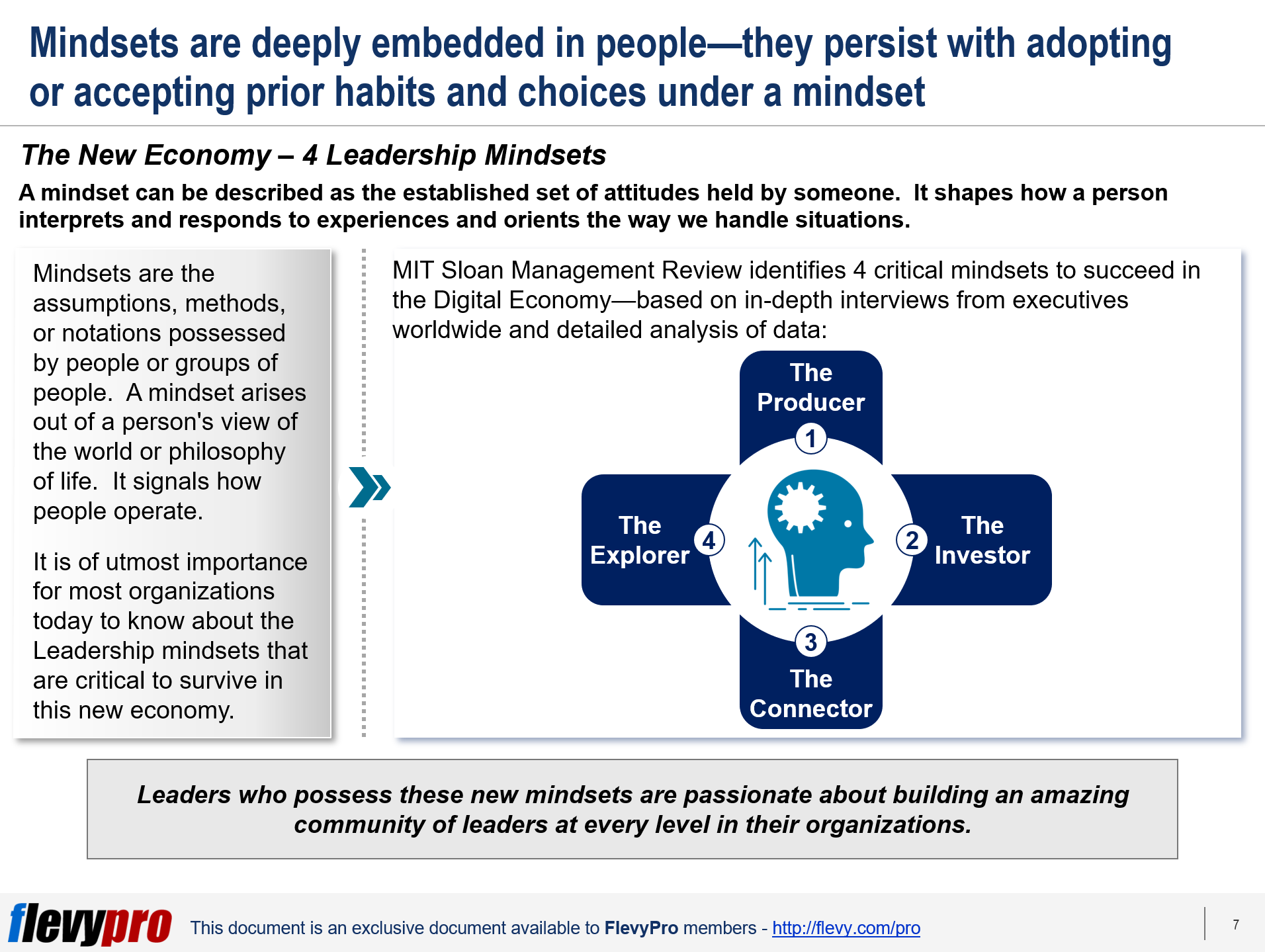 Let's define these first 2 leadership mindsets.
The Producer
Leaders with a producer mindset evaluate each of their customer touch points painstakingly.  These leaders exhibit a passion for producing customer value.  Producers concentrate on analytics, digital know-how, implementation, results, and customer satisfaction.  They focus on analytics to fast-track creativity.  The resulting innovation helps them tackle shifting customer preferences and enhance customer experiences.  The Producers strive to create all the customer journeys enjoyable.
The Investor
The leaders with an investor mindset make people appreciate the higher purpose they serve by their work.  They constantly struggle to instill motivation and teamwork among their teams in order to achieve their overall organizational goals.  The leaders with an investor mindset are concerned about the communities that surround them.  They look after the well-being and constant advancement of their employees, and devote their efforts to improve value for their customers.
Fostering these types of mindsets is critical to building the right Organizational Culture for an organization to be successful in the Digital Economy.
Interested in learning more about the leadership mindsets required to win in the new economy?  You can download an editable PowerPoint on Leadership Mindsets Critical to Succeed in the Digital Economy here on the Flevy documents marketplace.
Are you a Management Consultant?
You can download this and hundreds of other consulting frameworks and consulting training guides from the FlevyPro library.
Subscribe to our Newsletter

PowerPointing Templates

Error: Twitter did not respond. Please wait a few minutes and refresh this page.