Currently viewing the tag: "Branding"
Mergers and Acquisitions enable numerous opportunities for growth.  Organizations pursue these initiatives for a number of reasons—e.g. to expand further, attract more clients, or to broaden their product / service offerings.  Scores of M&A transactions materialize across the globe each year, but not all of them achieve the synergies such deals promise.  As a matter of fact, the success ratio is just around 27%.
The M&A Growth Framework is a structured approach to enhance the odds of a successful M&A transaction.  This approach is instrumental in helping organizations capitalize on growth opportunities locked in M&A deals.  The framework comprises 10 phases scattered across 3 timeframes:
Pre-deal Preparation
First 100 Days
Post-deal Closure
The 10 phases of the M&A Growth Framework organized under the 3 timeframes include: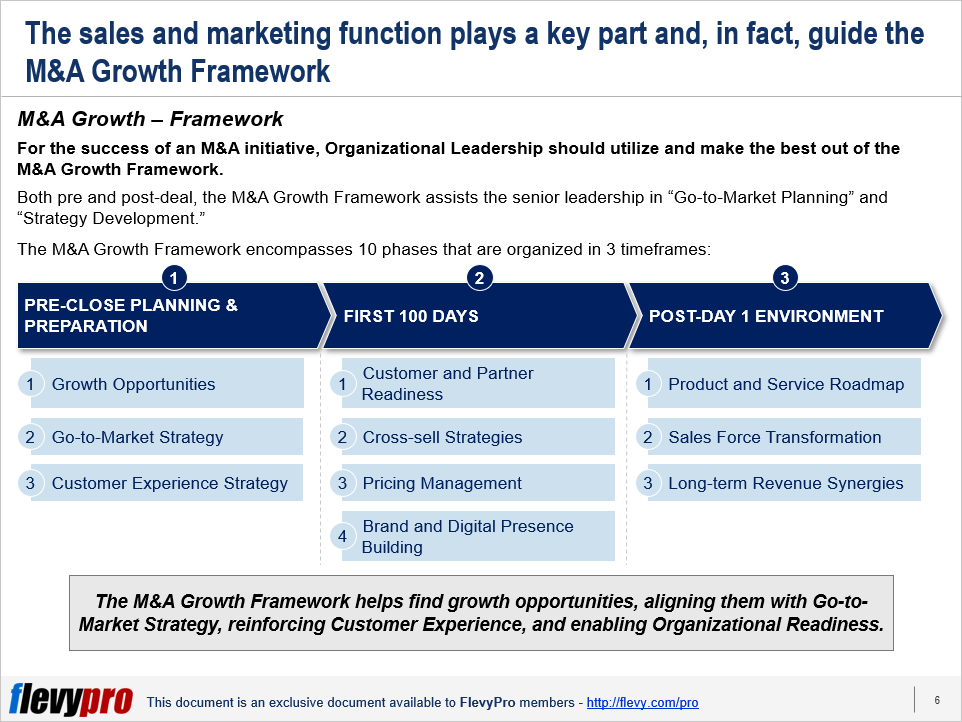 The M&A Growth Framework facilitates in finding growth opportunities, aligning them with Go-to-Market Strategy, reinforcing Customer Experience, and enabling Organizational Readiness for integration after the M&A.
Let's dive deeper into the first 3 phases of the M&A Growth Framework for now.
Growth Opportunities
The first step in achieving growth from a Merger or Acquisition deal is to identify and analyze the opportunities essential for growth.
Identification of growth opportunities necessitates:
Gauging the ability of the new company to enter target markets.
Conducting one-to-one interviews and Focus Group Discussions with key people from the management and customers to develop points of reference for existing key competencies.
Identifying and translating growth opportunities into initiatives.
Quantifying growth with timeline requirements.
Prioritizing opportunities based on their magnitude, viability, and potential for effective execution.
Utilizing clean teams to ensure confidentiality of data.
Go-to-Market Strategy
Identification and prioritization of growth opportunities necessitates delineating the Go-to-Market Strategy of the combined entity.  This phase assists in achieving the newly-formed company's stated growth targets, business continuity objectives, and proficient utilization of unified team and resources.
Key steps involved in this phase include:
Combining the acquired entity's product/service portfolio with the buyer's offerings.
Ascertaining and prioritizing strategic inputs.
Translating the information and inputs available into prioritized action items.
Segmenting the customers and their needs.
Creating Go-to-Market plans.
Connecting the sales channels with the unified company's product mix.
Ensuring resource readiness, sales targets, coverage, and channel mix.
Finalizing marketing plans: communication, branding, targeting, product mix.
Customer Experience Strategy
As part of integrating the 2 unified companies, it is critical for the senior leadership to develop and deploy a Customer Experience (CE) Strategy.  A consistent Customer Experience derives more value from existing customers, aids in the continuation of operations, and boosts customer spending.
Key steps in this phase entail:
Appraising the existing customer experience, interactions, and customer pain points.
Developing a customer-focused organization by creating seamless CE "personas" and customer journey maps.
Identifying and ranking CE improvement initiatives.
Implementing CE enhancement initiatives, monitoring outcomes, and correcting the course.
Integrating the customers and Customer Experiences of the acquirer and the target companies.
Interested in learning more about the other phases of the M&A Growth Framework ?  You can download an editable PowerPoint on M&A Growth Framework here on the Flevy documents marketplace.
Do You Find Value in This Framework?
You can download in-depth presentations on this and hundreds of similar business frameworks from the FlevyPro Library.  FlevyPro is trusted and utilized by 1000s of management consultants and corporate executives.  Here's what some have to say:
"My FlevyPro subscription provides me with the most popular frameworks and decks in demand in today's market.  They not only augment my existing consulting and coaching offerings and delivery, but also keep me abreast of the latest trends, inspire new products and service offerings for my practice, and educate me in a fraction of the time and money of other solutions.  I strongly recommend FlevyPro to any consultant serious about success."
– Bill Branson, Founder at Strategic Business Architects
"As a niche strategic consulting firm, Flevy and FlevyPro frameworks and documents are an on-going reference to help us structure our findings and recommendations to our clients as well as improve their clarity, strength, and visual power.  For us, it is an invaluable resource to increase our impact and value."
– David Coloma, Consulting Area Manager at Cynertia Consulting
"FlevyPro has been a brilliant resource for me, as an independent growth consultant, to access a vast knowledge bank of presentations to support my work with clients.  In terms of RoI, the value I received from the very first presentation I downloaded paid for my subscription many times over!  The quality of the decks available allows me to punch way above my weight – it's like having the resources of a Big 4 consultancy at your fingertips at a microscopic fraction of the overhead."
– Roderick Cameron, Founding Partner at SGFE Ltd
Enterprises worldwide face problems selecting, staffing, developing, compensating, motivating, and sustaining their key talent.  Building a sustainable Talent pipeline is quite strenuous even for large multinationals.
Replicating best practices from somewhere and applying them alone isn't sufficient for organizations to build a Talent pipeline and achieve Competitive Advantage.  This warrants overcoming arduous challenges associated with this digital age, including:
Adjusting to varying dynamics in global markets
Handling the expectations of varied customer segments in different geographies
Managing the preferences of key Talent
Acquiring new technologies
Building novel capabilities
Achieving Operational Excellence by streamlining operations and improving processes
Exploring new markets
Devising strategies to attract, select, develop, assess, and reward top Talent.
Developing Talent Management practices helps the organizations build and retain talented people available in the job market.  The term was first used by McKinsey & Company in 1997, and it pertains to planning and managing strategic Human Capital through activities, i.e. attracting, selecting, developing, evaluating, rewarding, and retaining key people.
Executives use diverse Talent Management strategies and career pathways based on various departments, levels, and roles in their Talent pool.  Multi-year research on Talent Management practices conducted by an international team of researchers from INSEAD, Cornell, Cambridge, and Tillburg universities studied 33 multi-national corporations, headquartered in 11 countries.  The study revealed that successful Human Capital practitioners and workforce planners adopted 6 core principles.  These principles act as the 6 pillars to effective Talent Management implementation:
Alignment with Corporate Strategy
Consistency of Talent Management Practices
Integration with Corporate Culture
Involvement of Leadership
Global Strategy with Localization
Branding and Differentiation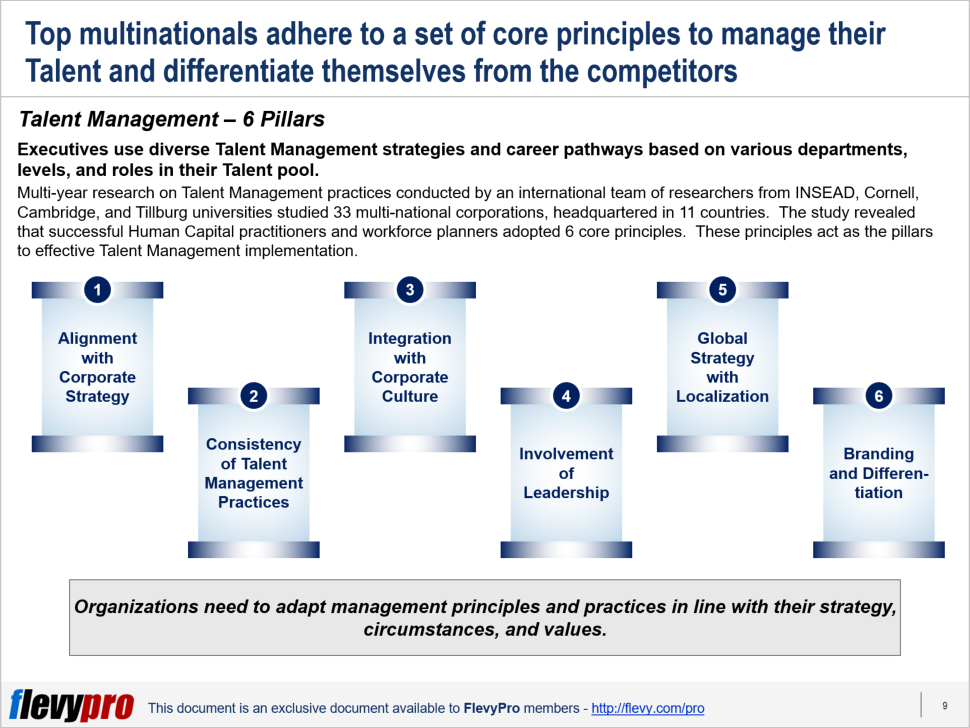 Let's discuss the first 3 pillars in detail, for now.
Alignment with Corporate Strategy
Integrating Talent Management with Corporate Strategy is imperative as the need for future Talent depends on the company's long-term strategy.  Corporate Strategy should guide the identification of Talent required to accomplish organizational goals, since it's the right Talent that drives the key strategic initiatives rather than strategic planning.
For example, GE's Talent Management practices have been a great assistance in implementing their strategic initiatives.  The organization regards its Talent Management system as their most potent execution tool and has integrated TM processes into their strategic planning process.  To sustain its image as an innovation leader, GE targets technical skills as a priority in its annual Strategic Planning sessions.  Individual business units lay out their business as well as the Human Capital objectives in GE's annual strategic planning sessions.  Significant time is spent on reviewing its Innovation pipeline, its engineering function's structure, and Talent requirements.  To achieve its vision, GE promotes more engineers in its senior management than its rivals.
Consistency of Talent Management Practices
Talent Management practices must be consistent and synchronous with each other.  It is critical not only to invest in advancing the careers of key Talent but also to invest in processes to empower, compensate, and retain them.  Human Capital practitioners utilize various tools to ensure consistency of Talent Management practices, including Human Resources satisfaction surveys and qualitative and quantitative data on TM practices implementation.
For example, the success of Siemens is based on consistent monitoring of its systems, processes, and key performance metrics across its subsidiaries.  Every element of Human Capital Management is connected, continuously assessed, and linked to rewards.  This goes from recruitment of graduates each year, to their orientation, to mentoring and development, to performance evaluation and management, and compensation and benefits.
Integration with Corporate Culture
Corporate culture is regarded as important as vision and mission by renowned global organizations. These companies hold their core values and behavioral standards very high and promote them among their employees through coaching and mentoring.  They strive to embed this into their hiring, leadership development, performance management, remuneration, and reward processes / programs.  So much so that they consider cultural adaptability a crucial element of their recruitment process—as personality traits and mindsets are hard to develop than technical skills—and evaluate applicants' behaviors and values rigorously.
For example, among other leading companies, IBM has a special emphasis on values while selecting and promoting people.  To ensure consistent values across the board, it organizes regular values jam sessions and employee health index surveys.  These sessions encourage open communication and debate on values and organizational culture and their importance among employees.
Interested in learning more about the other pillars of Talent Management, the various approaches to TM? You can download an editable PowerPoint on 6 Pillars of Talent Management here on the Flevy documents marketplace.
Are you a Management Consultant?
You can download this and hundreds of other consulting frameworks and consulting training guides from the FlevyPro library.
Subscribe to our Newsletter

PowerPointing Templates

Error: Twitter did not respond. Please wait a few minutes and refresh this page.