Currently viewing the tag: "Transformation"
The Value Chain concept, first described by Dr. Michael Porter in 1985, is a series of actions that a firm—in a specific industry—accomplishes to produce a valuable product or service for the market.  The value chain notion visualizes the process view of an organization, perceiving a manufacturing or service organization as a system comprised of subsystems of inputs, transformation processes, and outputs.
Another way to define the Value Chain principle is, "transforming business inputs into outputs, thereby creating a value much better than the original cost of producing those outputs."  These inputs, processes, and outputs entail acquiring and utilizing resources—finances, workforce, materials, equipment, buildings, and land.
An industry Value Chain includes the suppliers that provide the inputs, creation of products by a firm, distribution value chains, till the products reach the customers.  The way Value Chain activities are planned and executed determines the costs and profits.
Value chains consist of set of activities that products must undergo to add value to them.  These activities can be classified into 2 groups:
Primary Activities
Secondary Activities
Primary activities in Porter's Value Chain are associated with the production, sale, upkeep, and support of a product or service offering, including:
Inbound Logistics
Operations
Outbound Logistics
Marketing and Sales
Service
 The secondary activities and processes in Porter's Value Chain support the primary activities.  For instance:
Procurement
Human resource management
Technological development
Infrastructure
Value Chain Analysis Benefits
The analysis of a Value Chain offers a number of benefits, including:
Identification of bottlenecks and making rapid improvements
Opportunities to fine-tune based on transforming marketplace and competition
Bringing out the real needs of an organization
Cost reduction
Competitive differentiation
Increased profitability and business success
Increased efficiency
Decreased waste
Delivery of high-quality products at lower costs
Retailers can monitor each action throughout the entire process from product creation to storage and distribution to customers.
Value Chain Analysis (VCA) Approach
Businesses seeking competitive advantage often turn to Value Chain models to identify opportunities for cost savings and differentiation in the production cycle.  The Value Chain Analysis (VCA) process encompasses the following 3 steps:
Activity Analysis
Value Analysis
Evaluation and Planning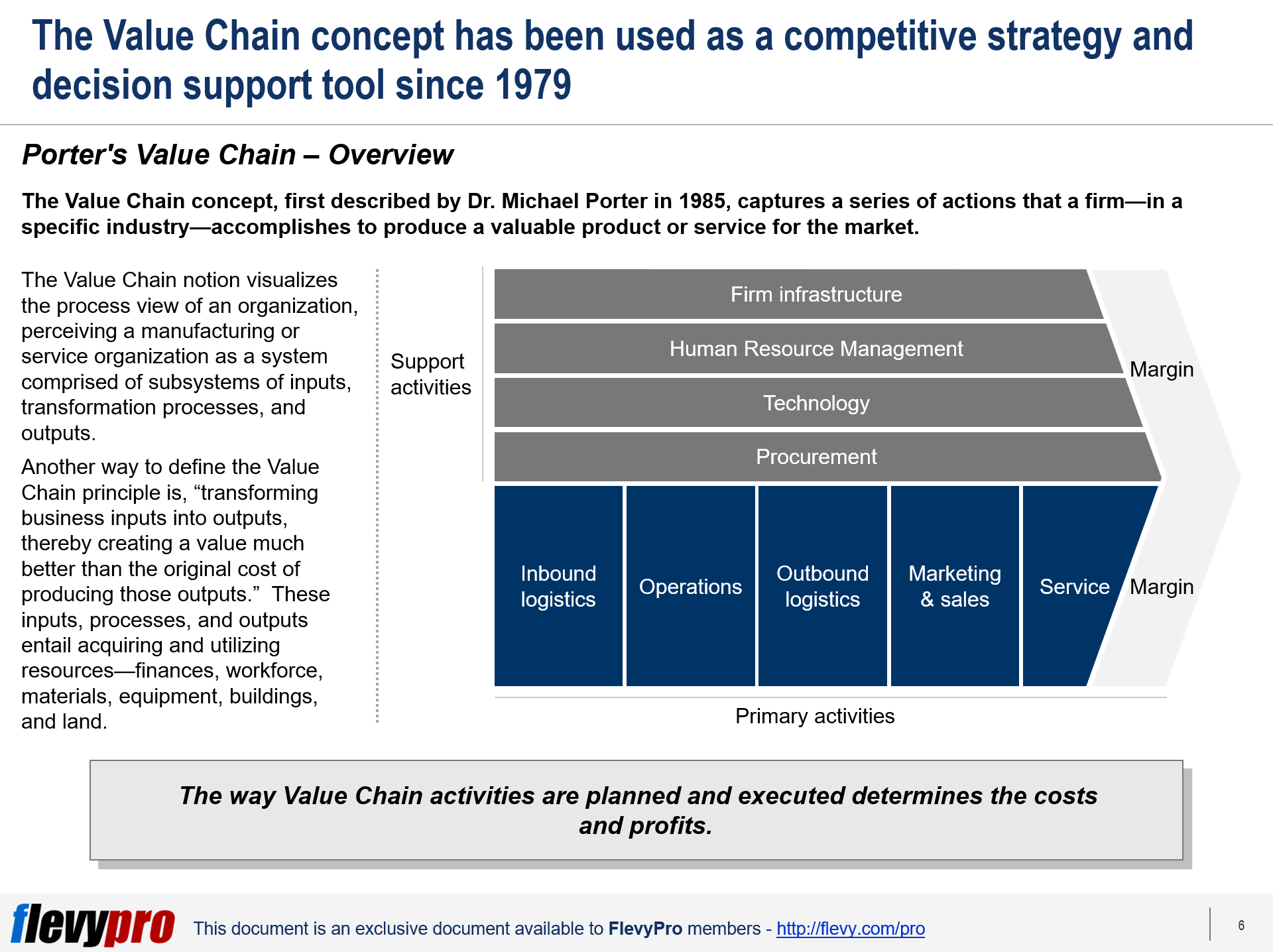 Activity Analysis
The first step in Value Chain Analysis necessitates identification of activities that are essential to undertake in order to deliver product or service offerings.  Key activities in this stage include:
Listing the critical processes necessary to serve the customers—e.g., marketing, sales, order taking, distribution, and support—visually on a flowchart for better understanding.

This should be done by involving the entire team to gather a rich response and to have their support on the decisions made afterwards.

Listing the other important non-client facing processes—e.g., hiring individuals with skills critical for the organization, motivating and developing them, or choosing and utilizing technology to gain competitive advantage.
This stage also entails gathering customers' input on the organization's product or service offerings and ways to continuously improve.
Value Analysis
The second phase of the Value Chain Analysis necessitates identifying tasks required under each primary activity that create maximum value.  This phase is characterized by:
Ascertaining the key actions for each specific activity identified during the first phase.
Thinking through the "value factors"— elements admired by the customers about the way each activity is executed.

For example, for the order taking process, customers value quick response to their call, courteous behavior, correct order entry, prompt response to queries, and quick resolution of their issues.

Citing the value factors next to each activity on the flowchart.
Jotting down the key actions to be done or changes to be made to under each Value Factor.
Interested in learning more about the other phases of the Value Chain Analysis Approach?  You can download an editable PowerPoint on Strategy Classics: Porter's Value Chain here on the Flevy documents marketplace.
Are you a Management Consultant?
You can download this and hundreds of other consulting frameworks and consulting training guides from the FlevyPro library.
Gordon Moore, Intel co-founder, observed that the number of transistors in a dense integrated circuit doubles about every two years.  He projected that this rate of growth would continue for at least another decade.
His observation, termed the "Moore's Law," has correctly predicted the pace of innovation for several decades and guided strategic planning and research and development in the semiconductor industry.  Moore's law is based on observation and projection of historical trends.
In 2015, Gordon Moore foresaw that the rate of progress would reach saturation.  In fact, semiconductor advancement has declined industry-wide since 2010, much lower than the pace predicted by Moore's law.  The doubling time and semi-conductor performance has changed, but it has not impacted the nature of the law much.
Although many people predict the demise of Moore's law, exponential growth in computing power persists with the emergence of innovative technologies.  Moore's law is only part of the equation for effective Digital Transformation—there are other contributing factors including the role of leadership.
First Law of Digital Transformation
George Westerman—a senior lecturer at the MIT Sloan School of Management—proposes a new law, which states that, "Technology changes quickly, but organizations change much more slowly."  The law known as the "First Law of Digital Transformation" or "George's Law" is a pretty straightforward observation, but is often ignored by the senior leadership.  This is why Digital Transformation is considered more of a leadership—than technical—issue.
Just announcing an organization-wide Transformation program does not change the enterprise.  According to George's Law, successful Digital Transformation hinges on the abilities of senior leadership to effectively manage the so many contrasting mindsets of its workforce, identify and take care of the idiosyncrasies associated with these mindsets, interpret their desires, and focus attention on encouraging people to change.
Above all, the leadership should focus on converting Digital Transformation from a project to a critical capability.  This can be done by shifting emphasis from making a limited investment to establishing a sustainable culture of Digital Innovation Factory that concentrates on 3 core elements:
Provide People with a Clear and Compelling Vision
Invest in Upgrading or Replacing Legacy Technology Infrastructure
Change the Way the Organization Collaborates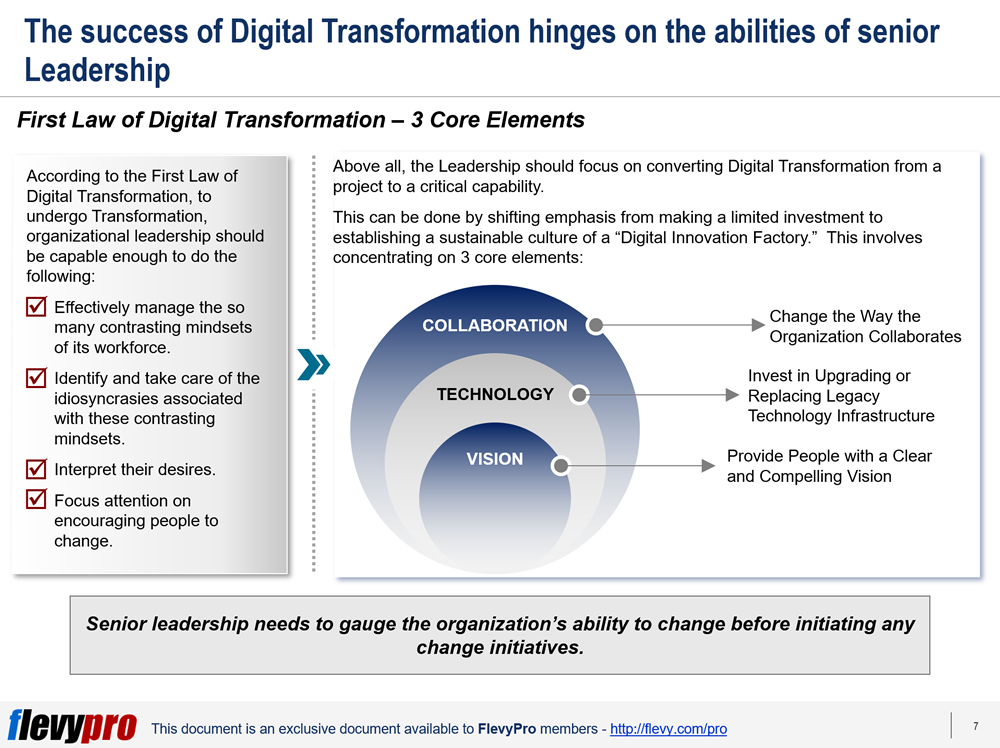 Let's now discuss the first 2 elements of the First Law of Digital Transformation.
Provide People with a Clear and Compelling Vision
Without a clear and compelling transformative vision, organizations cannot gather people to support the change agenda.  People can be either change resisters, bystanders, or change enablers.  However, most people typically tend to like maintaining the status quo, ignore change, or choose to openly or covertly engage in a battle against it.
For the employees to embrace change, leadership needs to make them understand what's in it for them during the transition and the future organizational state.  This necessitates the leaders to develop and share a compelling vision to help the people understand the rationale for change, make people visualize the positive outcomes they can achieve through Transformation, and what they can do to enable change.  A compelling vision even urges the people to recommend methods to turn the vision into reality.
Invest in Upgrading or Replacing Legacy Technology Infrastructure
Problems and shortcomings in the legacy platforms is an important area to focus on during Digital Transformation.  The legacy technology infrastructure, outdated systems, unorganized processes, and messy data are the main reasons for organizational lethargy.  These issues hinder the availability of a unified view of the customer, implementing data analytics, and add to significant costs in the way of executing Digital Transformation.
Successful Digital Innovation necessitates the organizations to invest in streamlining the legacy systems and setting up new technology platforms that are able to enable digital and link the legacy systems.  Fixing legacy platforms engenders leaner and faster business processes and helps in maintaining a steady momentum of Innovation.
Interested in learning more about the First Law of Digital Transformation?  You can download an editable PowerPoint on First Law of Digital Transformation here on the Flevy documents marketplace.
Are you a Management Consultant?
You can download this and hundreds of other consulting frameworks and consulting training guides from the FlevyPro library.
Organizations need to persistently improve the way they do business to stay ahead of the curve. New ideas trigger organizational improvement and build the foundation of a Learning Organization.
Scholars have defined a Learning Organization in many different ways. Some suggest it as an organization skilled at creating, acquiring, and transferring knowledge, and at modifying its behavior to reflect new knowledge and insights. Marlene Fiol and Marjorie A. Lyles describe organizational learning as "the process of improving actions through better knowledge and understanding." Barbara Levitt and James G. March define organizations as "Learning Organizations when they encode inferences from history into routines that guide behavior. Chris Argyris categorizes organizational learning as "a process of detecting and correcting error." According to Peter Senge, "a Learning Organization is a group of people working together collectively to enhance their capacities to create results they care about."
Being a Learning Organization offers several advantages. A perpetual influx of insights and new experience keeps the organization dynamic and ready for transformation; assists in better management of investments, improves efficiency; and helps in developing cost leadership and differentiation strategies. Learning Organizations tend to be more innovative by encouraging people to learn, develop, and by generating a more innovative environment. Shared learning builds the corporate image of the organization and increases the pace of change within the organization. Learning Organizations provide their people the ability to think insightfully about complex problems, take coordinated action, improve decision making, and instill a sense of community in them.
Despite efforts to improve continuously and creating new knowledge, organizations cannot simply become Learning Organizations. They employ various approaches but what they actually need is to become proficient in translating new knowledge into new ways of doing things, and actively managing the learning process so that it gets ingrained into the organizational culture.
Becoming a Learning Organization necessitates mastering 5 key activities. These 5 activities form the building blocks of a Learning Organization and should be integrated into the organizational core to transform your company into a Learning Organization.
Systematic Problem Solving
Experimentation
Learning from Experience
Learning from Others
Knowledge Transfer
Applying these practices to some degree or in isolated cases isn't enough. To ensure continued success, these practices should be complemented by distinct mindsets, support systems, and processes.
Let's now discuss the first 3 building blocks in detail.
1. Systematic Problem Solving
Systematic problem solving is based on scientific methods for diagnosing problems, e.g., the Plan, Do, Check, Act (PDCA) cycle or "hypothesis-generating, hypothesis-testing." The technique employs fact-based management, relying on concrete data instead of assumptions for making decisions and utilizes statistical tools—such as Pareto charts, histograms, correlation, and cause and effect diagrams—to consolidate data and draw conclusions.
For a real Learning Organization, people need to become more disciplined, pay more attention to detail, assess underlying causes, and analyze data before reaching decisions.
2. Experimentation
Experimentation involves systematic exploration and testing of new knowledge. Experimentation has 2 fundamental configurations; both forms transfer knowledge and yield new insights, capabilities, tools, techniques, and processes:
Ongoing programs
Demonstration Projects
Ongoing Programs
Ongoing programs entails a chain of small experiments aimed at yielding incremental gains in knowledge. These programs maintain a steady flow of new ideas by sending workforce on sabbaticals at different places to learn new work practices and tools from industry and academia, and applying that knowledge to their daily routines. Such programs foster risk taking and a feeling of "benefits of experimentation far outweigh the costs."
Demonstration Projects
Demonstration projects are one of a kind, large-scale initiatives that include holistic system-wide transformation targeted at a single site. These projects are executed with a goal of developing new organizational capabilities using a "clean slate" approach.
Self-managing, multi-departmental teams; high level of employee autonomy; considerable "learning by doing;" course corrections; implicit policy guidelines, precedents, and decision rules are the key characteristics of demonstration projects.
3. Learning from Experience
Learning Organizations gain valuable knowledge from their past experiences, by doing an exhaustive and systematic appraisal of past successes and failures. However, not too many managers pay attention to past experiences or reflect on those, eventually losing valuable insights. To inculcate a culture of learning, lessons learned should be recorded and made readily accessible to all employees.
A handful of companies have laid out processes for their managers to contemplate on their past actions and incorporate those in their learning. At the core of this approach lies the belief that distinguishes productive failure from unproductive success. Productive failure delivers knowledge and understanding whereas unproductive success goes unnoticed where nobody knows what went well and why. Learning from experience approach isn't that expensive—case studies and project reviews can be compiled with little cost.
Interested in learning more about the building blocks of a Learning Organization? You can download an editable PowerPoint on Learning Organization: 5 Building Blocks here on the Flevy documents marketplace.
Are you a Management Consultant?
You can download this and hundreds of other consulting frameworks and consulting training guides from the FlevyPro library.
A large majority of organizations rarely focus on gathering and utilizing customer-centric knowledge. So much so that they even introduce a product without having vital insights on the customer and their unmet needs, and they are often clueless about them. Consequently, many product development initiatives fall flat as managers struggle to filter and evaluate ideas.
Most organizations, today, are developing initiatives around Customer Experience Strategy and Customer Journey Mapping. Customer-centric Organizations are deeply focused towards value creation for their customers. They understand the unique customer insights needed to make customer-centric decisions, are able to gather those customer insights, and are aware of the way to utilize the insights in creating value for their customers. By using customer insights, Customer-centric Organizations drive their product innovation success rate significantly higher than the industry average.
In order to develop this capability, organizations need to first utilize a customer-centric research process to gather the customer insights required to drive value creation. This is accomplished when:
They know the desired unique customer insights needed to make customer-centric decision.
They are able to gather the required customer insights.
They realize the proper time and way to utilize the insights in making value creation focused business decisions.
Building a Customer-centric Culture of Innovation warrants a methodical approach. A potent approach to building such a culture of innovation encompasses 3 key phases:
Qualitative Insights: Apply Customer-Centric Fundamentals

 

- The first phase commences by organizing an intensive day-long workshop for each cross-functional product team. The teams engage in a unique customer journey where they employ a "jobs-to-be-done" lens to analyze their market, and identify valuable, qualitative customer insights needed to drive customer-centric decision making.
Quantitative Insights: Quantify Opportunities that Exist

 

- This phase entails conducting quantitative research to rank the most critical customer insights needed to develop customer-centric data model. The insights available through this data set help the company in making customer-centric business decisions for years to come.
Implementation: Leverage New Customer Insights for Growth

 

- In this phase, managers and employees across the organization are trained on utilizing the insights to devise market and

 

product strategies, and to encourage customer-centric growth.
Let's take a deeper dive into the first phase of this process.
Qualitative Insights: Apply Customer-Centric Fundamentals
The first phase commences by organizing an intensive workshop for each cross-functional product team. It is typically a day-long session where the teams engage in a unique customer journey. They employ a "jobs-to-be-done" lens to analyze their market and identify valuable, qualitative customer insights needed to drive customer-centric decision making. The qualitative customer insights developed during the first phase serve as an indispensable, long-term guide in the journey to a customer-centric mindset.
During phase I, each product team is trained on customer-centric philosophy in a workshop settings. The workshop participants participate in qualitative research discussions designed to obtain critical customer information and fresh insights. Upon completion of the initial phase, the product team is able to develop a shared innovation vocabulary and gather customer insights to make customer-centric marketing and product development decisions.
Interested in learning about the third phase of the approach to Customer-centric Culture of Innovation? You can download an editable PowerPoint on Customer-centric Culture of Innovation here on the Flevy documents marketplace.
Are you a Management Consultant?
You can download this and hundreds of other consulting frameworks and consulting training guides from the FlevyPro library.
In this era of rapid change only organizations that are evolving and continuously learning can flourish. Successful organizations discover how to tap their people's commitment and capacity to learn at all levels.
A Learning Organization is a place where people continually expand their capacity to create the results they truly desire, where new ideas and thinking are nurtured, and where people are continually learning to see the whole together. A Learning Organization is established on the principles of innovation, free flow of ideas, and a consistent focus on transforming the ways of doing business.
Learning Organizations adopt 5 distinct practices to succeed, which form the "building blocks" of such organizations:
Systematic Problem Solving
Experimentation
Learning from Experience
Learning from Others
Knowledge Transfer
Five key characteristics distinguish a Learning Organization from the rest. These attributes serve as the guiding principles and practices that these organizations study and integrate into their DNA. A blend of these core characteristics helps organizations adopt a more interconnected way of thinking:
Systems Thinking
Personal Mastery
Mental Models
Shared Vision
Team Learning
By adopting and mastering these core characteristics organizations become communities that employees can commit to. Let's, now, discuss the first 3 characteristics in detail.
Systems Thinking
Systems thinking allows people to study businesses as bounded objects. Learning Organizations possess information systems to assess the performance of the organization and its components as a whole. Systems thinking states that all the characteristics must be present together in an organization for it to be a Learning Organization. However, some experts consider that the characteristics of a Learning Organization are gradually acquired, rather than developed simultaneously.
Personal Mastery
Personal mastery is an individual's commitment to learning. It is about becoming more productive by applying skills to work in the most constructive manner. It involves clarification of focus, vision, and to interpret reality objectively. Training, development, and continuous self-improvement are the sources of individual learning.
Mental Models
Mental models include assumptions and generalizations retained by individuals and organizations, which go undetected, as mental models limit peoples' observations. Learning Organizations need to identify and challenge these models. For a learning environment it is important to replace confrontational attitudes with an open culture that promotes inquiry and trust, introduce mechanisms for uncovering and assessing organizational theories of action, and discard any unwanted values.
Role of Leadership
Productivity and competitiveness relies on knowledge generation and processing. Therefore, organizations not only have to invest in new machinery and systems to improve production, but also focus on knowledge generation and learning of their people. Learning Organizations require a new view of leadership. Leaders in Learning Organizations create workplaces that help people keep building their capabilities to understand complexity, clarify vision, and improve shared mental models.
Peter Senge describes the 3 key qualities of leaders to be critical in leading the Learning Organization:
Designer
Steward
Teacher
Designer
The key roles of a leader as a designer in Learning Organizations is designing the policies, strategies, and systems. The designer also outlines the governing ideas — the purpose, vision, and core values — for the people. They plan and develop the learning processes whereby people throughout the organization can deal productively with the critical issues they face, and cultivate personal mastery of the team members in the desired learning disciplines.
Steward
According to Peter Senge, the notion of management in this modern age should be replaced by "stewardship" — whereby control and consistency should be swapped with partnership and choice. The leader as a steward tells 'purpose stories' about their organization and relate those stories. They explain the reasons of the tasks that are required to be performed, the need for the organization to evolve, and the purpose of evolution. They learn to listen to other people, involve them, and develop vision — both individual and shared.
Interested in learning more about the key attributes of leaders and core characteristics of a Learning Organization? You can download an editable PowerPoint on Learning Organization Primer here on the Flevy documents marketplace.
Are you a Management Consultant?
You can download this and hundreds of other consulting frameworks and consulting training guides from the FlevyPro library.
Most Transformation initiatives fail to achieve their anticipated objectives.
Change Management is all about engaging and rallying people — at all levels in the organization — to make the transition and sustain that change. It is critical to ensure that the entire workforce is eager and ready to embrace the required new behaviors. More often than not, the technical side of a change initiative is well planned, but it's the implementation part that fails — particularly, changing the mindsets and behaviors of the entire workforce to enable change to stick.
Managing change is not an occasional affair; it is an iterative process that works on motivating human behavior to accept and adjust to a desired state of mind. The process is naturally evolving as it adapts in accordance with the feedback from the people.
Change Management demands a thorough yet organized approach to enable the "people side" of change to work — essential for accommodating and sustaining Business Transformations. This entails assisting people incorporate new mindsets, processes, policies, practices, and behaviors.
A methodical approach to make the entire workforce accept and support change constitutes 8 critical levers:
Defining the Change
Creating a Shared Need
Developing a Shared Vision
Leading the Change
Engaging and Mobilizing Stakeholders
Creating Accountability
Aligning Systems and Structures
Sustaining the Change
Now, let's discuss the first 4 levers in detail.
1. Defining the Change
The first step entails outlining the rationale, scope, and results of the change initiative for the enterprise, key departments, and roles. There is a need to define critical elements, including the requirements from the initiative, the execution planning, and the adjustments needed to encourage people to work better.
The project sponsors need to clearly outline the essence of the proposed Transformation initiative, to realistically embed Change Management into the design of the program, and develop effective Change Management plans. An initial baseline of the expected effect of the program on people should be performed. The baseline also helps analyze the impact of the change program — in terms of skills inventory, head-count indications, adjustments in accountabilities and relationships, shifts in incentives and pay structures, and future learning needs.
2. Creating a Shared Need
Once the change and its impact has been delineated, the next thing to do is to create a shared understanding of the rationale for Transformation across the organization. To create a shared need for the Transformation endeavor, the change sponsor needs to build awareness of the necessity for change amongst the senior team, key stakeholders, and the entire organization; demonstrate to the people the benefits of change; and set up a feedback mechanism across the organization. The alignment afforded by developing a shared need for change helps build a strong footing for Transformation.
3. Developing a Shared Vision
An essential element of implementing transformation entails delineating a clear vision that outlines critical actions and the anticipated outcomes. It helps in encouraging and involving the workforce in the Transformation initiative, giving them a sense of purpose by becoming a part of something bigger. The vision of the organization after Transformation should be coherent with the company values and mission.
4. Leading the Change
This lever entails developing change leadership and implementation skills needed to drive and enable sustainable change. Engagement and commitment of senior leaders is essential for leading change. They are responsible for planning their and the entire workforce's actions, demonstrating or role modeling the new mindsets and actions, designating program sponsors — e.g., business unit leaders who are enthusiastic about the Transformation initiative and also act as change agents — motivating others to support transformation, and setting up a road map for the change leaders to steer the organization to achieve the anticipated performance milestones.
Interested in learning more about these levers to Change Management? You can download an editable PowerPoint on 8 Levers to Change Management here on the Flevy documents marketplace.
Are you a Management Consultant?
You can download this and hundreds of other consulting frameworks and consulting training guides from the FlevyPro library.
Transforming a product-driven firm to a customer-driven enterprise is inevitable in order to stay ahead in today's extremely competitive markets. The days of mass marketing, mass media communications, and little-to-none direct interface with customers are long gone. The emphasis, now, should be on maximizing customer relationships and becoming customer-driven organizations rather than merely selling products. The technological advancements of this age offer potent tools for organizations to utilize in order to engage with the customers directly; gather and mine information; and tailor their products and services appropriately.
Leading organizations are making huge investments in data analytics and transforming their strategies to focus on the customers' evolving needs. They are striving hard to improve their customer retention and deepen their relationships utilizing rich customer insights, tailoring products according to the personalized needs of the customers, and presenting the offerings in a variety of store formats.
The Customer Department
To become customer-centric organizations, companies need to transform their traditional marketing function into a new unit called the "Customer Department." The Customer Department should be created to deliver maximum profits to the customers and nurturing customer relationships instead of pushing products.
This necessitates transforming the organizational structure, culture, strategy, and reward programs in line with the shift in focus from managing transactions to cultivating customer relationships. Specifically, there is a need to add the position of Chief Customer Officer (CCO)—under the CEO—and various Customer Managers underneath the CCO. The roles and responsibilities of these positions should be:
Chief Customer Officer (CCO)
The most prominent shift in a customer-centric organization is replacing the traditional Chief Marketing Officer (CMO) role with the Chief Customer Officer (CCO) role. Reporting to the CEO, the CCO is primarily responsible for devising and executing the customer relationship strategy, directing all the client-facing roles, and fostering a customer-driven culture in the organization. The main tasks of the CCO position include ensuring smooth flow of customer information, increasing productivity utilizing various metrics, and regularly interacting with the customers to understand their concerns.
Customer Managers
In a customer-centric organization, the Customer Managers (CMs) are in charge of various customer segments. They are accountable for enhancing the value of a customer relationship by ascertaining customers' product needs. To make this role effective, there is a need to realign resources—people, budgets, authority—from product managers to the CMs.
The main tasks of the CM position include defining customer needs, extracting and interpreting customer insights utilizing various sources—e.g., mining customer forums, blogs, and online purchasing data—, and striving to improve the lives of the customers.
Additional Responsibilities of the Customer Department
Customer-centric organizations make the Customer Department accountable for some of the critical customer-facing functions which were once considered an integral part of the Marketing Department. These functions include:
Customer Relationship Management (CRM)
Market Research
Research & Development (R&D)
Customer Service
Customer Relationship Management (CRM)
Traditionally, the CRM function belongs to the Information Technology Department owing to the technicalities involved in managing the CRM systems. The function demands evaluating the customer requirements and behaviors—which is a core function of the Customer Department alongside gathering and analyzing data necessary to execute a customer-development strategy.
Market Research
In customer-centric organizations, the Market Research function goes all the way from the marketing unit to other units that deal with customers—e.g., Finance for payments, Distribution for delivery. These organizations take a more granular view of customers' behaviors, and gather and incorporate clients' feedback to further improve customer lifetime value and equity.
Research & Development (R&D)
The R&D function should also report to the Customer Department, as, nowadays, the traditional R&D-driven new product development models are conceding to creative collaboration between the client (users) and producers. It's not a good idea anymore to pack tons of features into a product and cause feature fatigue to customers. What's more appropriate is to seek and incorporate customers' input into product features by involving them into the product design process.
Customer Service (CS)
CS is another function that should be handled by the Customer Department to guarantee quality of service and to nurture long-term relationships. This important function isn't worth outsourcing overseas as this often causes negative impact to the clients and organizations alike, due to poor customer service.
Interested in learning more about Customer Metrics, Customer Department, and Customer-centric Organizations? You can download an editable PowerPoint on Customer-centric Organizations: The Customer Department here on the Flevy documents marketplace.
Are you a Management Consultant?
You can download this and hundreds of other consulting frameworks and consulting training guides from the FlevyPro library.
Changing the behaviors of people is the foremost issue with every transformation initiative.
Nudge theory is a novel Change Management model that underscores the importance of understanding the way people think, act, and decide. The model assists in encouraging human imagination and decision making, and transforming negative behaviors and influences on people. The approach helps understand and change human behavior, by analyzing, improving, designing, and offering free choices for people, so that their decisions are more likely to produce helpful outcomes for the others and society in general.
Nudge theory helps reform existing (often extremely unhealthy) choices and influences on people. The theory is quite effective in curtailing resistance and conflict resulting from using autocratic ways to change human behavior. The model promotes indirect encouragement and enablement—by designing choices which encourage positive helpful decisions—and avoids direct enforcement. For instance, playing a 'room-tidying' game with a child rather than instructing her/him to tidy the room; improving the availability and visibility of litter bins rather than erecting signs with a warning of fines.
Organizations are increasingly using behavioral economics to optimize their employee and client behavior and well-being. Nudge units or behavioral science teams are being set up in the public and corporate sectors to influence people to address pressing issues. For instance, to increase customer retention by changing the language of support center staff to motivate customers to consider long-term benefits of a product; or to make employees to follow safety procedures by placing posters of watching eyes to remind them of the criticality of the measure.
An effective Nudge initiative necessitates much more than deploying a few experts in heuristics and statistics. The senior leadership should lay out a conducive environment for successful behavioral transformation. This entails assisting the Nudge unit to focus, place it appropriately, create awareness, train and de-bias people, implement effective rewards, and follow high ethical standards.
The leadership needs to think about and prepare to tackle 6 key challenges Nudge units face when implementing effective behavioral transformation initiatives:
What should be the focus of the Nudge unit?
Should the Nudge unit be placed at the headquarters or at the business unit level?
Which resources be made part of the Nudge unit?
What are the critical success factors to consider for the unit?
How to communicate the results and early wins?
What should be done to tackle skepticism and resistance to change?
Leaders who are able to confront these challenges improve the chances that the unit's nudges will cause real change in the organization and in its productivity.
Let's, now, dive deeper into the first 3 key challenges.
What should be the focus of the Nudge unit?
The foremost action in creating a Nudge team is to clearly spell out the value proposition for the unit. The leadership needs to define the purpose of creating a Nudge unit. They need to clearly outline whether the Nudge team will focus on employees, on customers, or on both. For instance, the purpose of its creation could be to deal with workforce motivation, to make better decisions in boardrooms, to increase the internal capabilities, or to improve the behavior of employees. The focus on customer issues, for example, entails encouraging better pension provision, inculcating behavioral science into the marketing mix, or to analyze the experiences of customers and employees—e.g., in-store service initiatives, digital operations, and HR processes.
Should the Nudge unit be placed at the headquarters or at the business unit level?
The second challenge is to decide where to deploy the Nudge unit. The placement of the Nudge unit depends on the strategic purpose of creating the unit. At some companies, it is housed centrally within the corporate headquarters as a global Nudge operations center; a few have accommodated the unit within the R&D or marketing department; some have benefited by moving the unit away from the corporate center so as to be closer to products and services; whereas other practitioners believe that the customer-focused behavioral science team should sit within the product management domain.
Regardless of where the Nudge unit resides, its flexibility and assimilation with other methods of behavioral change—e.g., cognitive neuroscience, social psychology, and personality-trait science—are critical.
Which resources be made part of the Nudge unit?
Another critical element for the success of the Nudge unit is hiring and deployment of right resources. At the commencement of the program when key capabilities are typically not available in-house, most organizations hire people from the outside for their Nudge units. A few companies have recruited solely from the in-house due to the criticality of institutional knowledge and the long learning curve required to acquire it, whereas some have recruited across different geographies. On average, the unit comprises of 3 to 8 members, however, larger organizations can have more people scattered globally.
The ideal composition of the Nudge team is to include behavioral scientists and specialists in psychology, marketing, and advanced data analytics. The team should include people with the right attitude and abilities—e.g., curiosity, can-do attitude, problem solving, entrepreneurial mindset, ownership, and communication skills.
Interested in learning more about the Nudge Theory? You can download an editable PowerPoint on Nudge Theory: Key Challenges here on the Flevy documents marketplace.
Are you a Management Consultant?
You can download this and hundreds of other consulting frameworks and consulting training guides from the FlevyPro library.
Stiff market competition, expansion into new territories, product portfolio extension, and gaining new capabilities are the prime reasons why more and more organizations are seriously looking into the prospects of—and carrying out—Mergers and Acquisitions. However, only a few M&As achieve their desired revenue objectives.
Revenue Synergies are a decisive factor in closing such deals. However, identifying precisely where these Revenue Synergies lie and then capturing them isn't as easy as it sounds.
A McKinsey study comprising of 200 M&A executives from 10 different sectors revealed that all the respective organizations of the respondents remained short of achieving their Revenue Synergy targets (~23% short of the target on average). Securing Revenue Synergies is a long-term game. The companies that succeed in securing Revenue Synergies achieve the target in or around 5 years.
Leaders aspiring to achieve Revenue Synergies should first clarify the objectives from and the schedule of the revenue synergies, lay out the organizational priorities and go-to-market strategies, remove obstacles from realizing value, and gain across the board readiness and commitment for the initiative. Organizations that are most successful in securing revenue synergies pay close attention to these 7 guiding principles during the Post-merger Integration process:
Source of Synergies
Leadership Ownership
Customer Insight-driven Opportunities
Salesperson Driven Strategy
Ambitious Targets and Incentives
Sufficient Support
These 7 guiding principles to capturing Revenue Synergies are critical for effective integration of two firms after a merger and unlocking potential benefits from the deal. Let's discuss the first 3 principles in detail now.
1. Source of Synergies
The inability of the leadership of the acquiring company to spot major sources of revenue that integration brings in results in losing significant pools of opportunity and failure of M&As. Realizing Revenue Synergies demands a thorough methodology to ascertain and qualify revenue prospects along markets and channels, Go-to-Market Strategies, and developing commercial capabilities. This entails:
Evaluating customers and markets, selling offerings of the combined firms utilizing existing and additional channels, and adequately training and rewarding the sales teams.
Coming up with innovative new products and bundles utilizing combined R&D capabilities.
Sharing best practices and commercial capabilities that mergers offer.
2. Leadership Ownership
Organizations that accomplish their Revenue Synergy objectives guarantee that their top management and employees commit themselves fully to the initiative from the onset. They identify potential value pockets from the integration, examine the assumptions about securing value, and get them endorsed by the senior management and front-line staff. The potential Revenue Strategies are regularly evaluated by inter-departmental experts.
3. Customer Insight-driven Opportunities
Accurate estimation of Revenue Synergies demands top-level estimates—assumptions on market share gain, revenue enhancement, or improved penetration—alongside comprehensive bottom-up customer insights, and evaluation of customer relationships. Other important elements to consider include analyzing the offerings being offered to customers, discerning other potential products and services required by the customers, and assessing the ability of the sales team and brands in terms of the potential they offer to the clients.
Interested in learning more about the other guiding principles of securing PMI revenue synergies? You can download an editable PowerPoint on Post-merger Integration (PMI): Securing Revenue Synergies here on the Flevy documents marketplace.
Are you a Management Consultant?
You can download this and hundreds of other consulting frameworks and consulting training guides from the FlevyPro library.
On LinkedIn, there is a free giveaway on a bundle of Strategy & Transformation PowerPoint templates.  Full details can be found here:
Based on the thought leadership of top tier consulting firms (including McKinsey, BCG, Accenture) and renown strategists, each slide represents a specific business framework. A "framework" is a structured approach to analyzing and solving a common business situation. It allows us to evaluate and articulate our situation in an organized, thorough, and efficient manner.
Frameworks covered span a diverse array of Strategy & Transformation topics, from Growth Strategy to Brand Development to Innovation to Customer Experience to Strategic Management.
Each slide follows the standard Headline-Body-Bumper format, the slide design methodology used by all leading consulting firms.
Here is the full list of Strategy & Transformation frameworks:
10 Elements of Customer Delight
3 Strategy Horizons
4 Levers of Control
4 Problems in Reorganizations
8 Dimensions of Strategic Management
Accenture Nonstop-Customer Experience Model
Acquisition Integration Approaches
Balanced Scorecard
BCG Experience Curve
BCG Transformation Framework
Brand Asset Valuator (BAV)
Brand Development Lifecycle
Branding Pentagram, Competing Values Framework
Core Competence Model
Customer Segmentation Formula
Customer Segmentation Methodologies
Digital Transformation
Dimensions of Service Design
Disruptive Innovation
Distinctive Capabilities
Four Approaches to Ambidexterity
Greiner Growth Model
Kano Customer Satisfaction Model
Kepner-Tregoe Model
McKinsey 7-S Strategy Model
McKinsey Customer Decision Journey
Strategic Management Maturity Model
Strategic Planning & Execution Approach
Strategy Map
Strategy Palette
Structure-Conduct-Performance (SCP)
Transformation Trajectories
Value Differentiation
Value Perception Gap
Subscribe to our Newsletter

PowerPointing Templates

Error: Twitter did not respond. Please wait a few minutes and refresh this page.