Currently viewing the tag: "Transformation"
Changing industry ecosystems and competition today demand from the organizations to undergo strategic shifts.  The purpose of a company is undergoing Business Transformation from serving the interest of shareholders to serving all stakeholders that influence the organization.
Shareholders are often considered the only stakeholders that invest in a business.  Senior management needs to be cognizant of the importance of shareholders as well other stakeholders who create value for the organization.  They should work on building a collaborative Organizational Culture and paying heed to the welfare of all those groups that play a role in organizational growth.
This warrants a thorough evaluation of all stakeholders, their long-term interests, and Value Creation—or Value Destruction—potential for the organization.  But first, this calls for finding answers to the following key questions:
Who creates the most value for the organization?
Who among the stakeholders typically secure the best deals from the organization?
Who is the victim of having the worst deals from the organization?
Who among the stakeholders is potentially untrustworthy?
Are there any intermediaries or stakeholders fulfilling their personal agendas?
Answering these questions is critical for the executives, otherwise they may risk falling into Shareholder Value Traps.  Recognizing and understanding stakeholder value traps while the managing stakeholders' various interests helps executives achieve shared and individual long-term goals.  These 5 common traps prevent stakeholders' interests to get integrated with the interests of the organization and destroy the value of a company if overlooked:
Ignoring cash-flow driving stakeholders while distributing cash
Miscalculating reaction from stakeholders
Supporting under-performing units
Conceding to willful vulture capitalists
Misjudging intermediaries role in transactions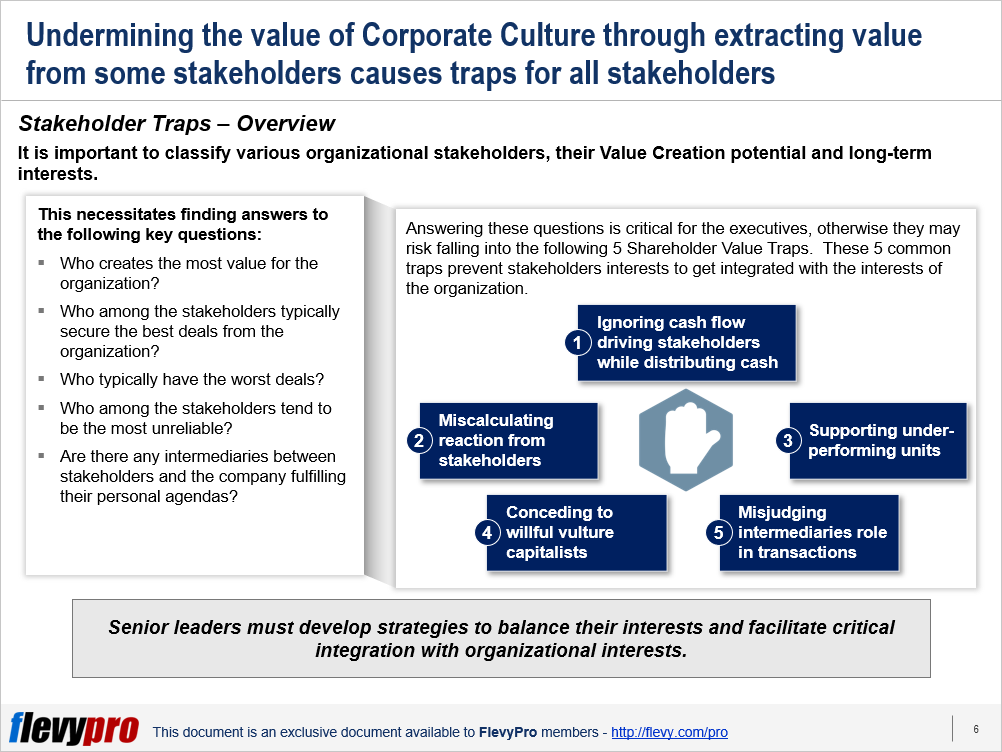 Let's discuss 3 of these stakeholder traps individually.
TRAP 1 – Ignoring cash-flow driving stakeholders while distributing cash
Shareholders are often treated as the critical drivers of long-term cash flows.  However, they are often short-term cash flow generators, whereas other stakeholders who provide their input for the organization in the form of their competencies and experience deliver long-term value.  These real contributors should be given top priority when distributing cash on earnings.  Underestimating or failure to identify the real long-term cash-flow generators can be a fatal value trap for an organization.
TRAP 2 – Miscalculating reaction from stakeholders
Another trap that most executives fall victim to is discounting potential backlash from weak stakeholders upon unfair distribution of cash / incentives.  Mining value from these victims to support shareholder disbursements can be equally detrimental, as annoyed stakeholders—with the help of social media and NGOs—, legal battles, and financial penalties can devastate a firm's reputation and financial health.
TRAP 3 – Supporting under-performing units
Senior executives and boards at some organizations foster free riders—stakeholders that sap more benefits from the enterprise than the business they generate—at the expense of long-term value shareholders.  Free riders include an under-performing department close to the board, or a dwindling business unit that is part of a profitable section and whose financials are not categorized separately.
Continued support to these free riders is often at the cost of allocating resources to other potentially more profitable ventures, and this practice has led many companies to losses and even bankruptcies.
Interested in learning more about the Stakeholder Value Traps, types of organizational stakeholders, and strategies to stay clear of the Stakeholder Value Traps?  You can download an editable PowerPoint on Shareholder Value Traps here on the Flevy documents marketplace.
Are you a Management Consultant?
You can download this and hundreds of other consulting frameworks and consulting training guides from the FlevyPro library.
Transformation from a product-based model to a platform model is a dream for many executives.  More and more product companies are now shifting into a platform model.  The drive behind such a shift is the huge success of platform companies—e.g., Amazon, Google, and Apple.  These organizations started out as a retailer, search engine, and iPod manufacturer respectively, but later transformed into platform models.
However, bringing this transformative vision into reality is anything but straightforward.  Research into successful platform businesses reveals that this necessitates a robust approach comprising the following 4 critical phases:
Attractive Product and Customer Base
Hybrid Business Model
Rapid Conversion
Identify and Seize Opportunities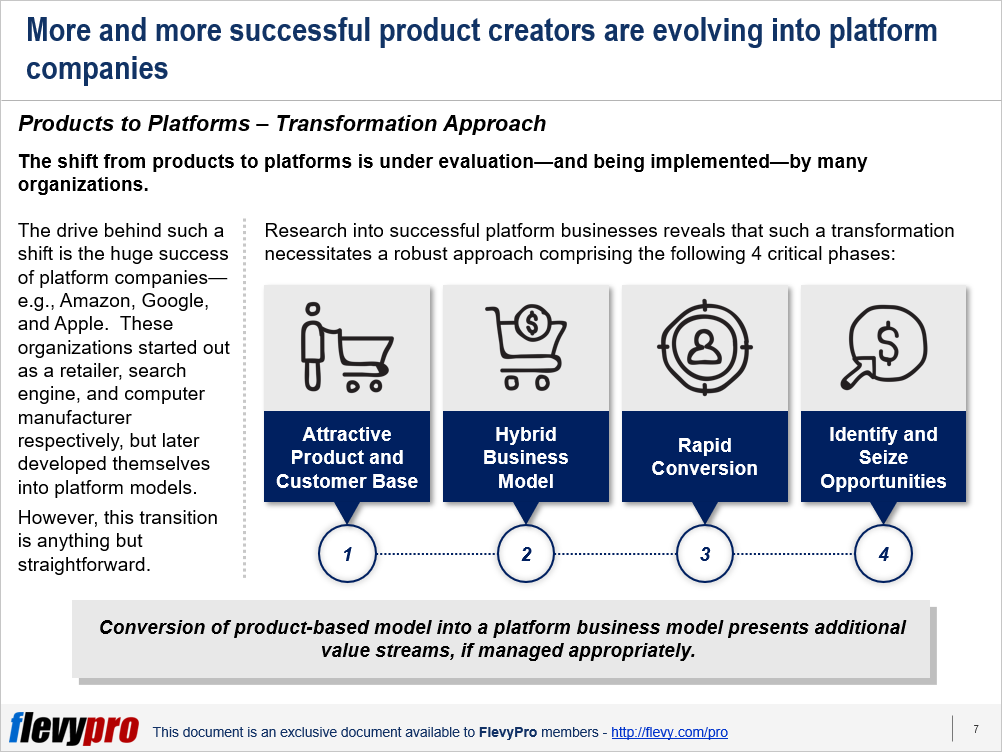 Let's dive deeper into the first two phases of the approach, for now.
Attractive Product and Customer Base
A platform model is not a remedy to resuscitate products that are on a downward slide.  It necessitates an attractive product that offers a significant customer base and value to help improve customer loyalty and resist rival offerings.  The critical mass of customers also allows the platform company to create value for—and attract—third parties that are crucial for the platform to flourish.
Qihoo 360 Technology, a large internet firm in China, commenced its operations in 2006 by selling an antivirus software, 360 Safe Guard.  To build a broad user base and to gather customers' feedback on improving the product, the company started giving away the product free.  The company maintained a list of malware as well as a "whitelist" of programs that were safe for the users.  The critical mass of customers allowed Qihoo to:
Quickly identify viruses on scanning computers
Improve the antivirus
Introduce new products
Attract new customers
Create new platforms
Attract 3rd-party software companies to make Qihoo a channel for reaching customers.
Hybrid Business Model
The notion that an organization has to embrace either a product-based or a platform-based business model is far from reality.  Although, both the product-based and platform-based business models need a framework to assign dedicated resources and manage operations, however, Business Transformation from a product-based model to a platform-based model gets simplified utilizing a hybrid approach.  A product-based business model calls for organizations to have differentiated products catering to customers' needs, to create value.  Whereas, a platform-based business model creates value by linking users to 3rd parties and charging fees for using the platform.  The focus of Platform models is on:
Inspiring mass-market acceptance
Increasing the number of interactions rather than meeting specific customer needs
Connecting users and 3rd parties to create competitive edge instead of relying solely on product differentiation (product model).
For example, Apple converted itself from a product model to a platform model within a year after the launch of the first iPhone.  Initially, Apple reacted defensively to any hacking attempts and precluded 3rd party apps on the iPhone, but then decided to create an open platform, and launched the App Store.  The hybrid model and platform mindset created additional income streams and significant revenue for Apple.
Rapid Conversion
To make a product and business model profitable, the conversion of product users into platform users is of utmost importance.  To enable this, an organization needs to develop its platform in such a way that it should present enough additional value for the customers to adopt it and become its users.  Three key elements are critical to accomplish this:
Deliver adequate value
Launch connected products consistent with the brand
Allow 3rd parties to perform upgrades
If the platform does not offer adequate value for the customers they are not going to embrace it the way they do to a great product.  Similarly, addition of new offerings that are coherent with the brand has a strong correlation with new platform adoption.  New offerings gain traction from a firm's image and strengthen the brand further.  Likewise, allowing 3rd parties to make upgrades, improve product offerings, and develop the platform further helps in rapid conversion, additional revenue, and growth.
Interested in learning more about the phases of the approach to Products-to-Platforms Transformation?  You can download an editable PowerPoint on Products to Platforms Transformation here on the Flevy documents marketplace.
Are you a Management Consultant?
You can download this and hundreds of other consulting frameworks and consulting training guides from the FlevyPro library.
Scalability is defined as possible meaningful changes in magnitude or capacity.  In business terms, it's the capability of a system to enhance productivity upon resource augmentation.  Scalability provides an organization the capabilities to develop compelling value propositions—that are hard to imitate by the rivals—and achieve profitable growth even in the wake of external threats, cut-throat competition, stringent laws, or financial downturns.
Today's challenging business ecosystems and economic outlook demand from the enterprises to develop novel and Scalable Business Models that are able to leverage positive returns on investments.  To accomplish this, leaders need to identify and eradicate any capacity issues, enhance collaboration with existing partners, build new partnerships, or develop platforms to work with their opponents.
Executives should invest in scaling options only when they are sure to boost returns.  They have to be quick to exit a business when returns on investment to scale backfire.
5 Patterns of Business Model Scalability
Benchmarking a number of successful organizations reveals that their Business Models were flexible enough to sustain internal and external pressures.  Business Model Scalability hinges on aligning the strategic partners and Value Propositions to serve the customers.
To drive Business Model Innovation (BMI), leading organizations consistently display 5 critical patterns of Business Model Scalability:
Operate with multiple distribution channels
Eliminate typical capacity limitations
Outsource capital investments to partners
Allow customers and partners assume multiple roles in the business
Create platform models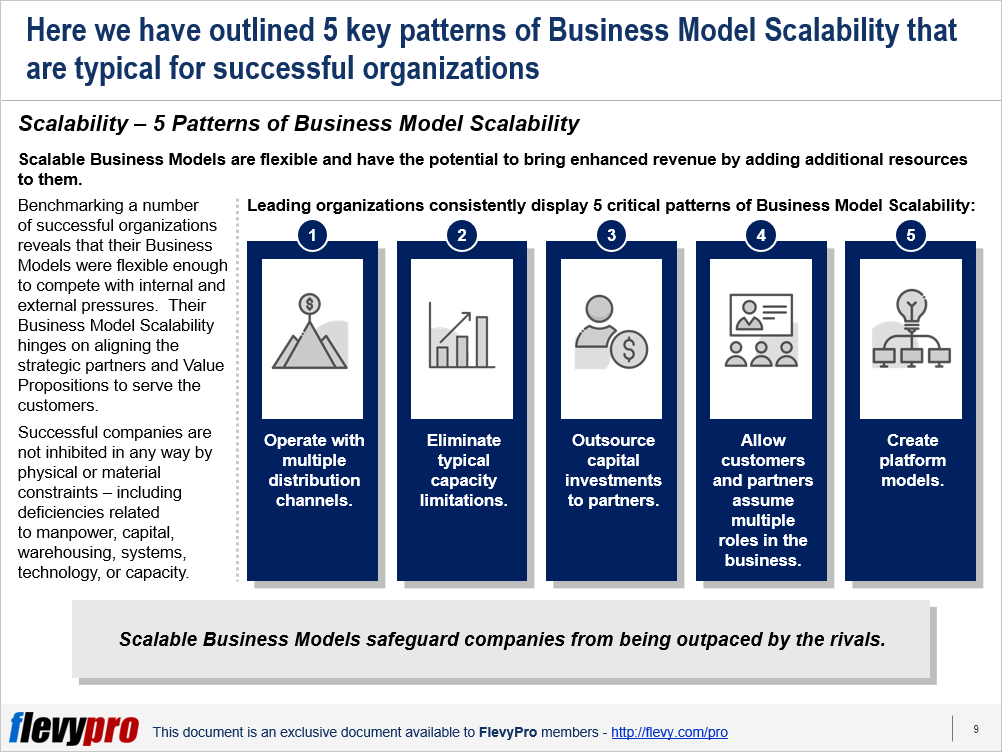 Operate with multiple distribution channels
Successful businesses achieve scalability by selling through multiple distribution channels.  Well-known businesses—e.g., Google and Apple—have extensively studied and implemented adding additional distribution channels.  By avoiding cannibalization of sales through existing channels, this has allowed them to spread overhead costs and profit from increased sales.  Additional channels help businesses expand clientele and uncover new opportunities.
Eliminate typical capacity limitations
Scalability necessitates finding ways to overcome capacity limitations that hamper various industries.  Well-known companies achieve scalability by overpowering any limitations that constrain various businesses.  Successful companies are not inhibited in any way by physical or material constraints—including deficiencies related to manpower, capital, warehousing, systems, technology, or capacity.  For example, managing costs related to creating R&D facilities and innovating new products that often impede the entire pharmaceutical industry.
Outsource capital investments to partners
Top businesses achieve scalability by transferring or sharing cash flow and working capital requirements with the partners.  They optimize their capital and cash flow limitations and prioritize their crucial investments.  They adopt Business Models geared toward creating open platforms that allow them to shift these expenditures to their strategic partners.
Allow customers and partners assume multiple roles in the business
Scalable businesses work in conjunction with their strategic partners and customers.  They offer multiple roles to them and leverage mutual resources for growth of their businesses.  They collaborate with each other through joint ventures or through informal mechanisms—e.g., core platforms—which they utilize to share distribution methods, loyalty programs, and resources.  They have a "laser" focus on the factors that are of value to their customers, and develop (and enrich) their value propositions based on that.
Create platform models
Top businesses build platform-based Business Models that work on the principles of partnership and scalability.  They use their platform-based Business Models to foster relationships with and convert their rivals into partners—by letting them share their platform and generate incremental revenues, for instance, through benchmarking data and "ease of use" sales.  Visa Inc. is an example of how businesses connect with shoppers using Visa's credit card platform.
Scalable Business Models are more likely to generate rapid returns.  However, these Business Models demand utilization and alignment of capabilities that the organization, its strategic partners, and customers possess.  Execution of the patterns of Business Model Scalability involves categorizing key resources and initiatives required to enable synergistic collaboration and superior product / service offerings.
Executives can make use of these 3 potential levers to achieve Business Model Scalability that provide an implementation roadmap for both novel or revamped Business Models:
Determine potential strategic partners
Brainstorm a scalability plan
Select viable and scalable Business Model options
Interested in learning more on the 3 potential levers to scalability?  You can download an editable PowerPoint on Business Model Innovation: Scalable Business Models here on the Flevy documents marketplace.
Are you a Management Consultant?
You can download this and hundreds of other consulting frameworks and consulting training guides from the FlevyPro library.
Survival of a business in this digital age largely depends on its ability to timely embrace Digital Transformation.  Digital Transformation entails using Digital Technologies to streamline business processes, culture, and customer experiences.
In order to compete today—and in future—and to enable Digital Transformation, organizations should work towards fostering a culture of continuous learning, since Digital Transformation depends on learning and innovation.  The organizations that holistically embrace this culture are called "Next-Generation Learning Organizations."
The next generation of Learning Organizations capitalize on the following key variables; Humans, Machines, Timescales, and Scope.  These organizations incorporate technology in enabling dynamic learning.  Creating Next-Generation Learning Organizations demands reorganizing the entire enterprise to accomplish the following key functions to win in future:
Learning on Multiple Timescales
Man and Machine Integration
Expanding the Ecosystem
Continuous Learning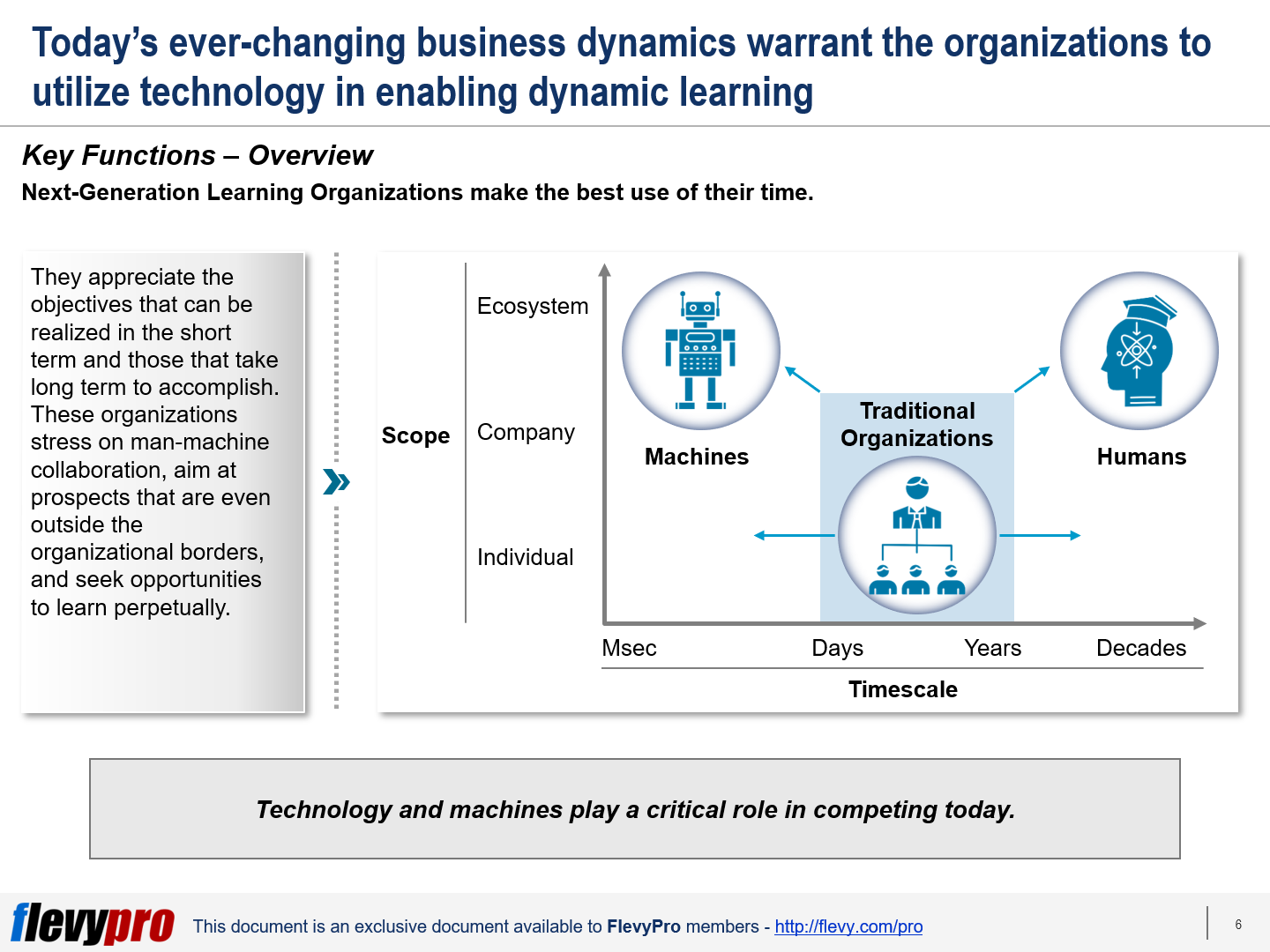 Learning on Multiple Timescales
Next-Generation Learning Organizations make the best use of their time.  They appreciate the objectives that can be realized in the short term and those that take long term to accomplish.  Learning quickly and in the short term is what many organizations are already doing, e.g., by using Artificial Intelligence, algorithms, or dynamic pricing.  Other learning variables that effect an organization gradually are also critical, e.g., changing social attitudes.
Man and Machine Integration
Rather than having people to design and control processes, Next-generation Learning Organizations employ intelligent machines that learn and adjust accordingly.  The role of people in such organizations keeps evolving to supplement intelligent machines.
Expanding the Ecosystem
The Next-generation Learning Organizations incorporate economic activities beyond their boundaries.  These organizations act like platform businesses that facilitate exchanges between consumers and producers by harnessing and creating large networks of users and resources available on demand.  These ecosystems are a valuable source for enhanced learning opportunities, rapid experimentation, access to larger data pools, and a wide network of suppliers.
Continuous Learning
Next-generation Learning Organizations make learning part and parcel of every function and process in their enterprise.  They adapt their vision and strategies based on the changing external environments, competition, and market; and extend learning to everything they do.
With the constantly-evolving technology landscape, organizations will require different capabilities and structures to sustain in future.  A majority of the organizations today are able to operate only in steady business settings.  Transforming these organizations into the Next-Generation Learning Organizations—that are able to effectively traverse the volatile economic environment, competitive landscapes, and unpredictable future—necessitates them to implement these 5 pillars of learning:
Digital Transformation
Human Cognition Improvement
Man and Machine Relationship
Expanded Ecosystems
Management Innovation
1. Digital Transformation
Traditional organizations—that are dependent on structures and human involvement in decision making—use technology to simply execute a predesigned process repeatedly or to gain incremental improvements in their existing processes.  The Next-generation Learning Organizations (NLOs), in contrast, are governed by their aspiration to continuously seek knowledge by leveraging technology.   NLOs implement automation and autonomous decision-making across their businesses to learn at faster timescales.  They design autonomous systems by integrating multiple technologies and learning loops.
2. Human Cognition Improvement
NLOs understand AI's edge at quickly analyzing correlations in complex data sets and are aware of the inadequacies that AI and machines have in terms of reasoning abilities.  They focus on the unique strengths of human cognition and assign people roles that add value—e.g., understanding causal relationships, drawing causal inference, counterfactual thinking, and creativity.  Design is the center of attention of these organizations and they utilize human imagination and creativity to generate new ideas and produce novel products.
3. Man and Machine Relationship
Next-generation Learning Organizations (NLOs) make the best use of humans and machines combined.  They utilize machines to recognize patterns in complex data and deploy people to decipher causal relationships and spark innovative thinking.  NLOs make humans and machines cooperate in innovative ways, and constantly revisit the deployment of resources, people, and technology on tasks based on their viability.
Interested in learning more about the other pillars of Learning?  You can download an editable PowerPoint on Digital Transformation: Next-generation Learning Organization here on the Flevy documents marketplace.
Are you a Management Consultant?
You can download this and hundreds of other consulting frameworks and consulting training guides from the FlevyPro library.
Supply Chain Management is getting more and more complex.  The pressure on the Supply Chain information to be made public is also increasing day by day.  With the popularity and widespread use of social media, it has become more and more difficult for organizations to hide information pertaining to supply chain practices, employees' treatment, suppliers' processes, or waste materials generated that could affect the environment.  Social media often publicizes negative reports on companies' supply chain practices—its best to have a robust information disclosure strategy before anything like that ever happens.
Executives must appreciate these external forces and information transparency demands, and react proactively to build and maintain competitive advantage for their organization.  They need to be able to, first, accurately predict the data requirements of various stakeholders and then unanimously decide on the type and frequency of the information to be shared.  A reactive information disclosure strategy is less time and planning intensive, but it does limit the chances of first-mover advantage over competition.
Supply Chain information can be classified into 4 categories:
Critical
Strategic
Non-critical
Optional
Critical Information
Organizations using this information category know that they have certain glitches in their Supply Chains that could potentially be a source of criticism from NGOs and the media and may bear adverse effects on their reputation.  This includes information concerning unhygienic or inferior quality products; unfair supply chain practices; or environmental problems.
Strategic Information
Even though stakeholders do not ask for this information, this information category is considered strategic as disclosing this data can boost brand value and product differentiation.  The strategic information category is high value to the organization but is low on risks for the supply chain.  For example, in the beauty, fashion or food products industry, sharing information about organic ingredients may be instrumental in achieving product differentiation and brand reputation.
Noncritical Information
Disclosure of this information category is typically un-called for and has negligible effects on brand value.  This information category has low value for the company and has low risks for the Supply Chain.  For instance, needlessly sharing child labor data in regions with actively enforced child welfare laws.
Optional Information
This information category is a matter of internal supply chain consideration and has no bearing on the customer.  The optional information category is low value to the organization and is actually highly risky for the Supply Chain.  For instance, potential quality issues and defects in the supply chain that are identified and resolved during quality control, and do not affect the finished product.
There isn't a one-size-fits-all strategy that organizations can adopt to ensure a viable and high-quality Supply Chain Information Disclosure.  However, the approach needs to be evolving based on individual circumstances.  Senior executives should promptly respond to public inquiries, ensure fair treatment of employees, and guarantee compliance with basic human rights to protect their organizations' reputation.  Experts suggest the following 8-phase approach to address and improve Supply Chain Information Disclosure.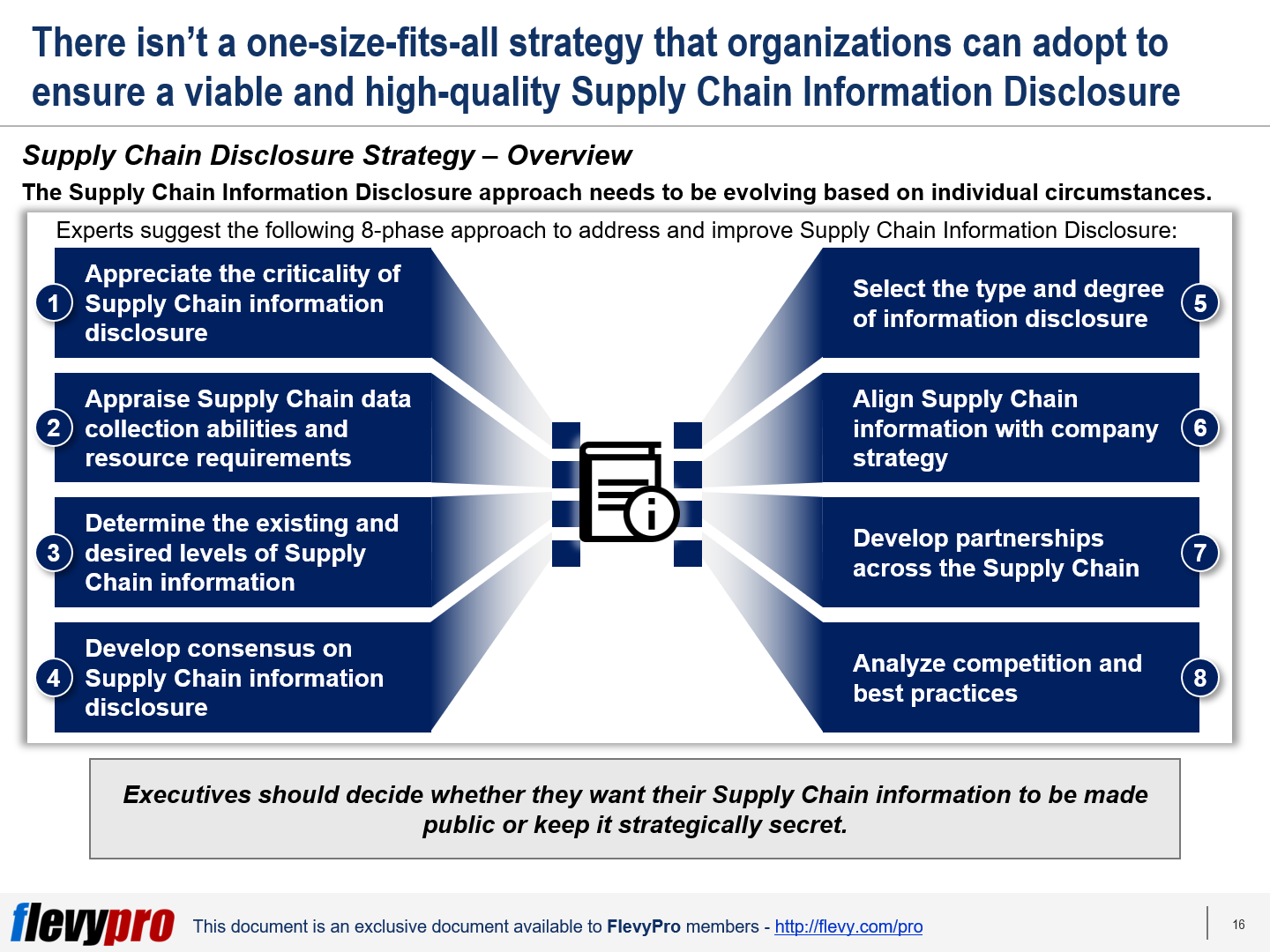 Appreciate the criticality of Supply Chain information disclosure
The first step is to analyze the forces that demand increased supply chain transparency and ascertain the importance and priority of information for the stakeholders.  Once it is established, the leadership must take actions to address the information requirements of key stakeholders.
Appraise Supply Chain data collection abilities and resource requirements
The next step is to assess the competence of the organization—and that of the suppliers—to gather quality supply chain data.  The executives should also evaluate the costs and resource requirements to enable improved information disclosure.
Determine the existing and desired levels of Supply Chain information
The third step is to ascertain the existing knowledge of supply chain information among the executives and suppliers.  The leadership needs to identify the desired levels of supply chain data collection and sharing capabilities, and invest to fill any gaps between the existing and desired supply chain data collection and sharing competencies.
Interested in learning more about the remaining phases of the Supply Chain Information Disclosure Strategy?  You can download an editable PowerPoint on Supply Chain Disclosure Strategy here on the Flevy documents marketplace.
Are you a Management Consultant?
You can download this and hundreds of other consulting frameworks and consulting training guides from the FlevyPro library.
Transformation of an organization into a Next-generation Learning Organization (NLO) is a challenging endeavor.  The main hurdles include convoluted hierarchies, bureaucratic red tape, delayed decision making, and complicated organizational systems and processes.
To develop a learning organization, leadership needs to trim down bureaucracy and complexities.  They should make the best use of technology to gather holistic real-time data, deploy Artificial Intelligence at scale, and develop data-driven decision-making systems.
Five Core Pillars of Learning are essential for the creation of a Next-generation Learning Organization, including:
Digital Transformation
Human Cognition Improvement
Man and Machine Relationship
Expanded Ecosystems
Management Innovation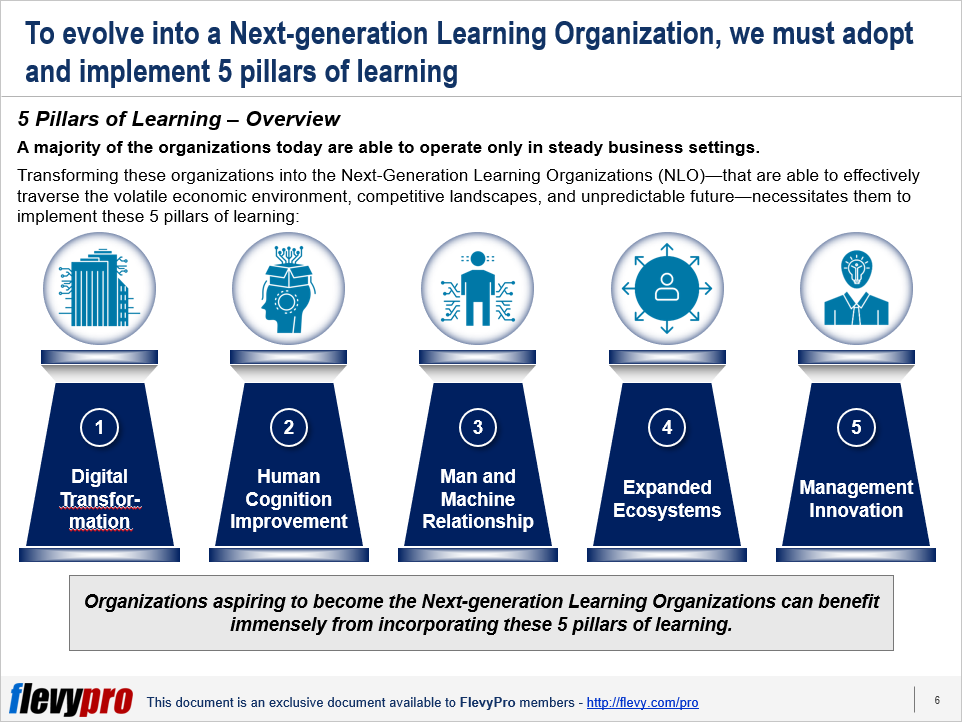 Let's take a deep dive into the first 3 Core Pillars.
1. Digital Transformation
The first pillar is Digital Transformation.  Next-generation Learning Organizations (NLOs) are characterized by their speed of learning and their adeptness to take action based on new insights.  They use emerging technologies to automate as well as "autonomize" their businesses, without relying too much on human intervention and decision-making.
By autonomizing, the NLOs enable machines to learn, take action, and evolve on their own based on continuous feedback.  They create integrated learning loops where information flows automatically from digital platforms into AI algorithms where it is mined in run-time to gather new insights.  The insights are passed to action systems for necessary action that create more data, which is again mined by AI, and the cycle continues, facilitating learning at fast pace.
2. Human Cognition Improvement
Next-generation Learning Organizations (NLOs) schedule time for their people to have unstructured reflection on their work.  While most organizations fear disruption of human work in future by AI and machines, NLOs assign unique roles to their people based on human cognition strengths—e.g., understanding relationships, drawing causal judgment, counterfactual thinking, and creativity.  These organizations are aware of AI's advantage—in analyzing correlations in complex data promptly—as well as its shortcomings in terms of reasoning abilities and interpretation of social / economic trends.  NLOs make design the center of their attention and utilize human creativity and imagination to generate new ideas and produce novel products.  They assign roles accordingly, inspire imagination in people by exposing them to unfamiliar information, and inculcate dynamic collaboration.
3. Man and Machine Relationship
NLOs foster innovative ways to promote collaboration between people and machines.  They recognize that this helps them in better utilization of resources, maximize synergies, and learn dynamically.
To create effective collaboration between people and machines, NLOs develop robust human-machine interfaces.  The existing AI systems lack the ability to decipher everything, which is an area where humans excel.  NLOs supplement these shortcomings by setting up human-machine interfaces, where humans assist the AI by corroborating its actions and suggesting sound recommendations.  These learning organizations bifurcate responsibilities based on the risks involved, assign humans and machines appropriately against each job, and select a suitable level of generalization and sophistication between humans and machines.
Interested in learning more about the Core Pillars of Learning?  You can download an editable PowerPoint on Next-generation Learning Organization: Core Pillars here on the Flevy documents marketplace.
Are you a Management Consultant?
You can download this and hundreds of other consulting frameworks and consulting training guides from the FlevyPro library.
Unsuccessful software applications cost organizations significant efforts and resources.  The reasons for these failed ventures are often attributed to technology issues.  However, the real issue is flaws in business processes—the enterprise application deployment environment and the ecosystem which the application targets.
This calls for ensuring the organizational readiness before initiating technology deployment.  It is for this reason the Business Process Maturity Model (BPMM) originated.  BPMM helps achieve uniform standards, identify weaknesses in workflows, and create standardized tailored processes that simplify the requirements for enterprise applications.
BPMM's roots can be traced back to the Process Maturity Framework (PMF) created by Watts Humphrey and his colleagues at IBM in the late 1980s.  Process Maturity Framework explores the ways to introduce quality practices in software development.  Humphrey and his colleagues introduced incremental stages to adopting best practices in software organization.  The PMF served as the groundwork for the development of the Capability Maturity Model (CMM) for software in 1991.  CMM then became the foremost standard for appraising the capability of software development organizations.
BPMM ensures the success of enterprise systems by providing proven methods for system requirements validity; accuracy of use cases, and effectiveness of applications; simplification of requirements for enterprise applications; and providing a reliable standard for appraising the maturity of business process workflows.
The Guiding Principles for BPMM
BPMM considers processes as workflows across organizational boundaries.  The key guiding principles governing BPMM are:
A process should be analyzed in terms of its contribution to organizational objectives.
It depends on the organizational ability to sustain efficient processes.
Process Improvement should be ideally executed as a phased Transformation endeavor that aims to achieve successively more predictable states of organizational capability.
Each stage or maturity level works as a groundwork to build future improvements.
BPMM Utility
BPMM has the following 4 primary utilities.
To drive business process improvement initiatives
To gauge enterprise application deployment risks
To ensure selection of capable suppliers
To Benchmark
BPMM – Conformance
Evaluating the BPMM conformance is about ensuring that the implemented system meets the needs of the client.  Verification of conformance necessitates an effective appraisal technique to gather multiple forms of evidence to evaluate the performance of the practices contained in the BPMM.
The BPMM conformance appraisal should be headed by an authorized Lead Appraiser—external to the organization, trained in BPMM as well as appraisal methods.  The team under the lead appraiser should include some members internally from the organization.  The BPMM conformance appraisal team gathers and analyzes evidence regarding the implementation of BPMM practices, judges their strengths and weaknesses, and gauges their effectiveness in meeting the goals of the process areas at respective maturity levels.
The following evidence is utilized during BPMM conformance appraisals:
Review of outputs produced as a result of a process.
Review of objects, documents, products supporting the execution of a process.
Interviews with individuals that perform a process and those who support and manage it.
Quantitative data that depicts the organizational state, employee behaviors, performance, and results of a process.
BPMM Conformance Appraisals
BPMM Conformance Appraisals help assure the implementation of practices at a level that achieve the intent and goals of the practices and their process areas.  BPMM conformance appraisals are of 4 distinct types:
Starter Appraisal:  An inexpensive BPMM conformance appraisal—which takes only a few days—that entails gathering quantitative data by conducting few interviews.
Progress Appraisal:  An extensive appraisal that entails quantitative data collection, investigation of all process areas and practices, review of artifacts, and analysis of interviews.
Supplier Appraisal:  An appraisal method to select sources and to make informed decisions during procurement contracts.
Confirmatory Appraisal:  A rigorous investigation of all process areas / practices where all evidence is accounted for.
BPMM – Maturity Levels
BPMM encompasses 5 maturity levels that signify the transformation of an organization on the basis of improvements in its processes and capabilities.  BPMM Maturity levels 2, 3, 4, and 5 each contain 2 or more process areas, whereas the Maturity level 1 does not contain any process areas.  The 5 successive levels of BPMM are: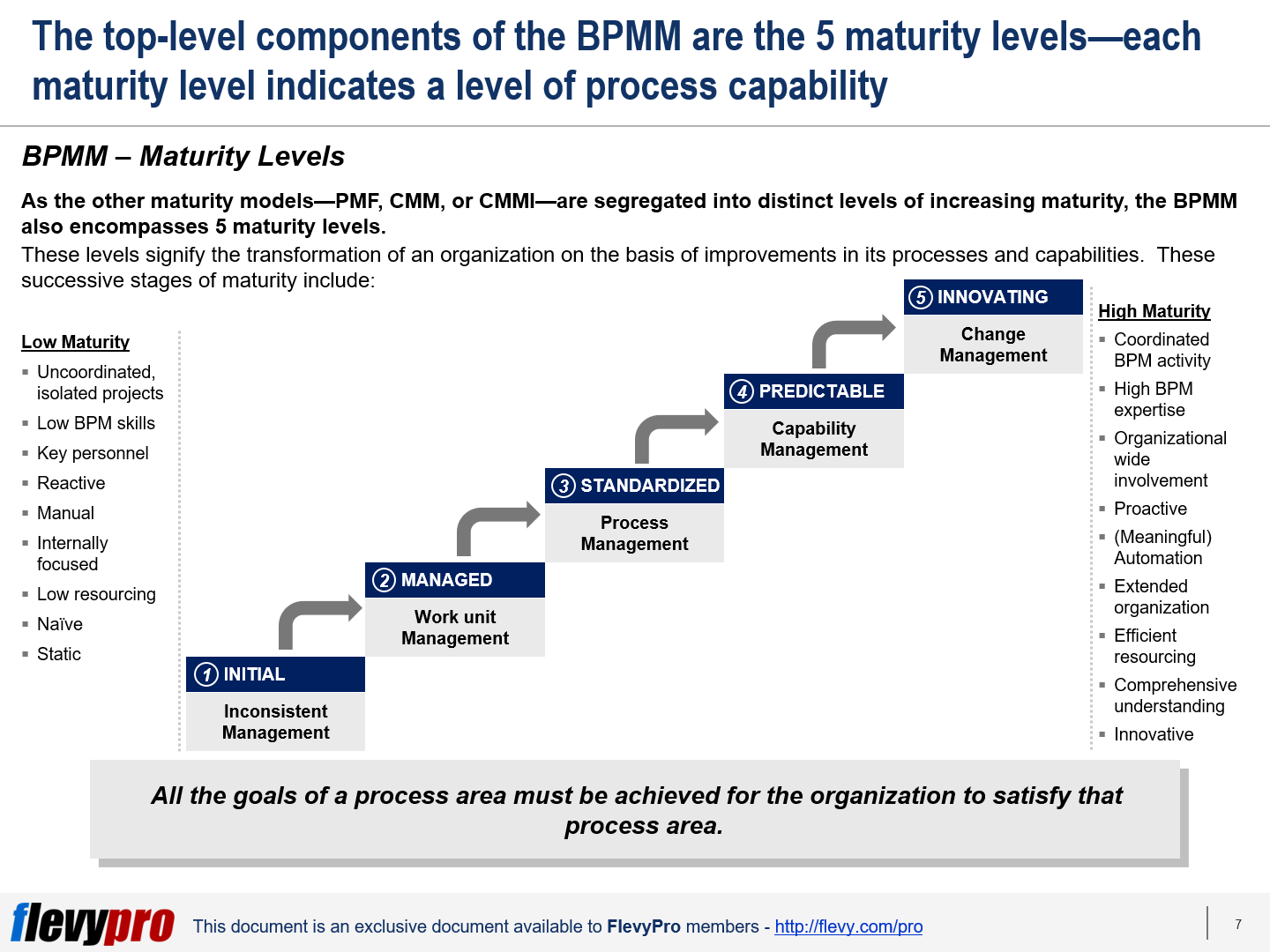 Initial
The focus of the BPMM level 1 is on achieving economy of scale, automation, and productivity growth by encouraging people to overcome challenges and complete their tasks.
Managed
The 2nd maturity level aims at developing repeatable practices, minimizing rework, and satisfying commitments — by managing work units and controlling workforce commitments.
Standardized
The focus of the 3rd maturity level of BPMM is to accomplish standardization in terms of business processes, measures, and training for product and service offerings.
Predictable
The 4th maturity level aims at achieving stable processes, knowledge management, reusable practices, and predictable results.  Organizations accomplish these results through standardization and managing processes and results quantitatively.
Innovating
The focus of the organizations operating at the highest maturity level of BPMM is on implementing continuous improvements, developing efficient processes, and inculcating innovation.
Interested in learning more about the process areas and practices at various maturity levels of the Business Process Maturity Model?  You can download an editable PowerPoint on Business Process Maturity Model here on the Flevy documents marketplace.
Are you a Management Consultant?
You can download this and hundreds of other consulting frameworks and consulting training guides from the FlevyPro library.
Business environment has transformed drastically from what it was a century ago.  It has become immensely challenging due to competition, disruptive technologies, laws, and globalization.  These challenges warrant better performance to address customer needs and to survive—and outpace—intense competition.  Consequently, organizations have become complex.
The work that individuals perform in an organization has also shifted from manual labor and clerical jobs to knowledge-based experiential tasks.  Traditional workforce was required to adhere to commands and stick to routines, whereas today's workforce needs to be more empowered, innovative, able to adapt to varying circumstances, and render sound judgment.
Adapting with the constantly changing business environment is essential for organizations aspiring to succeed in today's competitive markets.  In order to stay competitive, more and more organizations across the globe are undertaking Business Transformation programs to reorganize their businesses.  However, a large percentage of such programs fail to achieve the desired outcomes.
For the Organizational Design to be successful, leaders need to be mindful of the revolutionized work settings and business environment of this age.  One of the major factors attributed to these failure rates is utilizing traditional approaches to reorganization, which are proving ineffective in this digital age.  These traditional approaches appreciate "level of control" and power, and underestimate the significance of employee autonomy and innovation. 
The Smart Design Approach to Organization Design
Today's Knowledge Economy necessitates the employees to be more empowered to decide on their own than merely following commands.  People act in ways that are best for their own interests.  The new approach to reorganization—termed Smart Organizational Design—aligns the workforce's best interests with the organizational mission rather than seeking control over the employees.  The focus is on changing the environment (context) and mindsets of employees willingly and instilling team work and cooperation, thereby enhancing organizational performance considerably.
The Smart Organizational Design approach entails classifying the existing workforce behaviors, ascertaining the desired behaviors critical to improve performance, and providing environment (context) favorable to develop new behaviors.  The approach encompasses 3 main steps:
Define why reorganization is necessary (objective)
Determine the behaviors critical to support reorganization
How to execute the Smart Organizational Design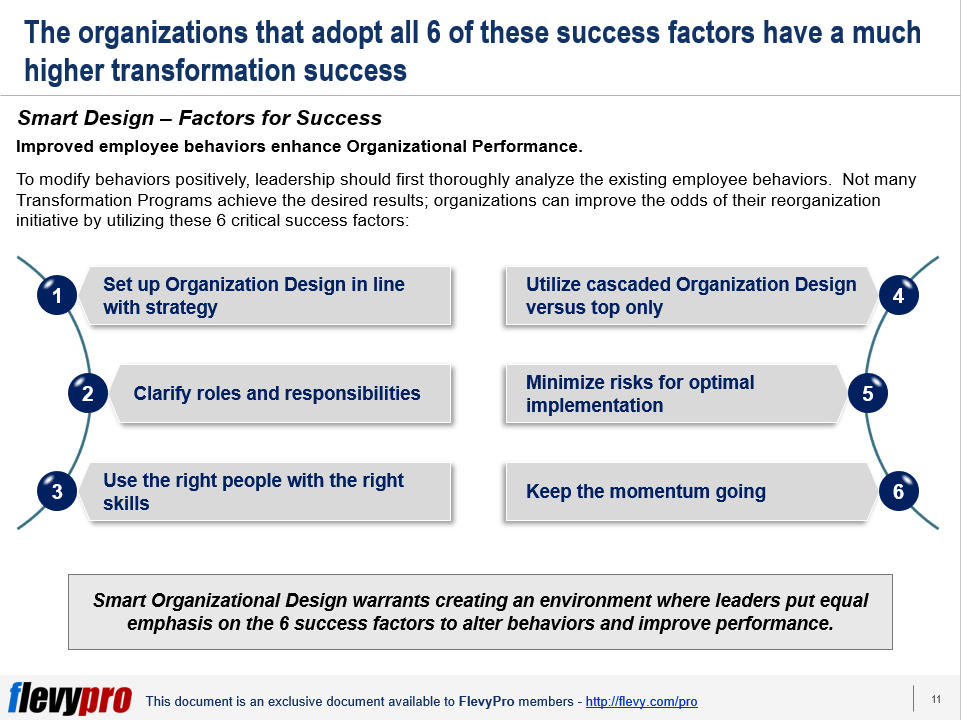 Let's dig deeper into the second step.
Determine the behaviors critical to support reorganization
The next step involves the leadership to determine the "what" element of the Smart Organizational Design approach—i.e., definition of certain behaviors critical to achieve the transformation purpose.  Determining the desired behaviors necessitates thinking through the following 4 critical Smart Organizational Design aspects.  These 4 design aspects work in tandem to shift the environment (context) for the workforce and motivate them to embrace the new behaviors crucial for improved performance:
The Roles and Responsibilities aspect interprets individual and shared accountabilities to cultivate teamwork and cooperation.
The Individual Talent aspect specifies the right skill set and motivation to perform responsibilities of each role effectively.
The Organizational Enablers aspect outlines the elements necessary for creating the right context (environment) for embracing the desired behaviors, i.e., decision processes, performance management, and talent management.
Interested in learning more about the other step of the Smart Organizational Design approach and the factors critical for its success?  You can download an editable PowerPoint on Smart Organizational Design here on the Flevy documents marketplace.
Are you a Management Consultant?
You can download this and hundreds of other consulting frameworks and consulting training guides from the FlevyPro library.
Inculcating productive workforce behaviors is of utmost significance in Business Transformation, successful Strategy Execution, and Performance Improvement.  However, making people embrace productive behaviors involves a concerted effort across the organization.
The realization of Transformation, Strategy, and Performance improvement goals can become a reality by developing a thorough understanding of the 4 components of Organizational Behavior.  These components act as powerful levers in shaping the desired behaviors in the workforce:
Organizational Structure
Roles and Responsibilities
Individual Talent
Organizational Enablers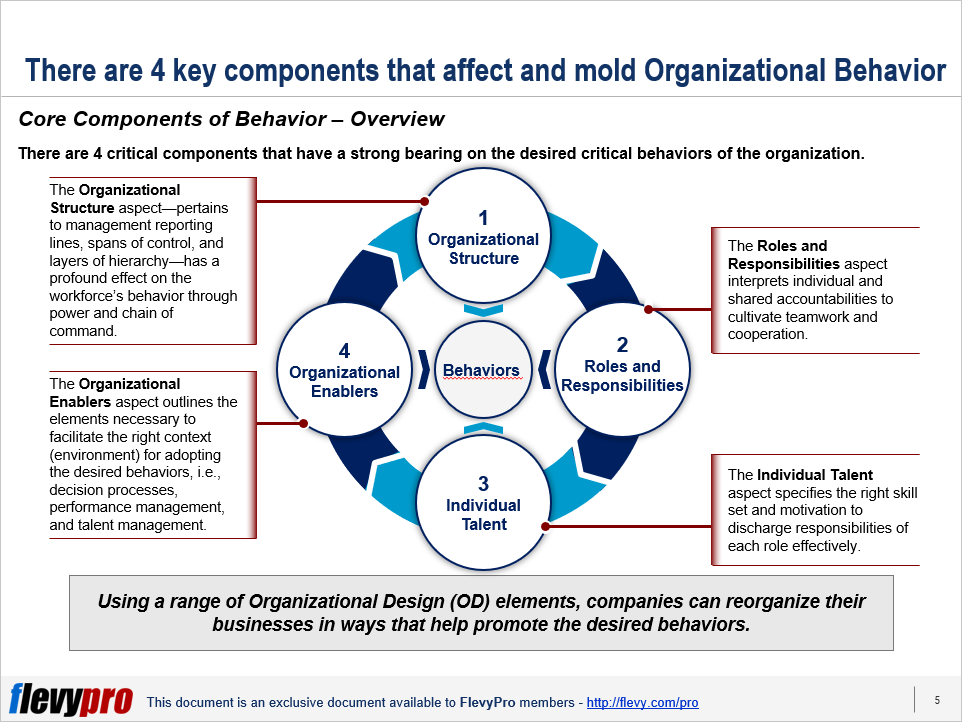 These Organizational Design levers work effectively when combined and aligned.  Let's discuss the first 2 levers in detail now.
Organizational Structure
Organizational Structure represents the management reporting lines that create the organization's spans of control, layers, and number of resources.  Organizational Structure is a foundational driver to Organizational Design, which also has a strong positive bearing on promoting the behaviors critical to improve the overall performance of the enterprise.  This is owing to the power that a position exerts on the subordinates based on factors that are important for individuals—e.g., work, compensation, and career ladder.
The Organizational Structure indicates an enterprise's priorities.  An organization is typically structured in accordance with its top most priority.  For instance, functional organizational structure is adopted by enterprises having functional excellence as a priority.  In present-day's competitive markets, most organizations have to deal with several priorities at a given time, which could be conflicting.  However, this does not mean adding new structures on top of existing ones, thereby increasing unnecessary complexity.  Creating overly complex structures to manage multiple priorities results in red tape and delayed decisions.  All roles are interdependent, necessitating cooperation.  This means taking care of the needs of others—instead of just watching over personal priorities—and encouraging individual behaviors that boost the efficiency of groups to achieve collective objectives.
Roles & Responsibilities
Roles and responsibilities deal with tasks allocated to each position and individual.  Organizational Design depends heavily on redefining clearer and compelling roles and responsibilities—to avoid any duplication of efforts or creating adversaries among team members.  In a collaborative culture where cooperation is the mainstay of an organization, individuals should not only be aware of what is required of them, but also appreciate the responsibilities of their team members, the authorities their roles exercise, the skills required, and the metrics to measure success.
A methodical way to outline roles and responsibilities effectively—while minimizing complexity—that encourages cooperation and empowerment is through the "Role Chartering" technique.  The technique requires distinctly identifying all roles on the basis of 6 key factors:
Describing shared and individual accountabilities
Outlining indicators to track success
Specifying who has the right to decide what
Indicating the capabilities critical for roles
Assigning the leadership traits valuable for the roles
Charting the abilities required for accomplishing personal and team goals.
Interested in learning more about these components to Organizational Behavior?  You can download an editable PowerPoint on Organizational Behaviors here on the Flevy documents marketplace.
Are you a Management Consultant?
You can download this and hundreds of other consulting frameworks and consulting training guides from the FlevyPro library.
4 Organizational Design (OD) Elements Essential to Inculcate the Desired Behaviors Across the Organization
The Value Chain concept, first described by Dr. Michael Porter in 1985, is a series of actions that a firm—in a specific industry—accomplishes to produce a valuable product or service for the market.  The value chain notion visualizes the process view of an organization, perceiving a manufacturing or service organization as a system comprised of subsystems of inputs, transformation processes, and outputs.
Another way to define the Value Chain principle is, "transforming business inputs into outputs, thereby creating a value much better than the original cost of producing those outputs."  These inputs, processes, and outputs entail acquiring and utilizing resources—finances, workforce, materials, equipment, buildings, and land.
An industry Value Chain includes the suppliers that provide the inputs, creation of products by a firm, distribution value chains, till the products reach the customers.  The way Value Chain activities are planned and executed determines the costs and profits.
Value chains consist of set of activities that products must undergo to add value to them.  These activities can be classified into 2 groups:
Primary Activities
Secondary Activities
Primary activities in Porter's Value Chain are associated with the production, sale, upkeep, and support of a product or service offering, including:
Inbound Logistics
Operations
Outbound Logistics
Marketing and Sales
Service
 The secondary activities and processes in Porter's Value Chain support the primary activities.  For instance:
Procurement
Human resource management
Technological development
Infrastructure
Value Chain Analysis Benefits
The analysis of a Value Chain offers a number of benefits, including:
Identification of bottlenecks and making rapid improvements
Opportunities to fine-tune based on transforming marketplace and competition
Bringing out the real needs of an organization
Cost reduction
Competitive differentiation
Increased profitability and business success
Increased efficiency
Decreased waste
Delivery of high-quality products at lower costs
Retailers can monitor each action throughout the entire process from product creation to storage and distribution to customers.
Value Chain Analysis (VCA) Approach
Businesses seeking competitive advantage often turn to Value Chain models to identify opportunities for cost savings and differentiation in the production cycle.  The Value Chain Analysis (VCA) process encompasses the following 3 steps:
Activity Analysis
Value Analysis
Evaluation and Planning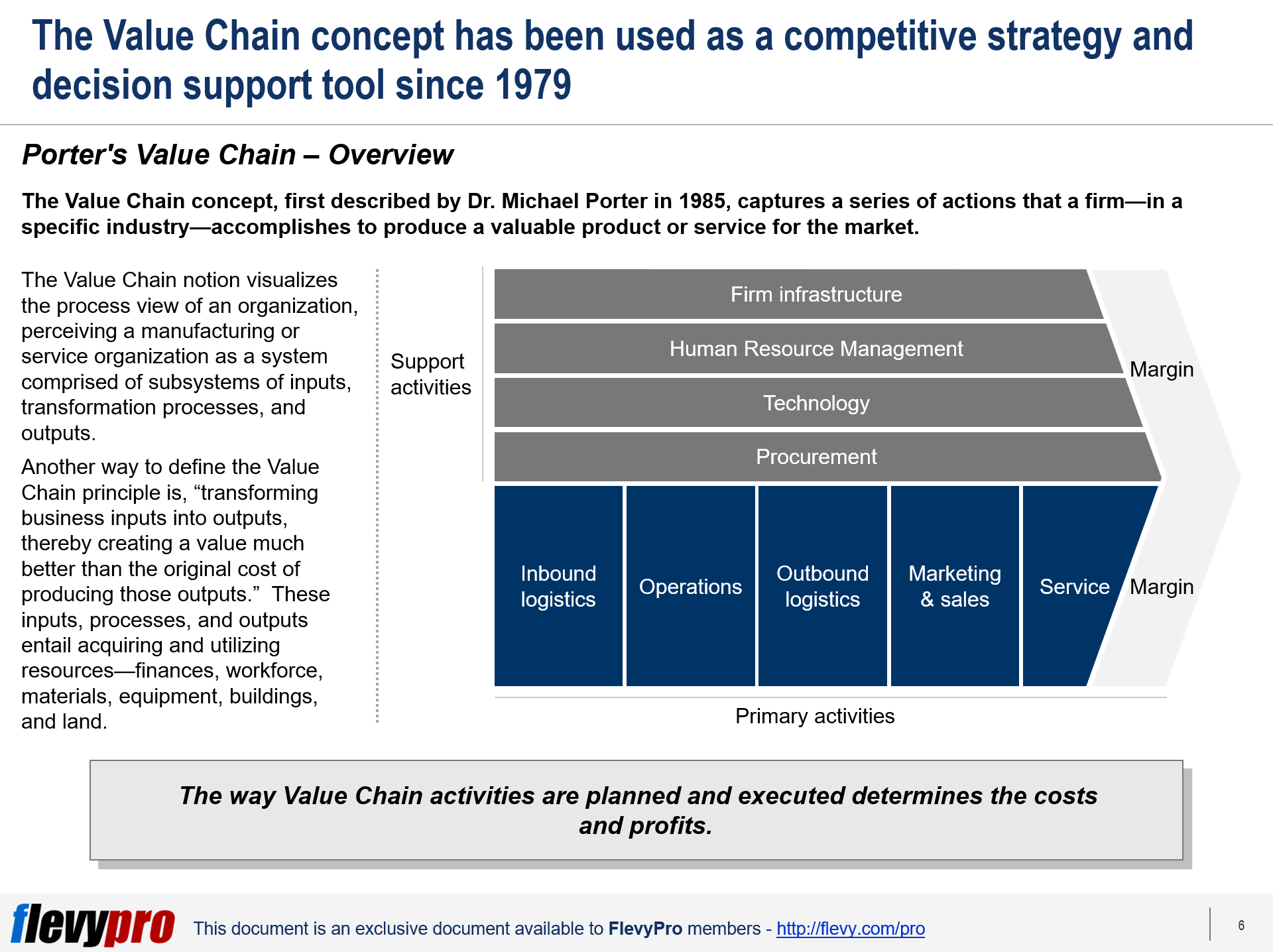 Activity Analysis
The first step in Value Chain Analysis necessitates identification of activities that are essential to undertake in order to deliver product or service offerings.  Key activities in this stage include:
Listing the critical processes necessary to serve the customers—e.g., marketing, sales, order taking, distribution, and support—visually on a flowchart for better understanding.

This should be done by involving the entire team to gather a rich response and to have their support on the decisions made afterwards.

Listing the other important non-client facing processes—e.g., hiring individuals with skills critical for the organization, motivating and developing them, or choosing and utilizing technology to gain competitive advantage.
This stage also entails gathering customers' input on the organization's product or service offerings and ways to continuously improve.
Value Analysis
The second phase of the Value Chain Analysis necessitates identifying tasks required under each primary activity that create maximum value.  This phase is characterized by:
Ascertaining the key actions for each specific activity identified during the first phase.
Thinking through the "value factors"— elements admired by the customers about the way each activity is executed.

For example, for the order taking process, customers value quick response to their call, courteous behavior, correct order entry, prompt response to queries, and quick resolution of their issues.

Citing the value factors next to each activity on the flowchart.
Jotting down the key actions to be done or changes to be made to under each Value Factor.
Interested in learning more about the other phases of the Value Chain Analysis Approach?  You can download an editable PowerPoint on Strategy Classics: Porter's Value Chain here on the Flevy documents marketplace.
Are you a Management Consultant?
You can download this and hundreds of other consulting frameworks and consulting training guides from the FlevyPro library.
Subscribe to our Newsletter

PowerPointing Templates

Error: Twitter did not respond. Please wait a few minutes and refresh this page.