Currently viewing the tag: "Total Shareholder Return"
The impact of the global pandemic, volatile stock markets, and slowed economic outlook across the globe has hurt the performance of enterprises across the world.  The scenario has forced leaders to consider undertaking Transformation of their strategy and operations significantly.
The strategy to buy out troubled businesses and determining to fix the issues that upset the target companies has been a focus of Buyers' senior leadership for the past 2 decades.  In the year 2017 alone, 36,000 M&A (Mergers & Acquisitions) transactions were announced globally.  Acquisition of troubled businesses hoping to have a Turnaround account for around 50% of all M&A deals.
A Turnaround can be defined as the financial recovery of an economy or an organization after a period of inertia or Downturn.  Several issues trigger a Downturn—issues pertaining to technological disruption, regulations, processes, organization's financial health, management, business model, hierarchy, or competition.
The ratio of success for M&As is, however, not very healthy.  Historical data of 61% of M&A deals based on a BCG's study, carried out on 1400 M&A deals globally between 2005 and 2018, shows a high failure rate (61%), where they remained unsuccessful to show any improvement in financial performance.
The ones that do succeed offer significant revenue growth and profit margins—around 25% positive variance in TSR than unsuccessful M&As.  However, buying and fixing a business under the weather isn't an easy job.  This necessitates a meticulous strategy.
In order to materialize a Turnaround, the leadership needs to thoroughly understand the root cause(s) of the Downturn, have a willingness and plan to reform or transform, and rigorously implement the strategy to rectify the situation (Transformation Execution).
Empirical Research demonstrates that the triumph of M&A Turnaround deals is attributable to 6 Critical Success Factors:
Investment in R&D
Long-term Horizon
Clear Purpose
Investment in Transformation
Synergy Targets
Quickness to Action
Deployment of a combination of these CSFs bring about more pronounced outcomes—in terms of positive 3-year TSR and overall Organizational Performance.
A robust M&A Turnaround Strategy—based on lessons learnt from empirical research—revolves around 4 key M&A Deal Characteristics.  These M&A deal characteristics have a profound impact on the outcome of the transaction:
Level of Performance
Sector Alignment
ESG Factors
Deal Size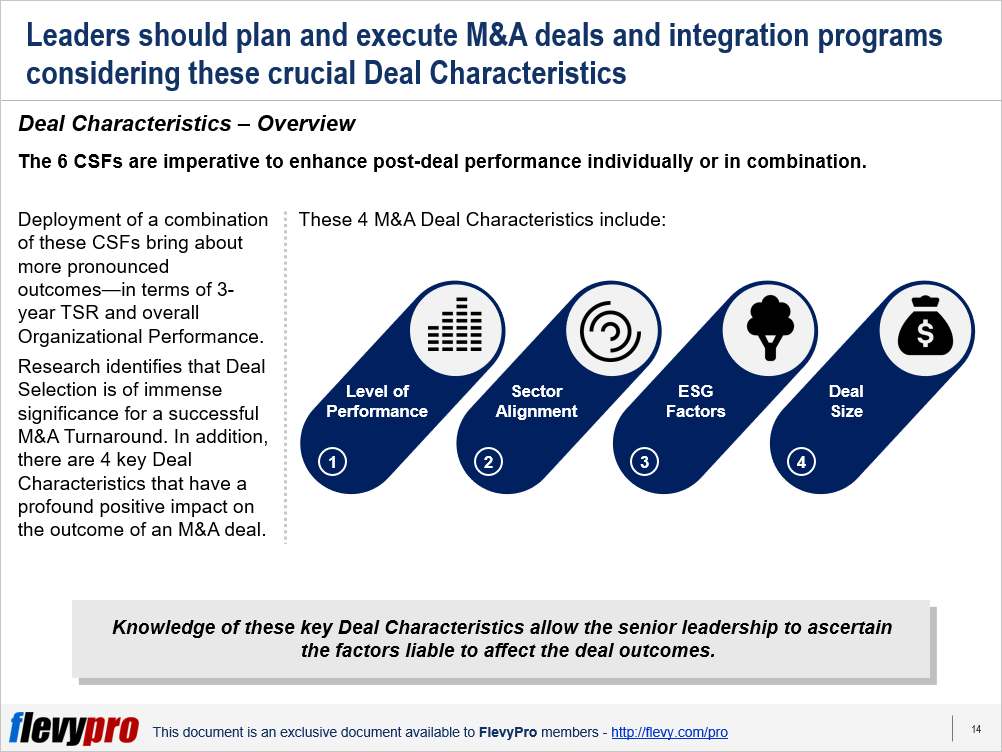 Knowledge of these key Deal Characteristics allow the senior leadership to ascertain the factors liable to affect the deal outcomes.  Now, let's discuss the first 2 deal characteristics in a bit detail.
Level of Performance
The performance of the Target company during 2 years pre-deal is a key point to consider for a M&A, as it is directly proportional to the deal success rate and Total Shareholder Return.  BCG's research demonstrates that M&A transactions where the target entity had a 2-year TSR decline of lower than 10% were liable to be more successful than deals where target companies were in more distress (a decline of ~30% or more).
Sector Alignment
Senior leaders should not ignore the significance of uniformity of sectors of the target and acquiring company.  Based on research, the rate of success for an acquisition transaction involving the buyer and the target operating in the same industry is 5% superior to the rate for transactions involving the companies from different sectors.  The reason for this higher success rate is attributed predominantly to similar business models, customers, vendors, and processes in firms of the same sector, which make the Post-merger Integration of the buyer and target a lot easier.
Interested in learning more about the other characteristics influencing the outcome of an M&A deal?  You can download an editable PowerPoint presentation on M&A Turnaround Strategy here on the Flevy documents marketplace.
Do You Find Value in This Framework?
You can download in-depth presentations on this and hundreds of similar business frameworks from the FlevyPro Library. FlevyPro is trusted and utilized by 1000s of management consultants and corporate executives. Here's what some have to say:
"My FlevyPro subscription provides me with the most popular frameworks and decks in demand in today's market. They not only augment my existing consulting and coaching offerings and delivery, but also keep me abreast of the latest trends, inspire new products and service offerings for my practice, and educate me in a fraction of the time and money of other solutions. I strongly recommend FlevyPro to any consultant serious about success."

– Bill Branson, Founder at Strategic Business Architects
"As a niche strategic consulting firm, Flevy and FlevyPro frameworks and documents are an on-going reference to help us structure our findings and recommendations to our clients as well as improve their clarity, strength, and visual power. For us, it is an invaluable resource to increase our impact and value."

– David Coloma, Consulting Area Manager at Cynertia Consulting
"As a small business owner, the resource material available from FlevyPro has proven to be invaluable. The ability to search for material on demand based our project events and client requirements was great for me and proved very beneficial to my clients. Importantly, being able to easily edit and tailor the material for specific purposes helped us to make presentations, knowledge sharing, and toolkit development, which formed part of the overall program collateral. While FlevyPro contains resource material that any consultancy, project or delivery firm must have, it is an essential part of a small firm or independent consultant's toolbox."

– Michael Duff, Managing Director at Change Strategy (UK)
Subscribe to our Newsletter

PowerPointing Templates

Error: Twitter did not respond. Please wait a few minutes and refresh this page.