Currently viewing the tag: "Decisionmaking"
Mediocre people occupying senior Leadership positions is one of the chief reasons for the fiasco and humiliation that organizations like Enron and WorldCom faced.  The practice of recruiting average people at the top is omnipresent and often goes unnoticed until the results begin to surface, which is typically too late for any intervention.
Smart people decisions matter a lot in achieving profitability.  Research indicates that a return on average human asset of 5% is typical in many industries.  However, a senior executive selection of 2 standard deviations below the average yields -15% return on asset.  An executive selection with 2 standard deviations above average causes 25+% return, which is 5 times the average.  Increased investment in finding and hiring the best senior executives fetches returns to the magnitude of 1000%.
Attracting and selecting the best people for senior leadership positions isn't a small feat.  The future of organizations depend on it.  However, not too many organizations succeed in getting the right people at the top.  The reason for this failure is attributed predominantly to 3 critical obstacles that hinder in making the right recruitment decisions at such a crucial level.  Wrong Executive Selection decisions due to these 3 obstacles bring about losses and negative returns:
Obstacle of Rarity
Obstacle of the Unknown
Obstacle of Psychological Traps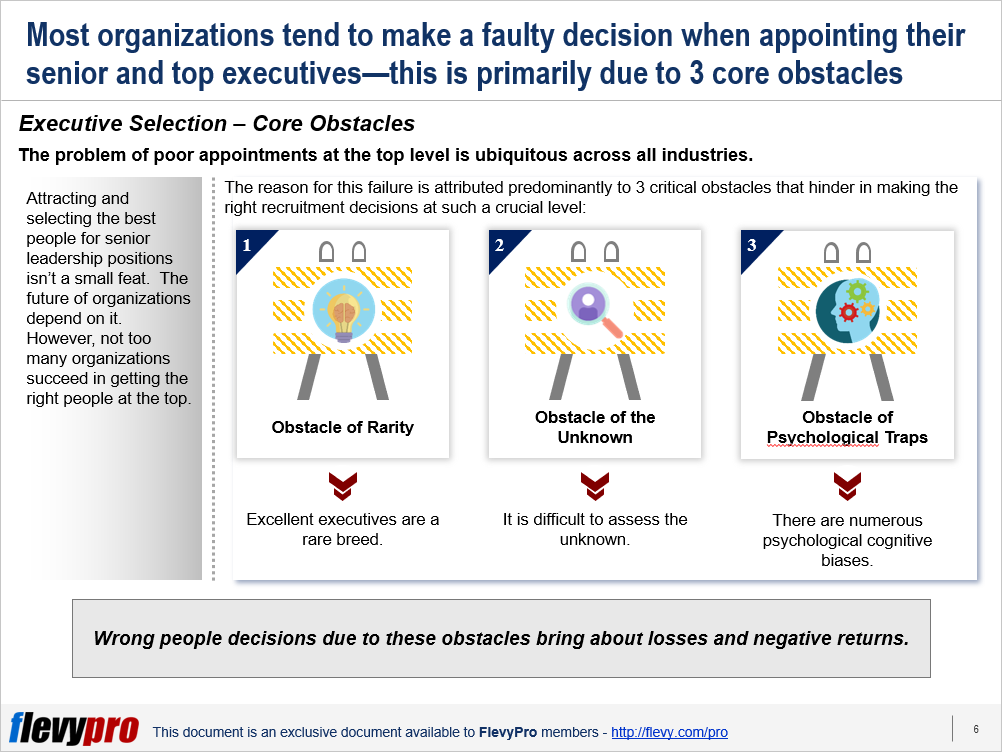 Let's talk about these obstacles in a bit of detail.
Obstacle of Rarity
The first barrier to finding outstanding executives for senior positions is their scarcity, as excellent executives are a rare breed.  Sophisticated skills that make an executive standout aren't common.  They are distributed in a given sample.
Outstanding people perform at a much higher level than that of their peers, particularly at the top positions.  A blue-collar executive with 1 standard deviation above the mean translates to 20% more productive individual than an average executive.  With increasing complexity of job, the difference between the top performer and an average performer increases considerably.
Appointments at the senior positions do not go without assessment errors, which can prove to be extremely costly.  Even an accuracy level of 90% in executive assessment isn't satisfactory.  This results in a number of mistakenly categorized top performers and rejection of outstanding candidates.
Obstacle of the Unknown
Another barrier to the Executive Selection process is the predictive assessment of candidates on the skills and attributes required and the actual delivery capabilities of the individuals.  It is difficult to assess the unknown.
Competencies at the junior levels are easier to define, but it gets difficult to pinpoint the skills required at the top level.  The skills required at the top keeps on changing due to the evolving political, technological and economic landscape.  The skills required today get obsolete over time.  In case the exact requirements for a position are fully known, it isn't certain whether a candidate meets the requirements in their entirety.
Accurate assessment of the candidates' behavior and competencies is difficult but worth investing efforts and resources.  "Soft" skills—e.g., leading people, coaching and developing teams, teamwork, and managing Business Transformation—are what differentiate the senior leaders, but gauging these skills necessitates thorough evaluation and considerable time, which is difficult at senior levels.
Obstacle of Psychological Traps
A number of psychological traps are associated with cognitive biases in humans that hinder the decision making abilities in people and incapacitate the hiring process.  8 types of psychological traps are most common in individuals:
Procrastination
Assuming incorrectly
Impulsive judgment based on first impressions
Discounting the warning signs
Covering mistakes
Bonding with familiarity
Emotional anchoring
Tendency to follow the majority
Interested in learning more about the 3 critical obstacles that hinder right Executive Selection?  You can download an editable PowerPoint presentation on Executive Selection here on the Flevy documents marketplace.
Are you a Management Consultant?
You can download this and hundreds of other consulting frameworks and consulting training guides from the FlevyPro library.
Mergers and Acquisitions (M&A) are unique and complex endeavors.  These initiatives demand tailored solutions keeping in view the varying environments, ways of doing business, culture of the two combining organizations, and internal and external forces influencing the deal.
These transactions necessitate making 8 important decisions based on thorough deliberation and analysis of all relevant factors well before the integration process.  These fundamental decisions and relevant factors form the 8 decision levers of Post-merger Integration (PMI).   These 8 decision levers of PMI are essential for devising an optimal integration approach and, subsequently, the success of an M&A initiative:
Form of Synergy to Be Created: Cost-cutting versus growth
Required Pace of Integration: Quick versus steady
Degree of Integration: Extensive versus partial
Nature of Integration: Buyout versus a merger
Commencement of Integration: Urgent or delayed
Integration Project Team Organization: Clean or shared
Decision Making Style: Implicit and prompt versus lengthy and analysis based
Transaction Change Management: Tacit versus one that requires comprehensive actions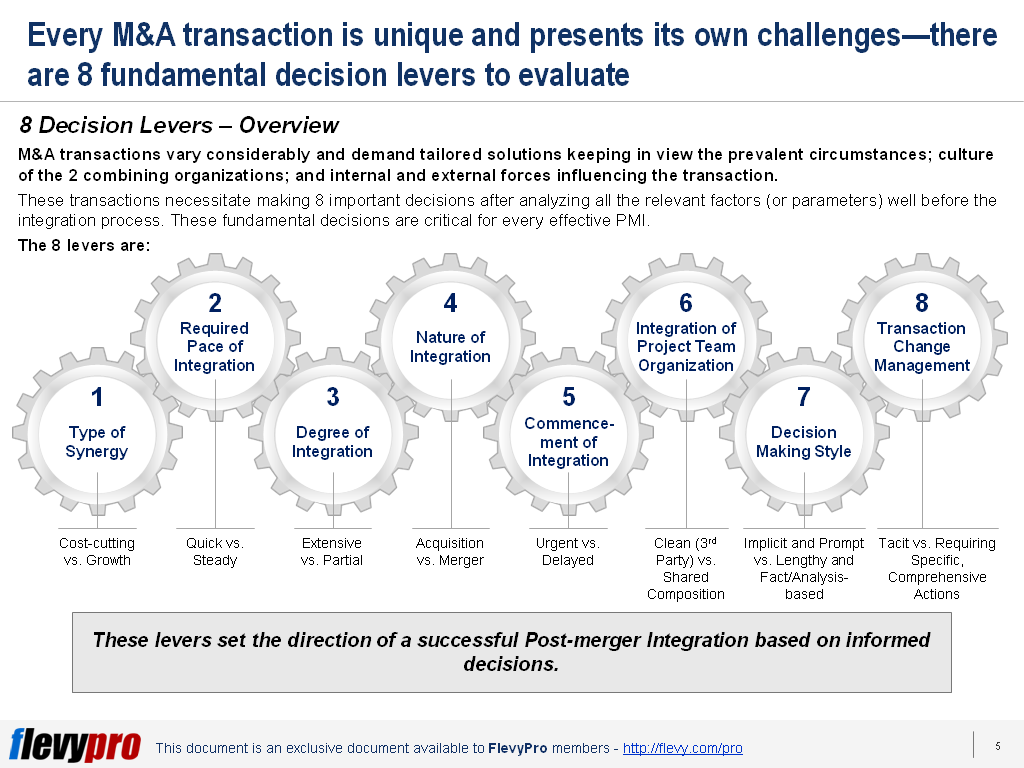 These decision considerations facilitate Post-merger Integration across all industries and organizations of various sizes.  Let's discuss the first 3 decision levers in detail now.
Lever 1 – Form of synergy to be created
The foremost element of a PMI is deciding on the type of synergy to be achieved through integration.  The question is to either focus on achieving cost reduction or growth synergies. If cost cutting is the objective of an M&A then the leadership of the combined organization needs to outline potential costing saving opportunities across the board.  This should be followed by robust communication strategy to convey the implications of the M&A program.  However, if the management's objective is to unlock growth synergies from the acquisition, then the integration is to be treated as a strategic endeavor—e.g., understanding the customer needs, evaluating market potential, generating innovative business ideas, and developing execution plans.
Lever 2 – Required pace of integration
The 2nd lever demands from the senior leadership to determine the pace most appropriate for the integration of their newly combined enterprise—i.e., to choose between a fast track and a steadier integration approach. A majority of executives believe that PMI should be executed as quickly as possible, so that upon completion of the initiative they could divert their center of attention back to business operations.  This approach, however, involves decisions that aren't backed by detailed analysis of facts and data, and is likely to face increased risks and uncertainties. On the other hand, a slower pace of integration is beneficial in case of a friendly takeover or expansion in a new domain.  A steadier pace of integration works well to reduce any apprehensions, cynicism, bottlenecks, and risks due to oversight.
Lever 3 – Degree of Integration
PMI necessitates gauging the appropriate degree of integration beneficial for the organization—i.e., choosing between extensive across the board versus partial integration. An absolute focus on cost synergies warrants an extensive degree of integration across all departments and geographies.  This puts extra pressure on teams in terms of work and risks dwindling enterprise focus on the customer.  Committing more resources and setting the priorities right aids in offsetting the risks associated with an extensive degree of integration. A partial integration, on the other hand, is simpler, less controversial, and predominantly warrants consolidation of sales or alignment of mission-critical processes.  This typically works well in takeovers requiring new products acquisition or addition of new customer segments.
Interested in learning more about the other 5 decision levers of PMI?  You can download an editable PowerPoint on Post-merger Integration (PMI): 8 Levers here on the Flevy documents marketplace.
Are you a Management Consultant?
You can download this and hundreds of other consulting frameworks and consulting training guides from the FlevyPro library.
Subscribe to our Newsletter

PowerPointing Templates

Error: Twitter did not respond. Please wait a few minutes and refresh this page.