Currently viewing the tag: "Risk Management"
Companies face increasing pressure from governments, competitors, and employees to play a leading role in addressing a wide array of
environmental, social, and governance issues in a company's supply chain. It could range from climate change to obesity to human rights.
For the past 30 years, companies have responded by developing corporate social responsibility or sustainability initiatives to fulfill their contract with society by addressing these issues.
However, gathering the data needed to justify sustained, strategic investment in programs can be difficult.  Yet, without this information, executives and investors often see programs as separate from a company's core business or unrelated to its shareholder value. While there are companies that have made progress tracking operational metrics or social indicators, they have difficulty linking such metrics and indicators to a real financial impact.
Needless to say, there are companies that are creating great value through environmental, social, and governance activities.  Increased sales, decreased costs, and reduced risks are being achieved.  Environmental, social, and governance programs can create value in many other ways. We just need to know where and how.
What is Corporate Social Responsibility
Corporate Social Responsibility (CSR) or sustainability initiatives are undertaken to fulfill contracts with society to respond to environmental issues. Environmental, social, and governance refer to a broader set of CSR Programs.
 Sustaining strategic investments in CSR Programs can be a challenge but there are already leading companies that are generating real value through environmental, social, and governance activities.
The Dynamic Ways of Creating Value
CSR Programs can create shareholder value. It is just important that companies must broaden their legitimacy in societies where they operate.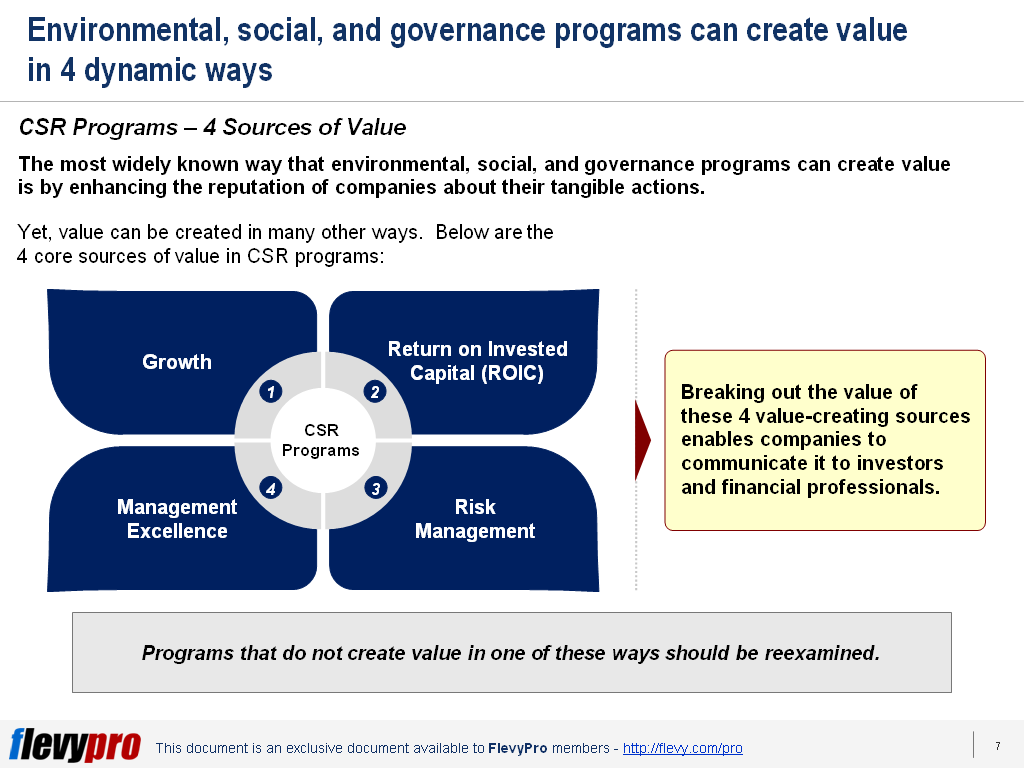 Growth. As a source of value, Growth can be expressed in terms of New Markets, New Products, New Customers, Market Share, and Innovation. When this is created, it can deliver higher brand loyalty, reputation, and goodwill with stakeholders.
Return on Invested Capital (ROIC). ROIC is generated when there is operational efficiency and workforce efficiency. When this is achieved, it can result in better workforce skills and increased productivity through participation in ESG activities.
Risk Management. Risk Management is a source of value. It can be achieved when risk is lowered when compliance with regulatory requirements are achieved.  Public support is achieved and the ability of your company to secure consistent, long-term, and sustainable access to safe, high-quality raw materials and products are established.
Management Excellence. Management Excellence can have an impact on leadership development, adaptability, and long-term strategic view. These are 3 key areas that investors consider most important when evaluating potential partnerships.  With Management Excellence, a value can be generated from these areas.
A Look at IBM: A Clear Example of CSR as a Source of Value
IBM has been recognized globally as one of the leading companies when it comes to Information Technology.  In creating new markets, IBM used Small and Medium Enterprise (SME) Toolkit to develop a track record with local stakeholders, including local governments and NGOs.  Free web-based resources on business management were provided to SMEs in developing economies. A total of 30 SME Toolkit sites were developed in 16 languages.
As a result of this initiative, IBM's reputation and relationships in new markets improved.   Likewise, the relationship with companies that are potential customers was developed.  The strategic approach of IBM in creating markets through its CSR has provided IBM much value in creating and developing relationships which are essential in new markets.
Interested in gaining more understanding of sources of value to CSR programs? You can learn more and download an editable PowerPoint about Corporate Social Responsibility (CSR): Sources of Value here on the Flevy documents marketplace.
Are you a management consultant?
You can download this and hundreds of other consulting frameworks and consulting training guides from the FlevyPro library.
Big cross-organizational change can be difficult and not all organizational transformation is the same. 
Rapid advances in technology, a growing global creative workforce, and market with fewer and fewer barriers to entry are driving a hyper-creative volatile marketplace.  New ideas are making established business positions obsolete at an increasing rate.  Products and services that survive are exposed to commodifying price pressure.
The world has started to repeatedly demand operational excellence not only in innovation but in the delivery of customer service.  Continuous improvement has been deeply emphasized with the increasing demand in the marketplace. Companies must recognize the fundamental market shifts that are occurring and must learn to respond effectively.  This can be done by building an organization that discovers, shapes, and brings Lean-led Business Transformation to scale as part of its core business direction and purpose.
Lean-led Business Transformation provides the business the institutional capability and framework to adapt to rapidly changing opportunities
Understanding the Lean-led Approach
An approach based on Lean Thinking provides business tangible results that are evident in financial performance, customer and employee satisfaction, and risk mitigation.
From Lean-led Approach to Lean-led Transformation
Companies are increasingly under pressure to cut costs and grow. Applying the Principles of Lean Management allow companies to fundamentally transform their operating models.
Using a Lean-led Business Approach, the company can effectively undertake a Lean-led Business Transformation.  An effectively undertaken Lean-led Business Transformation can help the company build a robust, factual understanding of its current state, exposing improvement opportunities to design an end-state operating model with enabling capabilities.
In effect, the company can achieve insurmountable results that competitors will find difficult to follow.
 The company will achieve best-in-class efficiency.
It will reduce client, financial, and regulatory risk.
It will create measurable client impact.
It will lead the company to scale-up with growth.
A Lean-led Business Transformation embeds continuous improvement in the organization. It engages employees to help business leaders successfully govern and execute change.
What Companies are Facing Today
Changing market trends have pushed companies towards Lean-led Transformation.  These market trends are adding pressure on companies to simultaneously cut costs and grow.
 Commoditization of Basic Services. The value of basic stand-alone services is declining leading to the increase in integrated services. As a result of the trend, there is a decreased unit margin per transaction
 Increased Complexity and Globalization of Investments. There is growth in cross-border activity, alternative investments, and alternative exchanges. As a result, technology and compliance investment requirements are changing. Likewise, it has opened an opportunity for growth and revenue diversification.
 Stricter Regulation

.

There is increased regulatory oversight such as consumer protection.  As a result, new processes and technologies need to comply with regulations.  There has also been an increased client need for advisory services.
 Increasing Focus on Risk Management

. 

There has been an increase in risk aversion and a demand for risk management. In effect, new risk assessment capabilities and oversight practices have been developed.
 Change in Consumer Behavior

. 

There has been reduced willingness to incur debt as well as deterioration of trust and customer loyalty. Because of this trend, businesses have been experiencing declining profitability and increased competition for creditworthy consumers.
These changing market trends are here to stay and more trends will soon evolve and affect business.  Failure to heed these market trends can lead to decreased margins and profitability that can be highly detrimental to business.
Undertaking this form of Business Transformation can drive businesses to undertake executable Lean Programs that will strengthen their capability to meet these challenges.
Interested in gaining more understanding of Lean-led Business Transformation? You can learn more and download an editable PowerPoint about Lean-led Business Transformation here on the Flevy documents marketplace.
Are you a management consultant?
You can download this and hundreds of other consulting frameworks and consulting training guides from the FlevyPro library.
Subscribe to our Newsletter

PowerPointing Templates

Error: Twitter did not respond. Please wait a few minutes and refresh this page.