Currently viewing the tag: "Business Transformation"
Never before has Crisis Management been considered important.  With businesses being exposed to a disruptive environment, the emphasis on
Crisis Management has never been more profound.
"The secret of Crisis Management is not good vs. bad, it's preventing the bad from getting worse."- Andy Gilman of Comm Core Consulting Group
An organization is considered to be undergoing a crisis when there is a sudden and unexpected event leading to major unrest amongst the individuals at the workplace.  It is an emergency situation that disturbs the employees as well as leads to the instability of the organization.  When this occurs, organizations are expected to have critical documentation and process, e.g. Crisis Management Plan, Disaster Recovery Plan, Business Continuity Plan, etc., in place.
Crisis Management is the art of dealing with these sudden and unexpected events which disturb the employees and organization. Yet, often companies are like the metaphorical frog that doesn't notice the water it is in is warming up until it is too late.  There are managers who either do not realize that they are in a crisis or their crisis situation is worsening.  The early signs of distress are often missed.  While they are not bad managers, these are managers that are under a set of paradigms that no longer apply and just let the power of inertia carry them along.
As a result, organizations in crisis find themselves faced with a potential cost that is greatly significant.  This can lead to longer recovery time, a direct impact on downtime, and lost revenue.
First Things First: Taking a Good Handle of Crisis Management
Crisis Management is the application of strategies to enable organizations to deal with a disruptive and unexpected event that threatens to harm the organization or its stakeholders. It is a situation-based management system with clear roles, responsibilities, and processes. In Crisis Management, it requires a crisis mindset. A crisis mindset is the ability to think of the worst-case scenario while simultaneously suggesting numerous solutions.
Being well prepared for a crisis is the epitome of Crisis Management. It ensures a rapid and adequate response to a crisis and maintaining clear lines of reporting and communication in the event of crisis.
Yet, often the organization and communication involved in responding to a crisis in a timely fashion provide the most challenge to business. Responding to crisis in the most effective way can be done by taking the 10 First Steps.
The 10 First Steps to Crisis Management
The 10 strategic First Steps are the organization's guide when in crisis and there is a strong call toward initiating organizational change.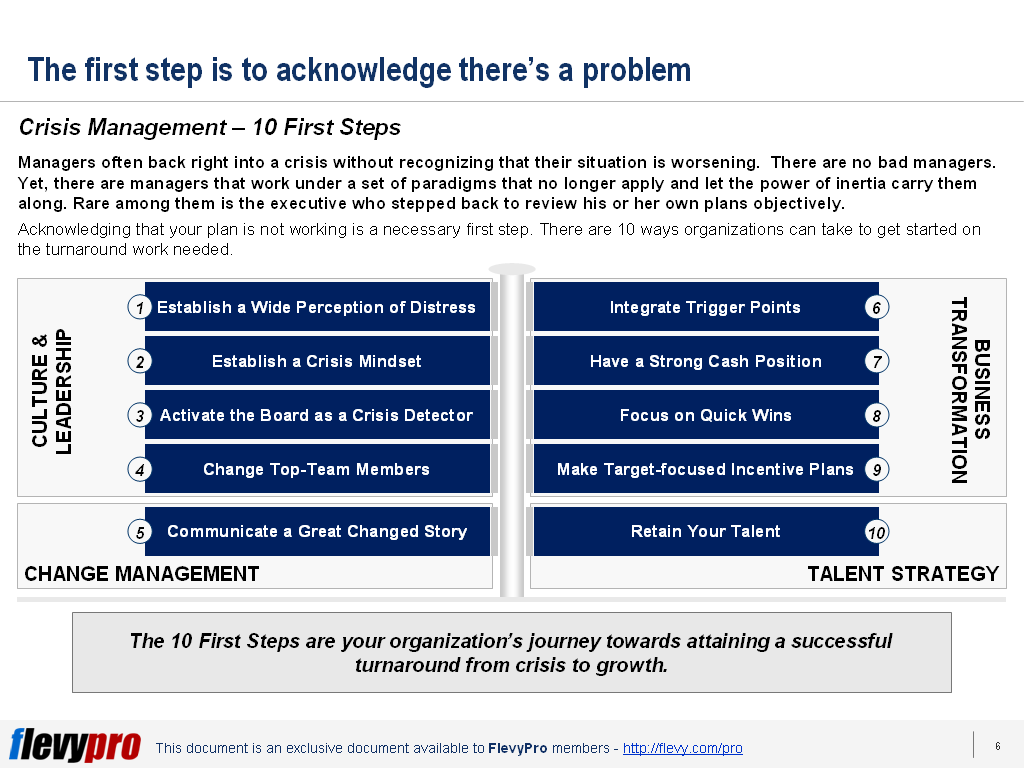 The first 4 steps focus on Culture and Leadership.
Establish a Wide Perception of Distress
Establish a Crisis Mindset
Activate the Board as a Crisis Detector
Change Top-Team Members
The first 4 steps will widen one's understanding of distress and move people to actions at the time of crisis. It is at this stage that the Board will be empowered to see the forest for the trees and can enable organizations to focus on tough movers that can successfully make organizational changes.
The 5th step focuses on Change Management.
Communicate a Great Changed Story
Communicating a Great Changed Story can create positive motivation to spur action towards change. When Change Management starts evolving, the organization is now ready to advance towards Business Transformation.
The 6th to 9th steps focus on Business Transformation.
Integrate Trigger Points
Have a Strong Cash Position
Focus on Quick Wins
Make Target-focused Incentive Plans
Business Transformation starts when trigger points are integrated and a strong cash position is maintained. Management can focus on quick wins to create a trajectory effect to spur actions and develop target-focused Incentive Plans to achieve a successful turnaround.
The 10th and final step is sustaining the gains through effective Talent Strategy.
Retain your Talent
The final step is Retaining your Talent. It is recognizing those that can make a difference and finding the next level of talent that can create and sustain change.
Organizations can build its Crisis Management capability following the 10 first steps.  Crisis Management is not anymore a matter of choice; it has become a necessity.
Interested in gaining more understanding of the first 10 steps to surviving a crisis?  You can learn more and download an editable PowerPoint about Crisis Management: 10 First Steps here on the Flevy documents marketplace.
Are you a management consultant?
You can download this and hundreds of other consulting frameworks and consulting training guides from the FlevyPro library.
Staying competitive in the face of increasingly accelerated disruption can be a challenge to 21st-century companies.  Many companies have
started to rethink and retool their offerings and operation.  This kind of transformation, however, requires a collaborative effort from all parts of the organization, no matter how different their processes, systems, and cultures have been in the past.
Often, the transformation effort falls flat due to problems that arise when disparate parts of the company fail to work together with a shared sense of mission. Most large companies have divisions, or even groups and functions within divisions, that operate in silos.  This can be for a good reason.  In the knowledge economy, professionals need to work with people who possess similar professional skills to fulfill specific mandates.  Organizational silos can exist to harness knowledge-based skills or specific job functions, or they can be geographic.  In many industries, silos are vital to productivity. But when an organizational transformation is needed, it is a different story.
Silos, during Business Transformation, mean that the very parts of our company that must work together are unaccustomed to doing so, and are even unable to communicate with one another.  They are culturally misaligned, inherently mistrustful, and territorial.  These problems can complicate change efforts, or delay or derail the delivery of their benefits.
Understanding Organizational Silos
Conventional wisdom holds that silos are flawed business construct: a legacy of command and control leadership symbolizing outmoded and inefficient management. But, in truth, silos can help establish boundaries and maintain order.
During normal operation, the positive effect of silos outweighs the negatives. However, during transformation, silos can be stubborn obstacles to creating a more effective path to growth and profitability.  Organizational silos need to be deconstructed during times of significant change to support growth.
Breaking Down Silos: The 7 Strategies
When faced with potential market disruption, siloed companies must take action and break down these silos. There are 7 Strategies to Breaking down Organizational Silos that companies must take. These strategic interventions must be undertaken to achieve change.
The first strategy in breaking down silos is Align Leaders.  When there is a warring, competing agendas among Leadership and there is confusion among the rank-and-file about what to do day-to-day to enable organizational strategy, then this action is most effective.
Strategy 2: Create cross-functional teams
Strategy 2 is more geared towards encouraging individuals to think of the future state and collaborate.  Most often, siloed teams struggle with cross-functional problems. As such, there is a failure of individuals from different functions to successfully work together.
Strategy 3: Create clear roles and responsibilities
Creating clear roles and responsibilities is a third strategy that aims to clarify priorities and expectations. It can be a challenge when teams are confused about what are the priorities and expectations. As a result, employees do not know what to do, whom to listen to, or how to balance the demands of a day job with a new company or team needs.
Strategy 4: Co-locate teams
Strategy 4 is co-locating teams. It can be a challenge if the organization is global as well as the teams.  Often, global teams run into complexity with scheduling and limited time together.
Strategy 5: Create Joint Incentives
Strategy 5 is creating Joint Incentives.  A challenge often faced is cross-functional teams do not work well together.  When cross-functional teams do not work together, there is cliquishness that can border on high school lunchroom behavior when confronted with new team members or new ways of working.
Strategy 6: Create a "two in a box" Leadership
Creating a "two in a box" leadership is the 6th strategy. When there is a single leader, this can create political challenges.  The choice of a single leader coming from one of the silos can appear political and this can generate resistance.
Strategy 7: Clarify decision rights
The 7th strategy is clarifying decision making rights. This is an effective strategy when consensus is not reached. When consensus is not reached, there can be conflict and when there are two leaders, a standoff can result.
Understanding the 7 Strategies will enable organizations to effectively break down silos. Being able to break down organizational silos can revolutionize organizations to achieve successful transformation. This can be achieved by learning how to balance the effect of organizational silos, as well as knowing how to effectively implement the strategies of breaking these down.
Interested in gaining more understanding of how to remove Organizational Silos? You can learn more and download an editable PowerPoint about Removing Organizational Silos here on the Flevy documents marketplace.
Are you a management consultant?
You can download this and hundreds of other consulting frameworks and consulting training guides from the FlevyPro library.
Big cross-organizational change can be difficult and not all organizational transformation is the same. 
Rapid advances in technology, a growing global creative workforce, and market with fewer and fewer barriers to entry are driving a hyper-creative volatile marketplace.  New ideas are making established business positions obsolete at an increasing rate.  Products and services that survive are exposed to commodifying price pressure.
The world has started to repeatedly demand operational excellence not only in innovation but in the delivery of customer service.  Continuous improvement has been deeply emphasized with the increasing demand in the marketplace. Companies must recognize the fundamental market shifts that are occurring and must learn to respond effectively.  This can be done by building an organization that discovers, shapes, and brings Lean-led Business Transformation to scale as part of its core business direction and purpose.
Lean-led Business Transformation provides the business the institutional capability and framework to adapt to rapidly changing opportunities
Understanding the Lean-led Approach
An approach based on Lean Thinking provides business tangible results that are evident in financial performance, customer and employee satisfaction, and risk mitigation.
From Lean-led Approach to Lean-led Transformation
Companies are increasingly under pressure to cut costs and grow. Applying the Principles of Lean Management allow companies to fundamentally transform their operating models.
Using a Lean-led Business Approach, the company can effectively undertake a Lean-led Business Transformation.  An effectively undertaken Lean-led Business Transformation can help the company build a robust, factual understanding of its current state, exposing improvement opportunities to design an end-state operating model with enabling capabilities.
In effect, the company can achieve insurmountable results that competitors will find difficult to follow.
 The company will achieve best-in-class efficiency.
It will reduce client, financial, and regulatory risk.
It will create measurable client impact.
It will lead the company to scale-up with growth.
A Lean-led Business Transformation embeds continuous improvement in the organization. It engages employees to help business leaders successfully govern and execute change.
What Companies are Facing Today
Changing market trends have pushed companies towards Lean-led Transformation.  These market trends are adding pressure on companies to simultaneously cut costs and grow.
 Commoditization of Basic Services. The value of basic stand-alone services is declining leading to the increase in integrated services. As a result of the trend, there is a decreased unit margin per transaction
 Increased Complexity and Globalization of Investments. There is growth in cross-border activity, alternative investments, and alternative exchanges. As a result, technology and compliance investment requirements are changing. Likewise, it has opened an opportunity for growth and revenue diversification.
 Stricter Regulation

.

There is increased regulatory oversight such as consumer protection.  As a result, new processes and technologies need to comply with regulations.  There has also been an increased client need for advisory services.
 Increasing Focus on Risk Management

. 

There has been an increase in risk aversion and a demand for risk management. In effect, new risk assessment capabilities and oversight practices have been developed.
 Change in Consumer Behavior

. 

There has been reduced willingness to incur debt as well as deterioration of trust and customer loyalty. Because of this trend, businesses have been experiencing declining profitability and increased competition for creditworthy consumers.
These changing market trends are here to stay and more trends will soon evolve and affect business.  Failure to heed these market trends can lead to decreased margins and profitability that can be highly detrimental to business.
Undertaking this form of Business Transformation can drive businesses to undertake executable Lean Programs that will strengthen their capability to meet these challenges.
Interested in gaining more understanding of Lean-led Business Transformation? You can learn more and download an editable PowerPoint about Lean-led Business Transformation here on the Flevy documents marketplace.
Are you a management consultant?
You can download this and hundreds of other consulting frameworks and consulting training guides from the FlevyPro library.
Subscribe to our Newsletter

PowerPointing Templates

Error: Twitter did not respond. Please wait a few minutes and refresh this page.