Currently viewing the tag: "operational excellence"
Restructuring is a turbulent process that shakes the foundations of the organization.  The goal of Operational Excellence cannot be realized merely by the surgical removal of human resource during Redeployment after Restructuring.
Keeping focus on moving the organization forward with vitality means boosting the sagging morale of the employees who survive this storm.  It is the attention to the surviving employees that is going to kick-start the Revitalization process and usher in a new Organizational Culture.
Employee Engagement is an absolutely vital aspect of the revitalized organization.  Re-engagement of the remaining employees after Redeployment is important because:
It is a given that engagement levels will be abysmally low.
Motivation to work is not the top priority for most after Restructuring chaos.
Insecurity is high and employees may be thinking about leaving the organizations on the first opportunity they get.
The Revitalization of the organization depends on how the survivors are handled.
To handle such state of affairs, management must do the following:
Develop a concrete plan for Re-engagement during the Organizational Design.
Allocate appropriate time, effort, and budget for boosting motivation levels.
Implement Re-engagement plans that address the diverse Motivational Drivers.
Communicate consistently on an organizational level as well as individual level to reassure employees regarding their future.
Train line managers on how to handle surviving team members.
Push line managers to spend time with individual employees to learn:

How team members have handled the Redeployment process.
How employees sense the challenges moving forward.
What primarily motivates them as individuals.

Use motivational assessment methods and integrate the survivors into existing development discussions to align them with organizational processes.
Poor management of the Employee Re-engagement process is bound to have repercussions, such as:
Absenteeism
Low productivity levels.
Substandard customer service quality levels resulting in tarnished image of the organization.
Dwindling employees' commitment to the organizations.
Increased risk of switch overs.
Active Employee Re-engagement ensures that the employees are:
Clear on the next steps.
Clear about their new roles.
Can effectively deliver against the new roles.
Keen to work in the evolving scenario.
Redeployment in the Restructuring process affects all employees regardless of whether they stay or leave.
Employees typically showcase 4 types of reactions during this transition:
Departure Grief
Survivor Relief
Survivor Irritation
Departure Happiness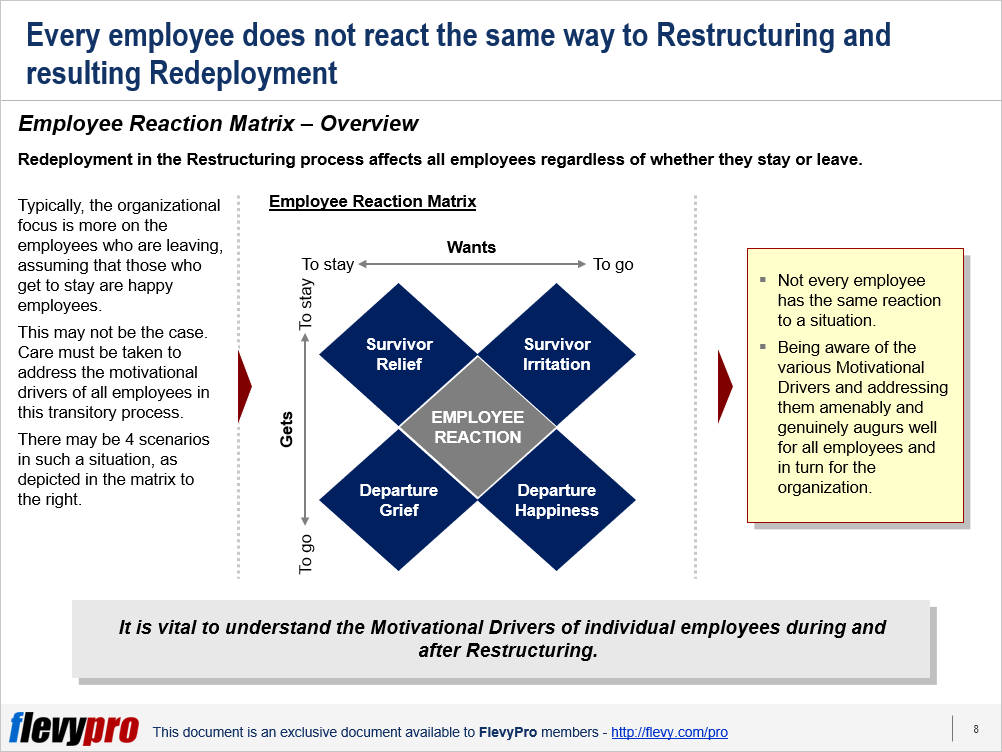 Typically, the organizational focus is more on the employees who are leaving, assuming that those who get to stay are happy employees.  This may not be the case.  Care must be taken to address the motivational drivers of all employees in this transitory process.
Let us examine the Employee State, their Motivational Drivers, and appropriate Actions to take during Restructuring, a little more deeply.
Departure Grief
The motivational drivers that induce the state of "departure grief" in employees include:
Loss of earnings and benefits such as pension plan and health insurance can be stressful.
Loss of daily routine can be upsetting and takes some time to cope with.
Forced shift in lifestyle upsets not only the person but the family too which may take a psychological toll.
Feeling of rejection crops up as a result of being let go, lowering self-esteem.
Loss of financial empowerment puts the person, especially the head of the household, in a vulnerable position.
To help employees cope with Departure Grief, the organizational leadership should take some key actions, such as:
Help the ex-employees through counselling sessions.
Guide the employees in preparing job applications and CVs.
Assist the ex-employees get placed in alternative jobs.
Guide the ex-employees in putting the compensated amount to good use.
Interested in learning more about Re-engagement after Restructuring?  You can download an editable PowerPoint on Re-engagement after Restructuring here on the Flevy documents marketplace.
Want to Achieve Excellence in Business Transformation?
Gain the knowledge and develop the expertise to become an expert in Business Transformation. Our frameworks are based on the thought leadership of leading consulting firms, academics, and recognized subject matter experts. Click here for full details.
"If you don't transform your company, you're stuck." – Ursula Burns, Chairperson and CEO of VEON; former Chairperson and CEO of Xerox
Business Transformation is the process of fundamentally changing the systems, processes, people, and technology across an entire organization, business unit, or corporate function with the intention of achieving significant improvements in Revenue Growth, Cost Reduction, and/or Customer Satisfaction.
Transformation is pervasive across industries, particularly during times of disruption, as we are witnessing now as a result of COVID-19. However, despite how common these large scale efforts are, research shows that about 75% of these initiatives fail.
Leverage our frameworks to increase your chances of a successful Transformation by following best practices and avoiding failure-causing "Transformation Traps."
Learn about our Business Transformation Best Practice Frameworks here.
Do You Find Value in This Framework?
You can download in-depth presentations on this and hundreds of similar business frameworks from the FlevyPro Library. FlevyPro is trusted and utilized by 1000s of management consultants and corporate executives. Here's what some have to say:
"My FlevyPro subscription provides me with the most popular frameworks and decks in demand in today's market. They not only augment my existing consulting and coaching offerings and delivery, but also keep me abreast of the latest trends, inspire new products and service offerings for my practice, and educate me in a fraction of the time and money of other solutions. I strongly recommend FlevyPro to any consultant serious about success."

– Bill Branson, Founder at Strategic Business Architects
"As a niche strategic consulting firm, Flevy and FlevyPro frameworks and documents are an on-going reference to help us structure our findings and recommendations to our clients as well as improve their clarity, strength, and visual power. For us, it is an invaluable resource to increase our impact and value."

– David Coloma, Consulting Area Manager at Cynertia Consulting
"FlevyPro has been a brilliant resource for me, as an independent growth consultant, to access a vast knowledge bank of presentations to support my work with clients. In terms of RoI, the value I received from the very first presentation I downloaded paid for my subscription many times over! The quality of the decks available allows me to punch way above my weight – it's like having the resources of a Big 4 consultancy at your fingertips at a microscopic fraction of the overhead."

– Roderick Cameron, Founding Partner at SGFE Ltd
Organizations typically focus on Customer-centric Design in their Strategic Planning and overlook the critical driver of Performance, Growth, and Operational Excellence—their employees.  With cut-throat competition now the norm the realization has become clearer that employees are:
The face of the business and create lasting—or perishing—brand impression.
Sources of innovation and organizational knowledge.
Representation of the company's service philosophy.
Expected to live by its Organizational Culture and values.
Employee Engagement has emerged as one of the significant pillars on which the Competitive Advantage, Productivity, and Growth of an organization rests.  What, exactly, does it mean when an employee is engaged?  Employee Engagement, over the years, has been thought of in terms of:
Personal engagement with the organization.
Focus on performance of assigned work.
Worker burnout.
Basic needs (meaningful work, safe workplace, abundant resources).
Attention on Cognitive, Emotional and Behavioral components related to an individual's performance.
Although Employee Engagement is widely seen as an important concept, there has been little consensus on its definition or its components either in business or in the academic literature.
Kumar and Pansari's 2015 study define Employee Engagement as:
"a multidimensional construct that comprises all of the different facets of the attitudes and behaviors of employees towards the organization".
The multidimensional construct of Employee Engagement has been synthesized into the following 5 components (or dimensions).
Employee Satisfaction
Employee Identification
Employee Commitment
Employee Loyalty
Employee Performance
The 5 dimensions of Employee Engagement have been found to have a direct correlation with high profitability, as substantiated by a number of research studies: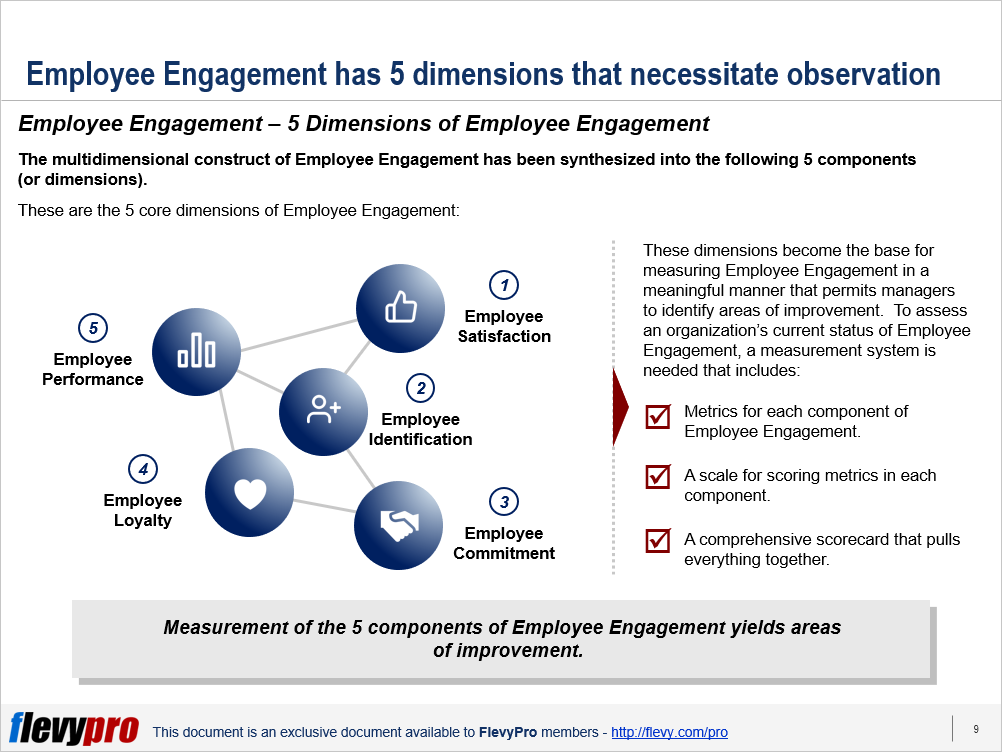 For instance, a study of 30 companies in the airline, telecom and hotel industries shows a close relationship between Employee Engagement and growth in profits.  After controlling other relevant factors—i.e., GDP level, marketing costs, nature of business, and type of goods, the study found:
Highest profitability growth—10% to 15%—in companies with highly engaged employees.
Lowest level of profitability growth—0% to 1%—in companies with disengaged employees.
Research reveals that Employee Engagement affects 9 performance outcomes; including Customer Ratings, Profitability, Productivity, Safety Incidents, Shrinkage (theft), Absenteeism, Patient Safety Incidents, Quality (Defects), and Turnover.
The differences in performance between engaged and actively disengaged work units revealed:
Top half Employee Engagement scores nearly doubled the odds of success compared with those in the bottom half.
Companies with engaged workforces have higher earnings per share (EPS).
These 5 dimensions become the base for measuring Employee Engagement in a meaningful manner that permits managers to identify areas of improvement.  To assess an organization's current status of Employee Engagement, a measurement system is needed that includes:
Metrics for each component of Employee Engagement.
A scale for scoring metrics in each component.
A comprehensive scorecard that pulls everything together.
Let us delve a little deeper into the first 2 dimensions of Employee Engagement.
Employee Satisfaction
Definition
Employee Satisfaction is the positive reaction employees have to their overall job circumstances, including their supervisors, pay and coworkers.
Details
When employees are satisfied, they tend to be:
Committed to their work.
Less absent and more productive in terms of quality of goods and services.
Connected with the organization's values and goals.
Perceptive about being a part of the organization.
Metrics
The 5 metrics that gauge Employee Engagement in terms of Employee Satisfaction include:
Receiving recognition for a job.
Feeling close to people at work.
Feeling good about working at the organization.
Feeling secure about the job.
Believing that the management is concerned about employees.
We take a look at another dimension central in significance.
Employee Commitment
Definition
Signifies what motivates the employees to do more than what's in their job descriptions.
Details
Employee Commitment is much higher for the employees who identify with the organization.  This element:
Develops over time and is an outcome of shared experiences.
Is often an antecedent of loyalty.
Induces employees to guard the organization's secrets.
Pushes employees to work for organization's best interests.
Research has found that employees with the highest levels of commitment:
Perform 20% better.
Are 87% less likely to leave the organization.
Metrics
The 3 metrics that gauge the Employee Commitment dimension of Employee Engagement include:
Commitment to deliver the brand promise along with knowledge of the brand.
Very committed to delivering the brand promise.
Feels like the organization has a great deal of personal meaning.
Interested in learning more about these foundational pillars to Employee Engagement? You can download an editable PowerPoint on 5 Dimensions of Employee Engagement here on the Flevy documents marketplace.
Are you a Management Consultant?
You can download this and hundreds of other consulting frameworks and consulting training guides from the FlevyPro library.
As the business and operating environment changes, there has been a greater demand for transparency and accountability as to the integrity of internal control. This
has become very critical today as businesses drive to enhance the likelihood of them achieving their objectives and be able to adapt to changes in the global business environment.
The Committee of Sponsoring Organizations of the Treadway Commission (COSO) released in 1992 the Integrated Internal Control Framework that will enable organizations to effectively and efficiently develop and maintain systems of internal control. It also includes enhancements and clarifications that will provide organizations the ease of using and applying the Framework.
An Overview of the COSO Framework
The COSO Framework is the globally recognized framework for designing, implementing, conducting, and assessing internal control. It is recognized as the definitive standard against which organizations measure the effectiveness of internal control systems.
If we look at the internal control, this is not a serial process but a dynamic and integrated process. It is a process effected by an organization's Board of Directors, Management, and other personnel designed to provide reasonable assurance regarding the achievement of objectives relating to operations, reporting, and compliance. It can be considered an enabler when it comes to achieving Operational Excellence.
The COSO Framework provides for 3 categories of objectives. These categories allow organizations to focus on different aspects of internal control. It ensures that the internal control system is operationally efficient and effective, reporting reliable data, and remain compliant to laws and regulations.
The 5 Components of the COSO Framework
In an effective internal control system, 5 Components of the COSO Framework must be present to support the achievement of an organization's mission, strategies, and related business objectives.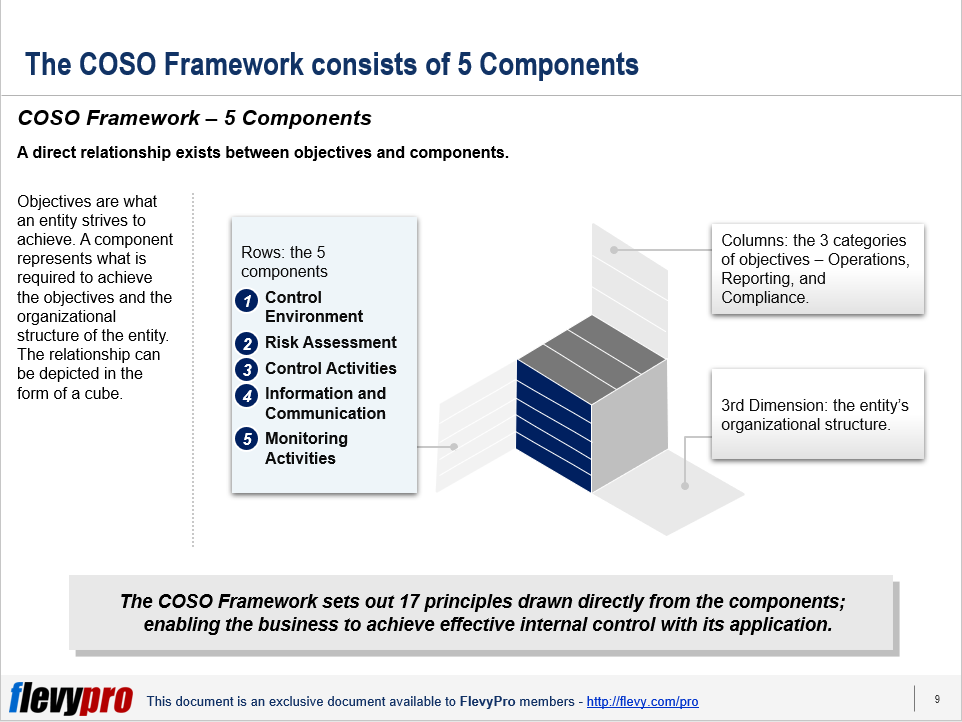 Component 1: Control Environment. This is a set of standards, processes, and structures that provide the basis for carrying out internal control across the organization.
Component 2: Risk Assessment. This forms the basis for determining how risks will be managed. It involves a dynamic and iterative process for identifying and assessing risks to the achievement of objectives. It determines the possibility that an event will occur and adversely affect the achievement of objectives.
Component 3: Control Activities. The 3rd component ensures that Management's directives to mitigate risks to the achievement of objectives are carried out. These are actions that are established through policies and procedures. It may be preventive or detective in nature.
Component 4: Information and Communication. This component focuses on the generation of relevant and quality information to support the functioning of other components. It is a continuous iterative process of providing, sharing, ad obtaining the necessary information. This is necessary to enable businesses to carry out internal control responsibilities to support the achievement of its objectives.
Component 5: Monitoring Activities. Monitoring activities, as a component, ascertains whether each of the 5 components of internal control is present and functioning. It includes the conduct of ongoing evaluations, separate evaluations, or a combination of both.
The 5 Components of the COSO Framework are essentially important as they represent what is required to achieve the objectives and the organizational structure of the organization. Each component has its underlying principles and key elements to better guide organizations in putting the components in place.
Additional Key Considerations
The COSO Framework sets the requirements for an effective system of internal control. An effective system reduces, to an acceptable level, the risk of not achieving the organization's objectives.
There are additional key considerations that organizations must take note of. One consideration is that each of the 5 components and relevant principles is present and functioning. Present refers to the determination that the components and relevant principles exist in the design and implementation of the system of internal control to achieve specified objectives. Functions refer to the determination that the components and relevant principles continue to exist in the operations and conduct of the system of internal control to achieve specified objectives.
Interested in gaining more understanding of the COSO Framework? You can learn more and download an editable PowerPoint about COSO Framework here on the Flevy documents marketplace.
Are you a management consultant?
You can download this and hundreds of other consulting frameworks and consulting training guides from the FlevyPro library.
A commonly quoted statistic is that 80% to 95% of the cost of a product is determined by its design and is therefore set before the item enters manufacturing. This
assumption suggests that the dominant focus of Cost Management should be during Product Development and not during Manufacturing.
However, contrary to a widely held assumption, companies can integrate a variety of Cost Management techniques not only in the design phase but throughout the product life cycle.  This is to ensure that there is a substantial reduction in costs.  In fact, companies achieving Operational Excellence and competing aggressively on cost might consider the adoption of some form of an Integrated Cost Management Program that spans the entire product life cycle.
An organization must have a good understanding of Integrated Cost Management and the 5 Cost Management Strategies that they can use to reduce costs but still attain the desired level of functionality and quality at the target costs.
The 5 Cost Management Strategies
 The 5 Cost Management Strategies play a crucial role in the company's integrated approach to Cost Management.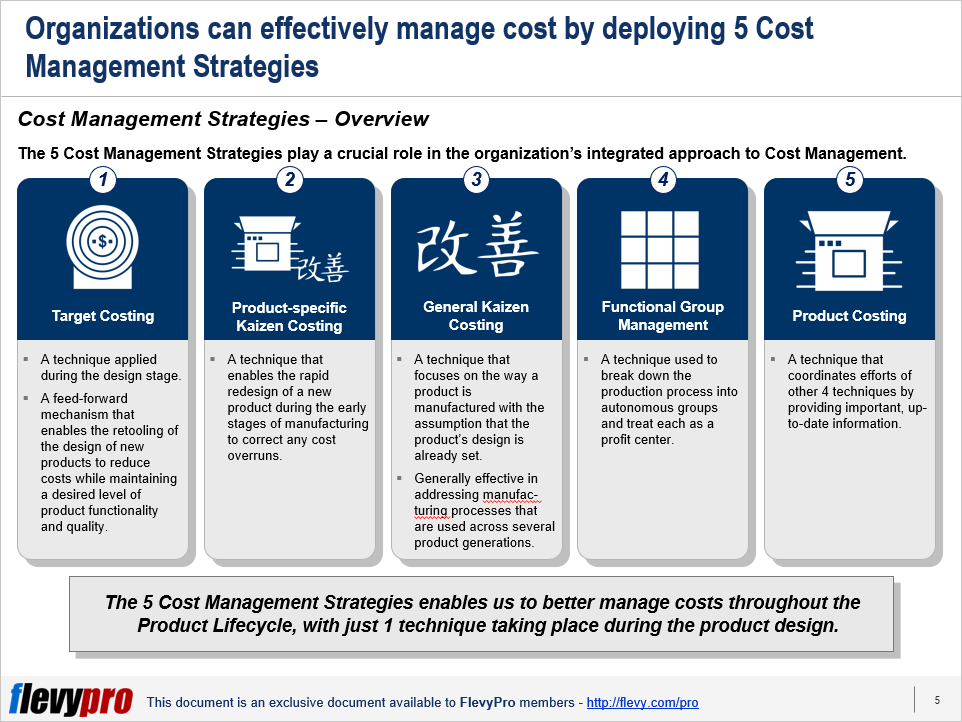 The 5 Cost Management Strategies can be applied throughout the product life cycle with one technique used during the product design and the rest during manufacturing.
Target Costing. This is a technique applied during the design stage. Target Costing is best used when the manufacturing phase of the life cycle of a product is short.
Product-specific Kaizen Costing. This is a technique applied during the early stages of the manufacturing phase. It enables the rapid redesign of a new product to correct for any cost overruns. The primary rule in Product-specific Kaizen Costing is that the product's functionality and quality have to remain constant.
General Kaizen Costing. The third Cost Management Strategy, this technique is applied during the manufacturing phase. It focuses on the way a product is manufactured with the assumption that the product's design is already set.  This technique is effective when addressing manufacturing processes that are used across several product generations.
Functional Group Management. This is the technique that is applied in the production process. Functional Group Management consists of breaking the production process into autonomous groups and treating each group as a profit instead of a cost center. The switch to profit as opposed to cost allows groups to increase the throughput of production processes even if changes result in higher costs. It enables the change in mindset that functional group management induces.
Product Costing. The 5th Cost Management Strategy, this is the technique that coordinates the efforts of the other four techniques. It does coordination work by providing the other four techniques with important, up-to-date information.
Target Costing vis-a-vis Kaizen Costing
Kaizen Costing as known as continuous improvement costing.  It is a method of reducing managing costs. Kaizen Costing has a similarity with Target Costing but it also has its differences.  (Note: Kaizen is the Japanese term for Continuous Improvement and often tied to the philosophy of Lean Management.)
Both Kaizen Costing and Target Costing can achieve results with lower resources. This is basically their similarity. On the other hand, the differences lie in their usage and involvement.
Target Costing is used on the design stage and requires the involvement only of designers. On the other hand, Kaizen Costing is used during the manufacturing stage and requires high involvement of employees.  The general idea of Kaizen Costing is to determine target costs, design products, and process to not exceed those costs.
Interested in gaining more understanding of these Cost Management Strategies? You can learn more and download an editable PowerPoint about 5 Cost Management Strategies here on the Flevy documents marketplace.
Are you a management consultant?
You can download this and hundreds of other consulting frameworks and consulting training guides from the FlevyPro library.
Post-merger Integration is a highly complex process. It requires swift action as well as running the core business activities simultaneously. There is no one-size-fits-
all approach to a successful PMI Process. However, careful planning focusing on the strategic objectives of the deal and the identification and capturing of synergies will help maximize deal value.
Because of the complexity of the PMI process, it is of utmost importance that organizations—both the Buyer and Target, the integration team, and integration manager—have a guide that will provide them the detailed requirements of the process. The Post-merger integration framework has a structured approach that can direct attention to important integration areas to maximize deal value and achieve Operational Excellence. The inability to focus on priority areas can be a waste of resources, time, and investments.
The 12 Integration Areas
The Post-merger Integration framework drives a structured approach to identify important Integration Areas to focus on during the transition. There are 12 Integration Areas that need to be prioritized.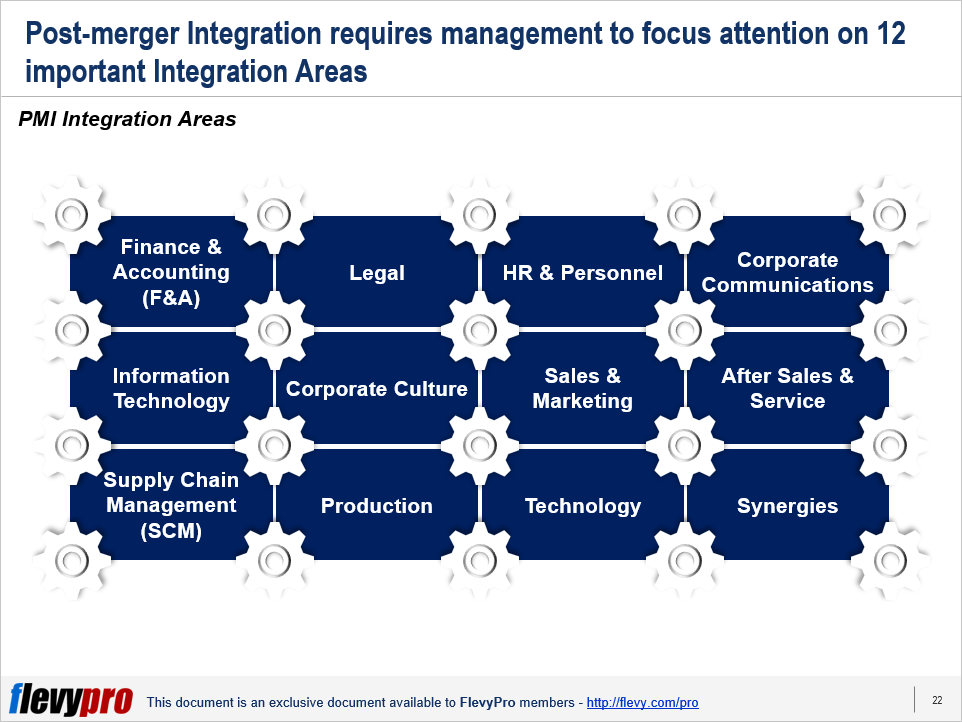 The first 2 integration areas within the full checklist:
Finance & Accounting (F&A). This is an integration area that is focused on establishing the financial sustainability of the new organization. Financial & Accounting needs clear instructions and templates for financial reporting at Closing. The better the information, the few surprises there are due to poor reporting or absence of data. Financial & Accounting has 9 sub-areas that are essentially important for organizations to have a good appreciation and understanding of.
Legal. The role of the legal function does not end at the Closing. Many legal items need to be listed and considered immediately after the Closing. Special events, such as acquisitions of minority shares or the formation of joint venture companies must be considered. Legal is one vital area in building the sustainability of the new organization.
The next 2 integration areas within the full checklist:
HR & Personnel. Integral in the Integration Process, HR & Personnel is a key area in integration. Management of the HR Integration Team is a primary responsibility of the Buyer's HR manager. There are 5 sub-areas under HR & Personnel that must be given important consideration.
Corporate Communications. Successfully using the Buyer's and Target's corporate communication functions for announcing and explaining PMI progress is a net sum of many factors. Essentially, communicating PMI progress requires the effective use of the corporate communication functions of both Buyer and Target.
The third 3 integration areas within the full checklist:
Information Technology (IT). The goal of the ICT Integration Process is to link the ICT networks of the acquired entity with the Buyer's corporate ICT network. It is necessary to facilitate access to systems and services provided by the Buyer and collaborate with business/market areas. Often, the integration process is let by an ICT individual from the Buyer's corporate/company ICT or business/market area ICT.
Corporate Culture. Corporate culture has increasingly become a critical factor in integration success, particularly in cross-border M&A. An M&A deal often impacts on corporate culture, both on the Buyer's and the Target's side.
Sales & Marketing. This is a difficult sensitive area to be changed in the integration process. Sales & Marketing contribute largely to organizational financial stability, hence primary consideration must be undertaken.
The last 5 PMI integration areas within the full checklist:
After Sales & Service. This is increasingly becoming important in value creation. It is an added-value that strengthens Sales & Marketing capability to sustain the market.
Supply Chain Management (SCM). This is undertaken at a later phase of integration as the fundamental change requires detailed planning and calculation.
Production. This is one critical area where more experience and planning are required in decision making.
Technology. The extent to which the integration focuses on Technology and R&D depends on the M&A strategy. If the purpose of the acquisition is to gain technology or strengthen existing capabilities, then this is when the integration will focus on technology.
 Synergies. This an integration area that can mean new strengths and opportunities from combined knowledge and experiences.
Organizations must take adept steps in undertaking the Integration Checklist as this will enable both the Buyer and the Target to reach the most strategic state necessary for the 12 Integration Areas.
Interested in gaining more understanding of the Post-merger Integration (PMI) Integration Checklist? You can learn more and download an editable PowerPoint about Post-merger Integration (PMI) Integration Checklist here on the Flevy documents marketplace.
Are you a management consultant?
You can download this and hundreds of other consulting frameworks and consulting training guides from the FlevyPro library.
"A problem well framed is a problem half-solved." — Jay Galbraith
Organizational Design is more than just structures. It is having policies and strategies that are aligned with one another.  When this is achieved, it allows organizations to operate at maximum efficiency and achieve Operational Excellence.
The Galbraith Star Model™ is the foundation on which a company bases its design choices. The organization's design framework consists of a series of design policies that are controllable by management and can influence employee behavior.
Organizations use the Star Model™ framework to overcome the negatives of any structural design. Every organizational structure has positives and negatives associated with it.  If management can identify the negatives of its preferred option, it can better design other policies around the Star Model™ to counter the negatives while achieving the positives.
Understanding the Galbraith Star Model™
Galbraith Star Model™ is the organization's design framework for effective strategy execution. It consists of 5 major components.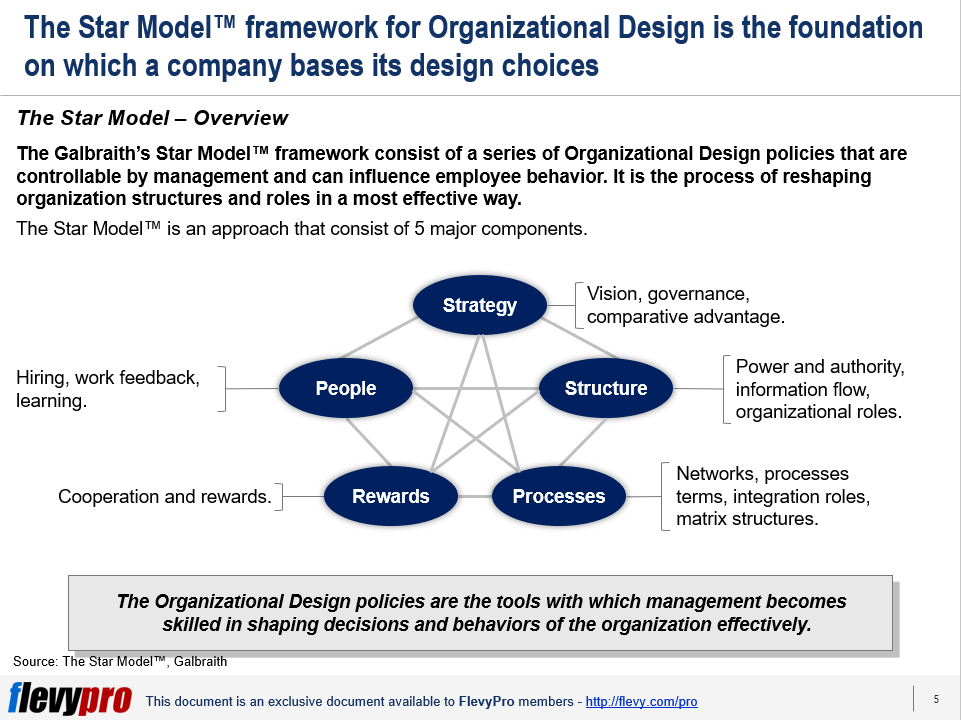 Strategy. This component is the company's formula for winning. It is the goals and objectives to be achieved, as well as values and missions to be pursued. It defines the basic direction of the company. Strategy Development is essentially important in specifying sources of Competitive Advantage.
Structure. The second component, the Structure, determines the location of the decision-making power. It is the placement of power and authority in the organization.
Processes. Information and decision processes is a component that cuts across the organization's structure. It is a means of responding to information technologies. Management processes can either be vertical or lateral. Either way, these are designed around a workflow from new product development to the fulfillment of a customer order. If the structure is the anatomy of the organization, processes are its physiology or functioning.
Rewards. The fourth component provides motivation and incentive for the completion of the strategic direction of the organization. Rewards are recognition that influence the motivation of people to perform and address organizational goals.  It becomes effective only when they form a consistent package in combination with other design choices.
People. People is the fifth component that focuses on influencing and defining an individual's mindset and skills. It looks into the human resource policies of recruiting, selection, training, and development of people needed by the organization to achieve its strategic direction. HR policies work best when these are consistent with the other connecting design areas.
The five components are essentially important. Each component has its underlying purpose and impact.  How the organization can effectively align the components with each other makes a huge difference in achieving an impact. Further, in this fast-changing business environment, organizations must be keenly aware of the implications of implementing the Star Model™ framework. The Star Model may have its implications, including the interweaving nature of the lines that form the star shape.
The Man Behind the Organizational Design Framework
Dr. Jay Galbraith was an internationally recognized expert on Strategy and Organizational Design.  With more than 45 years of research and practical experience, Dr. Galbraith's extensive knowledge came from his background in information processing systems, chemical engineering, and organizational behavior.  As the original creator of the Star Model and the Front-Back organization structure, Dr. Galbraith transformed organizations across a broad span of industries including consumer goods, manufacturing, health care, financial services, and telecommunications, among others.
Interested in gaining more understanding of Galbraith Star Model™? You can learn more and download an editable PowerPoint about Galbraith Star Model™ here on the Flevy documents marketplace.
Are you a management consultant?
You can download this and hundreds of other consulting frameworks and consulting training guides from the FlevyPro library.
Peter Drucker, one of the first managerial thinkers, introduced MBO or Management by Objectives. This eventually paved the way for the birth of the Objectives and
Key Results (OKR) management philosophy. Andy Grove, known as the "Father of OKRs", introduced the approach to Intel during the 1970s. This was further popularized by John Doer by introducing OKRs at Google in 1999.
Today, successful organizations are now using OKRs.  Objectives and Key Results is an efficient way to track company and team goals and measure their progress. It helps every organization's success by cutting out unimportant goals and focusing on what truly is important within the organization.
Objectives and Key Results (OKR) has been seen as a way to communicate so that there is clarity of purpose.  It is also a tool for motivating and aligning people to work together to achieve Operational Excellence. It increases transparency, accountability, and empowerment.
What is OKR?
 OKR or Objectives and Key Results is a popular Management Strategy for goal setting within organizations.  The goal of OKR is to define how to achieve objectives through concrete, specific, and measurable actions.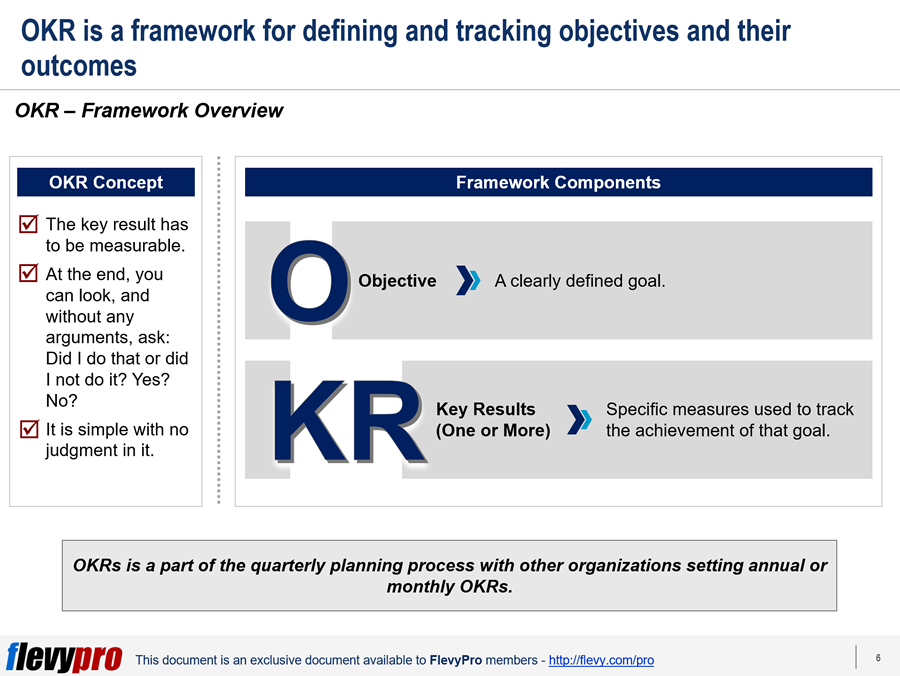 The OKR framework is structured with two framework components: the Objectives and Key Results. This is to connect company, team, and personal goals to measurable results and direct all towards one unified direction
Objectives. The Objectives consist of a list of 3-5 high-level objectives. This is supported by initiatives—plans and activities focused on achieving the objective and moving forward the key results. Setting objectives requires a lot of thought as it goes beyond making money. In fact, it must follow defined characteristics and undertaken in a well-planned approach.  This is to ensure that the objectives formulated are well-defined, focused, and achievable.
Key Results. Key Results add metrics to objectives. These are measured on a 0-100% scale or 0 to 1.0. Under each objective are 3 to 5 measurable Key Results. It measures how far from the objective your team is. It will give them a clear direction on what to do and how to do it.
Developing the right OKR requires being able to properly define your Objectives and Key Results. One way of doing this is by using the SMART goal setting model.
A Look at the SMART Model
The SMART Model ensures that organizations get to effectively develop the right OKR.  The SMART Model is the easiest way to set Key Results. Organizations just need to follow the SMART goal guidelines. Knowing what to do, as well as knowing not what to do, on an OKR journey to minimize problems and mistakes.
The use of OKR requires cultural change and change itself is difficult. But with the use of the SMART goal guidelines, organizations can get the hang of it and can be effective in its OKR journey.
Let us take a look at OKR examples that provides a clear application of the SMART model.
The first example is the use of Sales OKR. Set Objective is to increase Q2 recurring revenues. Key Results are increased average subscription size by $500 per month ($0-$1500). The second Key Result is to increase the share of monthly subscription vs. one-time contracts sold to 85% (50%-85%).
Another example is the Human Resource OKR. Set Objective is to improve internal employee engagement. Its first Key Result is conduct a monthly "Fun Friday" all-hands meetings with an external motivational speaker (0-3 meetings).
Interested in gaining more understanding of Objectives and Key Results? You can learn more and download an editable PowerPoint about Objectives and Key Results (OKR) here on the Flevy documents marketplace.
Are you a management consultant?
You can download this and hundreds of other consulting frameworks and consulting training guides from the FlevyPro library.
Enterprises invest in Analytics to improve Decision Making and outcomes across the business. This is from Product Strategy and Innovation to
Supply Chain Management, Customer Experience, and Risk Management. Yet, many executives are not yet seeing the results of their Analytics initiatives and investments.
Every organization putting on investment in Analytics has experienced several stumbling blocks. This differentiates the leaders from the laggards. Analytics-driven Organizations have clearly established processes, practices, and organizational conditions to achieve Operational Excellence. Their commitment to Analytics is creating a major payoff from their investments and a competitive edge.
What It Takes to Be Analytics-driven
The Harvard Business Review Analytic Services conducted a survey of 744 business executives around the world and across a variety of industries. Their focus was on the performance gap between companies that have struggled to get a return on their Analytics investment and those that have effectively leveraged their investment.
The survey showed that Analytics-driven Organizations get sufficient return on investment in Analytics. In fact, they have been highly successful in gaining a return on Analytics investment. This is gainfully achieved as organizations use Analytics consistently in strategic decision making. Executives of Analytics-driven Organizations rely on Analytics insights when it contradicted their gut feel.
Essentially, Analytics-driven Organizations have reduced costs and risks, increased Productivity, Revenue, and Innovation, and have successfully executed their Strategy. Yet, in evolving the organization's Analytics approach, there can be 4 core obstacles that can affect their drive to getting a greater return on investment in Analytics.
The Core Obstacles to Finding Return on Analytics Investment
There are 4 core obstacles to being an Analytics-driven Organization.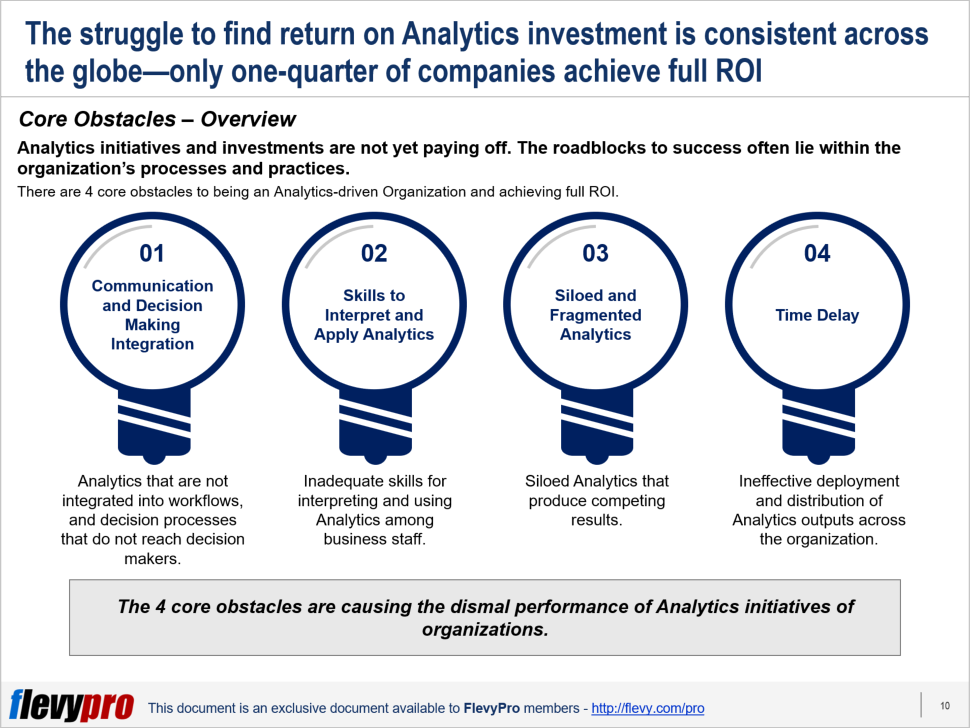 Let's briefly take a look at the first 2 obstacles:
Communication and Decision-making Integration. The lack of Communication and Decision-making Integration limits the integration of Analytics into workflows and decision processes do not reach decision-makers. As a result of these core obstacles, the use of Analytics is limited in specific areas.
 Skills to Interpret and Apply Analytics. A second core obstacle is the inadequate skills of business staff to interpret and use Analytics. In fact, the survey showed that only one-quarter of frontline employees use Analytics with only 7% using Analytics regularly.
The other two core obstacles are siloed and fragmented Analytics and time delay. These are two equally important core obstacles that can hinder the use of Analytics to maximize return on investment. Further, the 4 core obstacles are barriers to analytic success.
Are You Ready to Be an Analytics Leader?
Leaders use Analytics consistently in decision making. In fact, based on the survey, 83% of executives use it in business planning and forecasting. On the other hand, laggards only use it 67% of the time. Even in various aspects of the organization such as Marketing, Operations, Strategy Development, Sales, Supply Chain, Pricing and Revenue Management, and Information Technology, laggards use Analytics only half the time compared to Analytics Leaders.
Analytics Leaders always ensure that they establish the processes and organizational conditions to allow them to successfully deploy Analytics. In fact, to increase return on Analytics, organizations must undertake the use of four interrelated initiatives that will drive greater return on investment Analytics. These are four initiatives essential to building an Analytics-driven Organization.
One is building an organizational culture around Analytics. To achieve this the organization must have clear, strategic, and operational objectives that are set for Analytics. Second is deploying Analytics throughout all core functions of the business.
Starting with an Analytics-driven Culture can greatly facilitate cross-functional deployment of Analytics.
Interested in gaining more understanding of Analytics-driven Organization? You can learn more and download an editable PowerPoint about Analytics-driven Organization here on the Flevy documents marketplace.
Are you a management consultant?
You can download this and hundreds of other consulting frameworks and consulting training guides from the FlevyPro library.
When things go wrong on a grand scale, often we direct our attention to the role of the Board. Debate exudes and often gets heated up and
intensifies. This often happens when the Board spends more time looking in the rearview mirror and not enough scanning the road ahead. When this happens, governance suffers.
Often, the Board of Directors spend a bulk of its time on quarterly reports, audit reviews, budgets, and compliance.  However, with the change in the business environment, there is a greater need to redirect the Board's attention on matters crucial to the future prosperity and direction of the business. One of this is Strategy Development.  Achieving this requires the development of a dynamic Board with a long-term mindset capable of creating forward-looking agenda and activities that get sufficient time over a 12-month period.
The Changing Board Agenda
The Board Agenda is changing. It is becoming more dynamic and it has increasingly highlighted forward-looking activities.  Long-term economic, technological, and demographic trends are radically shaping the global economy. The second Industrial Revolution now requires the Board to shift focus. The Board is now challenged to focus on matters crucial to achieving Operational Excellence and the future direction of the organization. Directors must devote more time to strategic and forward-looking aspects of the agenda. They must cease seeing the job as supporting the CEO, but instead, be strategic in making sure long-term goals are formulated and met.
Having a forward-looking Board has now become every organization's imperative.  However, this can only be achieved if there is a solid foundation that is anchored on three guiding principles. Organizations must have the right Board Member, a clear definition of the Board's role, and greater time commitment from members. At this time when a long-term mindset has come to a fore, these have become essential.
Developing a Long-term Mindset: The 4 Essential Tactics
"Strategy without tactics is the slowest route to victory. Tactics without strategy are the noise before defeat." – Sun Tzu
Organizations can undertake 4 essential tactics to encourage the Board to have a long-term mindset.
Study the External Landscape. This is the starting point of creating a forward-looking mindset. The primary purpose of this tactic is to expose the Board to new technologies and market developments relevant to the company's strategy. Studying the external landscape will challenge management with critical questions.
Participate in Strategy Development. This tactic focuses on making strategy a vital part of the Board's DNA. Participating in the Strategy Planning process will strengthen the Board's role in co-creating and ultimately agreeing on the company's strategy.
Focus on Long-term Talent Development. The third tactic, this tactic focuses on unleashing the full power of the people. It will effectively reallocate skills and experience to a business with more potential.  To achieve its expected result, the key is the Board must agree with management on a sensible approach to reviewing executive talent.
Identify Existential Risks. This is the tactic that focused on the Risk Management of existential risks. Because of accelerating technological progress, existential risks have become a recent phenomenon. Existential risks have a great detrimental impact not only on business but also on mankind. The Boards have the duty to ensure that management teams pursue bottom-up investigations, identify key risk areas, and act on the results.
The 4 tactics are essentially effective in creating long-term mindsets.  When this is achieved, Board Excellence is never far behind.
Interested in gaining more understanding of achieving Board Excellence via a Long-term Mindset? You can learn more and download an editable PowerPoint about Board Excellence: Long-term Mindset here on the Flevy documents marketplace.
Are you a management consultant?
You can download this and hundreds of other consulting frameworks and consulting training guides from the FlevyPro library.
Lean Management plays a significant role in putting in place processes, capabilities, and tools to improve how businesses operate. But, the
Digital Age has increased both the opportunities for businesses who know how to react and the difficulty of getting it right.
Tasks performed by humans are now more complex be it accessing information in multiple formats from multiple sources or responding to changing market and customer dynamics at an ever-increasing speed. As an increasing number of tasks become automated or taken over by cognitive-intelligence capabilities, companies need to learn from lean management. Like a sprinter who needs all her muscles to be finely tuned and working in concert to reach top speeds, fast-moving institutions must have a system to continually synchronize strategies, activities, performance, and health.
Many organizations understand the need to change how they work and have embarked on numerous initiatives, yet few have been able to get beyond isolated success cases or marginal benefits. Most companies recognize the need for a Next-gen Operating Model to drive their business forward their Digital Transformation initiatives. But, how they develop it makes a big difference.
The Next-gen Operating Model
There are 4 core pillars of a Next-gen Operating Model. Putting these in place will ensure its successful implementation.
Autonomous, Cross-functional Teams. The first pillar is focused on empowering the team to own products, services, or journeys. Having autonomous, cross-functional teams, organizations can become nimble in building skills across their teams. They make anchor hires for key roles, set up rotational and train the trainer programs, and commit to ongoing capability building and training for key roles.
Flexible, Modular Platform. The second pillar is focused o supporting a faster deployment of products and services. Having Flexible, Modular Platforms will enable technology teams to better collaborate with business leaders in assessing which systems need to move faster.
Connected Management System. The third pillar focuses on driving a culture of continuous improvement that cemented on customer needs. A Connected Management System will ensure that Management systems are evolving to create feedback mechanisms with and between various operations and teams.
Agile, Customer-centric Culture. The fourth pillar is focused on speed and execution over perfection. Having an Agile, Customer-centric Culture is critical to success. It leads the change from the top and builds new ways of working across organizational boundaries. When functions and teams collaborate, effective time to market to reduced as well as operational risk.
The path to building up the Next-gen Operating Model follows well-defined approaches to guide organizations. These approaches will be every organization's guide to operating model transformation during the first 12 months.
Following the 4 Critical Approaches to Operating Model Transformation
The 4 critical Approaches to Operating Model Transformation works well when there is a broad and top-down organizational mandate for change. Before anything else, organizations must make sure that the change mandate is in place so that the entire organization is aligned with the proposed change.
One of the 4 Critical Approaches is the Innovation Lab. The Innovation Lab is a dedicated unit set up to be entirely separate from the historical culture, decision-making bureaucracy, and technical infrastructure of the main business. It hatches new business models in an informal setting. It is best used when there is a need to move very quickly in response to market pressures.
Mastering these various approaches will enable organizations to better go through the Operating Model Transformation in the most effective way to achieve Operational Excellence.
Interested in gaining more understanding of Operating Model Transformation? You can learn more and download an editable PowerPoint about Digital Transformation: Operating Model Transformation here on the Flevy documents marketplace.
Are you a management consultant?
You can download this and hundreds of other consulting frameworks and consulting training guides from the FlevyPro library.
Subscribe to our Newsletter

PowerPointing Templates

Error: Twitter did not respond. Please wait a few minutes and refresh this page.