Currently viewing the tag: "Assessment"
Organizations that have survived over time have had to reinvent themselves over and over with the changes in the environment.  These Business Transformations almost always include Cost Reduction that tend to lean towards Headcount Reduction.  Headcount Reduction is typically achieved using 2 approaches:
Downsizing
Restructuring
Downsizing keeps the fundamentals of the roles same with only fewer people performing those roles.  Whereas, Restructuring creates new roles, as well as modify existing roles, requiring a new mix of skills or altogether new resources to perform them.
Restructuring presents a more challenging task in that a new mix of skills has to be identified for each role, an Assessment Process has to be set up to assess existing employees against new competencies, and Redeployment after Restructuring (or new recruitment) done.
The important question in both scenarios is:  Who should we eliminate and who should stay?
The question can be answered by devising and using key criteria to evaluate and then choose the most relevant assessment method.
Assessment of employees is key in both Downsizing as well as Restructuring.  The Assessment Process has to be vigorous enough to identify the right employees to keep and lay off.  A broader assessment process ensures coverage of more aspects of a new role which in turn makes the assessment process fairer.  Measures, in this regard, may include:
Covering a broad range of competencies in the interview process rather than concentrating on a few specific competencies.
Using a mix of relevant performance data from the last role as well as some elements of future-oriented assessment, such as role plays or OPQs.
Taking input from Line managers.
Linkage of the entire assessment process to the requirements of the job is the crucial part of this phase.
As with any assessment system, the content and design will be settled through consideration of various factors, some practical like cost, logistics and some more about safeguarding the output like instrument validity.  When taking into account assessment tools for incorporation in the process it is beneficial to examine them against following criteria:
Coverage of range
Accuracy
Relevance
Freedom from bias
Acceptability
Practicality
The tools, based on the above criteria, help in various assessment methods that gather information on different aspects pertaining to the elements of the new roles.  The most widely used Assessment methods include:
Existing Performance Management Data
Line Manager Performance Ratings
Competency Based / Behavioral Interviews
Personality Measures (OPQ) Linked to Competencies
Simulation Exercises
Pertinent Employee Data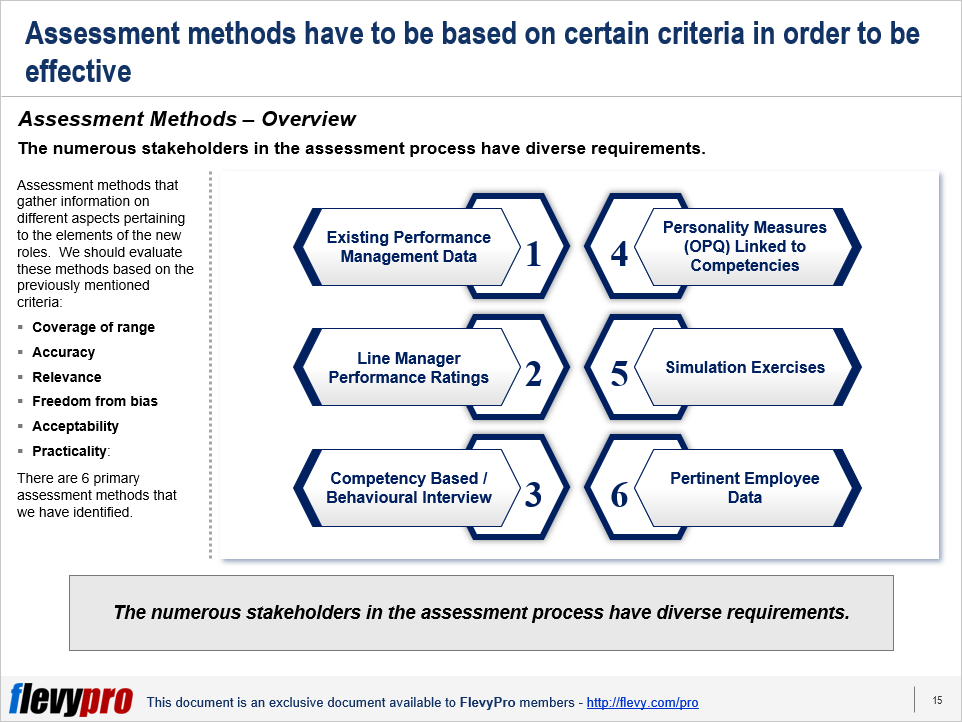 Let us examine the methods in a little more detail.
Existing Performance Management Data
There are various benefits of using this employee assessment method, such as:
No additional data gathering is required since the data is already in place.
Such existing data can be obtained speedily and effortlessly.
Existing performance data is perceived as pertinent.
There are some drawbacks associated with the existing Performance Management data method that executives should be mindful of:
The data is often inconsistent and may vary in quality.
Does not provide clear distinction between people.
Does not reflect behavior therefore difficult to base decisions on.
Usefulness depends on extent of overlap with the new role.
Such data although convenient and easy to obtain, has to be augmented from other sources—and through other assessment methods—for a complete picture to base the employee selection decision on.
Interested in learning more about Redeployment Assessment Process & Methods?  You can download an editable PowerPoint on Restructuring: Redeployment Assessment Process & Methods here on the Flevy documents marketplace.
Want to Achieve Excellence in Business Transformation?
Gain the knowledge and develop the expertise to become an expert in Business Transformation. Our frameworks are based on the thought leadership of leading consulting firms, academics, and recognized subject matter experts. Click here for full details.
"If you don't transform your company, you're stuck." – Ursula Burns, Chairperson and CEO of VEON; former Chairperson and CEO of Xerox
Business Transformation is the process of fundamentally changing the systems, processes, people, and technology across an entire organization, business unit, or corporate function with the intention of achieving significant improvements in Revenue Growth, Cost Reduction, and/or Customer Satisfaction.
Transformation is pervasive across industries, particularly during times of disruption, as we are witnessing now as a result of COVID-19. However, despite how common these large scale efforts are, research shows that about 75% of these initiatives fail.
Leverage our frameworks to increase your chances of a successful Transformation by following best practices and avoiding failure-causing "Transformation Traps."
Learn about our Business Transformation Best Practice Frameworks here.
Do You Find Value in This Framework?
You can download in-depth presentations on this and hundreds of similar business frameworks from the FlevyPro Library.  FlevyPro is trusted and utilized by 1000s of management consultants and corporate executives.  Here's what some have to say:
"My FlevyPro subscription provides me with the most popular frameworks and decks in demand in today's market. They not only augment my existing consulting and coaching offerings and delivery, but also keep me abreast of the latest trends, inspire new products and service offerings for my practice, and educate me in a fraction of the time and money of other solutions. I strongly recommend FlevyPro to any consultant serious about success."

– Bill Branson, Founder at Strategic Business Architects
"As a niche strategic consulting firm, Flevy and FlevyPro frameworks and documents are an on-going reference to help us structure our findings and recommendations to our clients as well as improve their clarity, strength, and visual power. For us, it is an invaluable resource to increase our impact and value."

– David Coloma, Consulting Area Manager at Cynertia Consulting
"FlevyPro has been a brilliant resource for me, as an independent growth consultant, to access a vast knowledge bank of presentations to support my work with clients. In terms of RoI, the value I received from the very first presentation I downloaded paid for my subscription many times over! The quality of the decks available allows me to punch way above my weight – it's like having the resources of a Big 4 consultancy at your fingertips at a microscopic fraction of the overhead."

– Roderick Cameron, Founding Partner at SGFE Ltd
In today's business environment, management consulting firms must be ready to address client challenges and needs that will transform their
business by 10 or 100 times. Tools and methods must be scaled up to ensure applicability to the widest possible audience globally.
The Consulting Workshop Series provides a good understanding of the 10 Methods of conducting Workshops that are custom designed to fit specific workshop objectives. Different methods are developed for the purpose of providing organizations the most appropriate tool necessary to support organizations to achieve their strategic goals and targets.
If it is the management's goal to provide stakeholders an opportunity to stop and reflect on the past in order to make decisions about the future, then PAME is the perfect method to undertake.
Differentiating PAME from the Rest
The acronym PAME stands for Participatory Assessment, Monitoring, and Evaluation. It is a Consulting Workshop Method that is focused on evaluation and learning. It is an opportunity for the stakeholders of a project to stop and reflect on the past in order to make decisions about the future.
PAME as an approach can be used in various ways and in various points throughout the project. PAME is a helpful tool in avoiding pending or potential crisis and can help people determine the cause of a problem and ways to remedy it.
In the final analysis, it is most effective in shedding an understanding of why certain projects are not working well.
The 4-Phase Approach of PAME
PAME is best conducted using a 4-phase approach.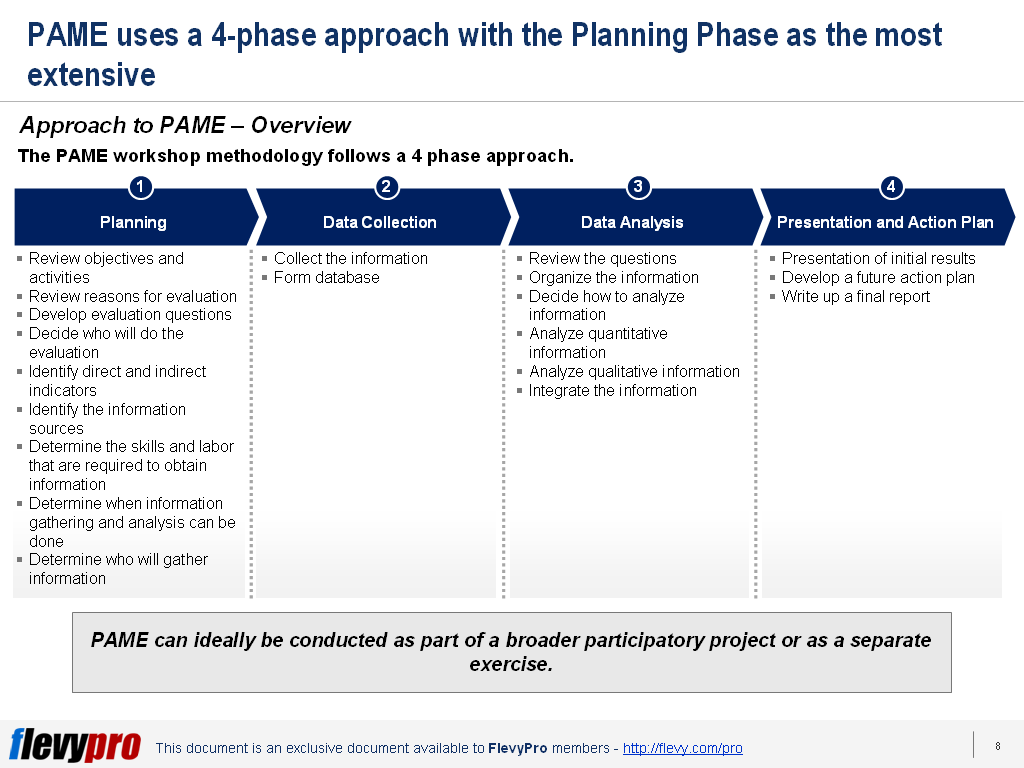 Planning Phase. The primary objective of the Planning Phase is to help participants understand what they are evaluating, why, and how they going to do it. The preparatory phase ensures that time is well spent on preparation and planning a Participatory Evaluation. Hence, this is the most extensive of the 4 phases as it establishes the basic framework of the evaluation.
Data Collection. The second phase, Data Collection ensures that data necessary for analysis is gathered. This phase is most critical as delegated individuals must have a good understanding of what data is needed to ensure the correctness of data collected. This will also affect the analysis of data if the wrong data is gathered.
Data Analysis. Data Analysis is the evaluation of data using analytical and statistical tools. At this stage, the Evaluation Team must be able to decide the best way to present results, the resources, and time available.
Presentation and Action Plan. The 4th phase of PAME, this phase focuses on presenting initial results and developing a future action plan. It is in this final phase wherein the correctness of phase 2 and phase 3 is most emphasized. The success of the final phase is dependent on the quality of data collected and the analysis conducted.
The Iterative Learning Advantage of PAME: Why PAME?
In the final phase, the initial results are presented to a larger group. The larger group has an opportunity to contribute to further analysis. Implications of the results shall be discussed in terms of conclusions that can be drawn, the learnings that can be derived from the results, and most importantly, the different options available to address the emerging issues.
The insights can inspire groups to reconsider initial objectives. This forms part of the iterative learning process of PAME. When this process of discussion, evaluation, and analysis is done, the organization can expect to come up with a future action plan that is well crafted and thought about. With PAME, expect your future action plan to be most strategic and focused on addressing issues in the most effective and robust way.
Interested in gaining more understanding of the PAME workshop technique? You can learn more and download an editable PowerPoint about Consulting Workshop Series: PAME here on the Flevy documents marketplace.
Are you a management consultant?
You can download this and hundreds of other consulting frameworks and consulting training guides from the FlevyPro library.
Subscribe to our Newsletter

PowerPointing Templates

Error: Twitter did not respond. Please wait a few minutes and refresh this page.