Currently viewing the tag: "benchmarking"
For many companies, developing new products is a hit-or-miss proposition. Successful innovation–the kind that leads to customer engagement
and profits–is rare and hard to achieve. Some have tried investing intensively in research and development.
In a recent study conducted by booz&co. on public companies representing almost 60% of global R&D expenditures, it was found out that there is generally no correlation between R&D spending and financial metrics such as sales or profit growth. Open innovation has been resorted to by some companies but this, too, does not necessarily lead to higher innovation returns. A strategy of tacit benchmarking has also been pursued. Near the average amount of R&D spending has been invested but this led to a greater number of minor product line extensions with often diminishing returns.
On the other hand, there are companies that do best at dreaming up great new products while spending less to do it. One of these is Apple, which commits 5.9% of sales to R&D, less than its industry's average of 7.6%. This shows that, when it comes to innovation investment, the key question is not how much to spend but how to spend it.
Indeed, innovation success depends on mysterious factors. But there are companies that can overcome these hurdles and regularly product high-yield innovations. The answer is the use of the best approach in determining which innovation success and why others fail.
What is Innovation Effectiveness Curve
The Innovation Effectiveness Curve is the marginal return on innovation investment. It represents the individual innovation profile of the company. It is the value and quality of a company's innovation portfolio.
The Innovation Effectiveness Curve is done on a project-by-project basis. It contains data about every active project in the pipeline of the company. Each point represents a return on innovation investment for a particular project.
Organizations must be able to understand their project portfolio and diagnose their innovation practices and capabilities to be able to create an Innovation Effectiveness Curve. This is essential as the height of the curve provides a definitive verdict on the power of the innovation capability to drive returns and generate growth.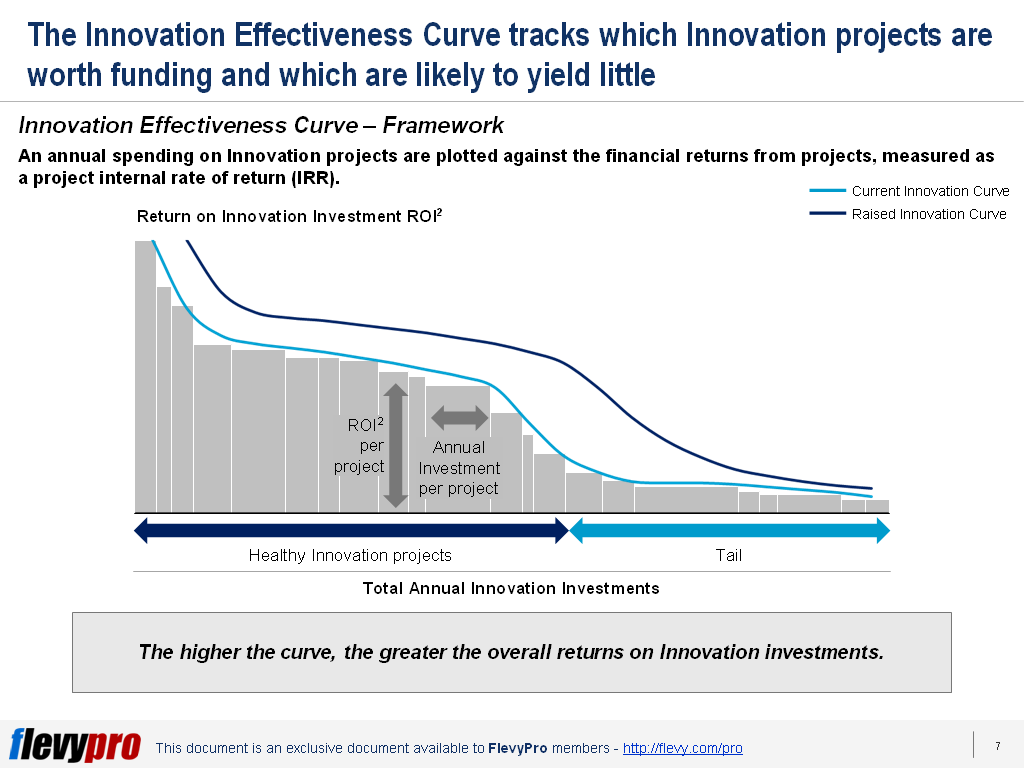 An Innovation Effectiveness Curve must be Comprehensive, Stable, and correlates with Growth.
Comprehensive
An Innovation Effectiveness Curve that is comprehensive has a holistic view of R & D, marketing, strategy, and operations. These are activities that directly bear upon the creation and launch of new products.
Stable
When the Innovation Effectiveness Curve is stable, it remains consistent over time. The overall shape of the curve remains the same despite changes in innovation projects.
Correlated to Growth
An Innovation Effectiveness Curve must correlate to growth. There should be an established connection between the effectiveness of innovation efforts and the growth of the company.
When the 3 Core Properties are in place, this makes the Innovation Effectiveness Curve a very powerful analytical tool. On the other hand, when these core properties are not in place, the Innovation Effectiveness Curve falters. This is a signal that growth is slow or may slow down. This is one occurrence not one organization would like to happen.
Interested in gaining more understanding of Innovation Effectiveness Curve and how your organization can strategically use it as a powerful analytical tool? You can learn more and download an editable PowerPoint about Innovation Effectiveness Curve here on the Flevy documents marketplace.
Are you a management consultant?
You can download this and hundreds of other consulting frameworks and consulting training guides from the FlevyPro library.
LearnPPT has finally released a new business document. It's called the Complete Consulting Frameworks Toolkit and that name is not an understatement.  The document is currently only available for download on Flevy.
This is a VERY comprehensive document with over 300+ slides–covering 50 common business frameworks and methodologies (listed below in alphabetical order). A detailed summary is provided for each framework. The included frameworks span across Corporate Strategy, Sales, Marketing, Operations, Organization, Change Management, and Finance.
Here is the full list of included frameworks and methodologies:
ABC Analysis
Adoption Cycle
Ansoff Market Strategies
Balanced Scorecard
BCG Growth-Share Matrix
Benchmarking
Blue Ocean Strategy
Break-even Analysis
Business Unit Profitability
Economics of Scale
Environmental Analysis
Experience Curve
Cluster Analysis
Company & Competitor Analysis
Core Competence Analysis
Cost Structure Analysis
Customer Experience
Customer Satisfaction Analysis
Customer Value Proposition
Fiaccabrino Selection Process
Financial Ratios Analysis
Gap Analysis
Industry Attractiveness & Business Strength Assessment
Key Purchase Criteria
Key Success Factors (KSF)
Market Sizing & Share
McKinsey 7-S
Net Present Value
PEST Analysis
Porter Competition Strategies
Porter's Five Forces
Portfolio Strategies
Price Elasticity
Product Life Cycle
Product Substitution
Relative Cost Positioning
Rogers' Five Factors
Scenario Techniques
Scoring Models
Segment Attractiveness
Segmentation & Targeting
Six Thinking Hats
Stakeholder Analysis
Strengths & Weaknesses Analysis
Structure-Conduct-Performance (SCP)
SWOT Analysis
SWOT Strategies
Treacy / Wiersema Market Positioning
Value Chain Analysis
Venkat Matrix
These frameworks and templates are the same used by top tier consulting firms. With this comprehensive document in your back pocket, you can find a way to address just about any problem that can arise in your organization.
For other, more in-depth business methodology framework and methodology documents, take a look here:
Over the past couple weeks, a ton of new business frameworks, covering topics from the 5S framework to Kaizen principles to benchmarking, have been added to Flevy.  Flevy is a marketplace of premium business documents, which include business frameworks, financial models, PowerPoint templates, market research reports, and other similar documents.
This presentation deck covers the benefits of benchmarking, various types of benchmarking, identifying what to benchmark, and provides a detailed step by step guidance on how to systematically carry out a benchmarking project based on the world-renown Xerox benchmarking model. It also includes useful tips on benchmarking, benchmarking etiquettes and the critical success factors.
Hoshin Kanri ( Policy Deployment or Hoshin Planning) is a powerful, systematic Strategic Planning methodology that uses a Plan-Do-Check-Act cycle to create goals, choose control measures and link daily control activities to the company's strategy.
In this training presentation, you will be able to teach employees on the structured Plan-Do-Check-Act (PDCA) approach to problem solving. Many world class companies such as Toyota uses the PDCA problem solving process for relentless pursuit of continuous improvement.
"Lean" is a management philosophy based on the Toyota Production System (TPS). With Lean Thinking, you will be able to enhance value for your customers by improving and smoothing the process flow and eliminating waste. Simply put, with Lean, you will be able to increase productivity and create greater customer value with less resources.
Strategic principles allow organizations to make decentralized decisions while maintaining cohesive strategic action. This document explains the strategic principle framework, including examples, defining attributes, relevant crucial situations, and an approach to strategic principle development.
Six Sigma provides a rigorous and structured approach to help organizations improve their performance in meeting their customers' requirements. This training presentation introduces you to the Six Sigma philosophy, methodology and tools and the infrastructure for successful Six Sigma deployment without too much of statistical jargon.
Total Productive Maintenance (TPM) maximizes the effectiveness of equipment. This presentation on Total Productive Maintenance combines the TPM tools, 5S, OEE (Overall Equipment Effectiveness), 8 pillars, Autonomous and Planned maintenance into a highly detailed training tool. This PowerPoint includes a step-by-step implementation process of TPM.
Every organization depends on customer service. When you equip your frontline staff with the skills to create a quality experience for your customers, you enhance customer satisfaction and your organization's image. In this customer service powerpoint, you teach your staff to manage emotions and deliver professional and personalized service.
This training presentation is specially designed for managers, supervisors, facilitators and continuous improvement steering committees who want to kick-start and implement Kaizen activities in their work areas to improve productivity and customer value.
This training fits well into any improvement initiative, including TQM and Lean management. The COQ methodology instills a practical approach to quantifying the financial impact of the Cost Of Non-Conformance (CONC) and the Cost Of Conformance (COC).
Developing and presenting a business plan is something most of us will do at some point in our business life. If you are good at doing it you are more likely to be successful at raising finance.  This is an easy to follow guide that will give you the right attitude and approach to developing and presenting your business plan.
The 5S workplace organization system applies a set of basic management principles that many companies widely adopt to maximize productivity and organization. As a cornerstone of Lean management, 5S improves workplace morale, safety and efficiency.
This presentation provides a blueprint for building a Lean foundation for your office. You will learn how to mobilize and align your management team to launch or improve 5S in your office.  The presentation covers 5S and Visual Management key concepts, best practices, step-by-step implementation guidance, and the best ways to integrate 5S into the organization's culture to achieve sustainable world-class excellence.
Most companies are yet to reach their full potential because Human Resources is yet to reach a strategic level of contribution. This PowerPoint presentation shows how to transform Human Resources from a staff function to a strategic business partnership.
This document outlines a 3-phase framework for conducting robust Strategic Analysis, based on a paper published by A. E. Boardman and A. R. Vining. The framework describes the major elements of a strategic analysis, and consists of a logically-sequenced, coherent skeleton of a comprehensive strategic analysis.
Total Quality Management (TQM) is a holistic approach to long-term success that views continuous improvement in all aspects of an organization as a process and not as a short-term goal. This training presentation includes quality philosophies from key quality leaders such as W. E. Deming, J. M. Juran and Philip Crosby, and provides a summary of process management, steps for TQM implementation, key tools and techniques for total quality as well as the key business excellence and quality management models.
No doubt, employees bestow many improvement ideas. If you don't have a formal system to collect and evaluate the ideas, you will lose them. These ideas can save you money, grow your business, and affect your overall bottom line. This formal system details the phases of collecting, evaluating, implementing and rewarding good ideas.
This presentation explores the basics of social media and how to select the right social networks, social media branding, social media marketing, social media optimization, how to build and manage your following. This course has been taught at Rutgers University and numerous professional conferences around the country.
The ISO 9001 standard is increasingly being adopted by many organizations world-wide. Whether you are conducting an internal quality audit in your organization or preparing for an external audit, it is important that the auditing process is thorough, systematic and effective.
OHSAS 18001 is a global occupational health and safety management system which is adopted in thousands of companies all over the world, and many more are in the process of doing so. One of the reasons for its wide adoption is because it reduces work-related accidents and ill-health and costs associated with them.
ISO 14001 is a global environmental management system which is adopted by thousands of companies all over the world. The intent of ISO 14001 is to provide a framework for a holistic, strategic approach to an organization's environmental policy, plans and actions.
Thousands of companies in over 100 countries have adopted ISO 9001 as their quality management standard. Many more are pursuing this certification. ISO 9001 helps your company assure quality, save money and customers expect it. ISO 9001 applies to all types of organizations.
This is a case study presentation on the value of global diversification.
Got quality business documents?  List them on Flevy.com to start earning yourself some passive income.
For more business strategy frameworks, check out these pages on LearnPPT:
Subscribe to our Newsletter

PowerPointing Templates

Error: Twitter did not respond. Please wait a few minutes and refresh this page.