Currently viewing the tag: "change management"
Never before has Crisis Management been considered important.  With businesses being exposed to a disruptive environment, the emphasis on
Crisis Management has never been more profound.
"The secret of Crisis Management is not good vs. bad, it's preventing the bad from getting worse."- Andy Gilman of Comm Core Consulting Group
An organization is considered to be undergoing a crisis when there is a sudden and unexpected event leading to major unrest amongst the individuals at the workplace.  It is an emergency situation that disturbs the employees as well as leads to the instability of the organization.  When this occurs, organizations are expected to have critical documentation and process, e.g. Crisis Management Plan, Disaster Recovery Plan, Business Continuity Plan, etc., in place.
Crisis Management is the art of dealing with these sudden and unexpected events which disturb the employees and organization. Yet, often companies are like the metaphorical frog that doesn't notice the water it is in is warming up until it is too late.  There are managers who either do not realize that they are in a crisis or their crisis situation is worsening.  The early signs of distress are often missed.  While they are not bad managers, these are managers that are under a set of paradigms that no longer apply and just let the power of inertia carry them along.
As a result, organizations in crisis find themselves faced with a potential cost that is greatly significant.  This can lead to longer recovery time, a direct impact on downtime, and lost revenue.
First Things First: Taking a Good Handle of Crisis Management
Crisis Management is the application of strategies to enable organizations to deal with a disruptive and unexpected event that threatens to harm the organization or its stakeholders. It is a situation-based management system with clear roles, responsibilities, and processes. In Crisis Management, it requires a crisis mindset. A crisis mindset is the ability to think of the worst-case scenario while simultaneously suggesting numerous solutions.
Being well prepared for a crisis is the epitome of Crisis Management. It ensures a rapid and adequate response to a crisis and maintaining clear lines of reporting and communication in the event of crisis.
Yet, often the organization and communication involved in responding to a crisis in a timely fashion provide the most challenge to business. Responding to crisis in the most effective way can be done by taking the 10 First Steps.
The 10 First Steps to Crisis Management
The 10 strategic First Steps are the organization's guide when in crisis and there is a strong call toward initiating organizational change.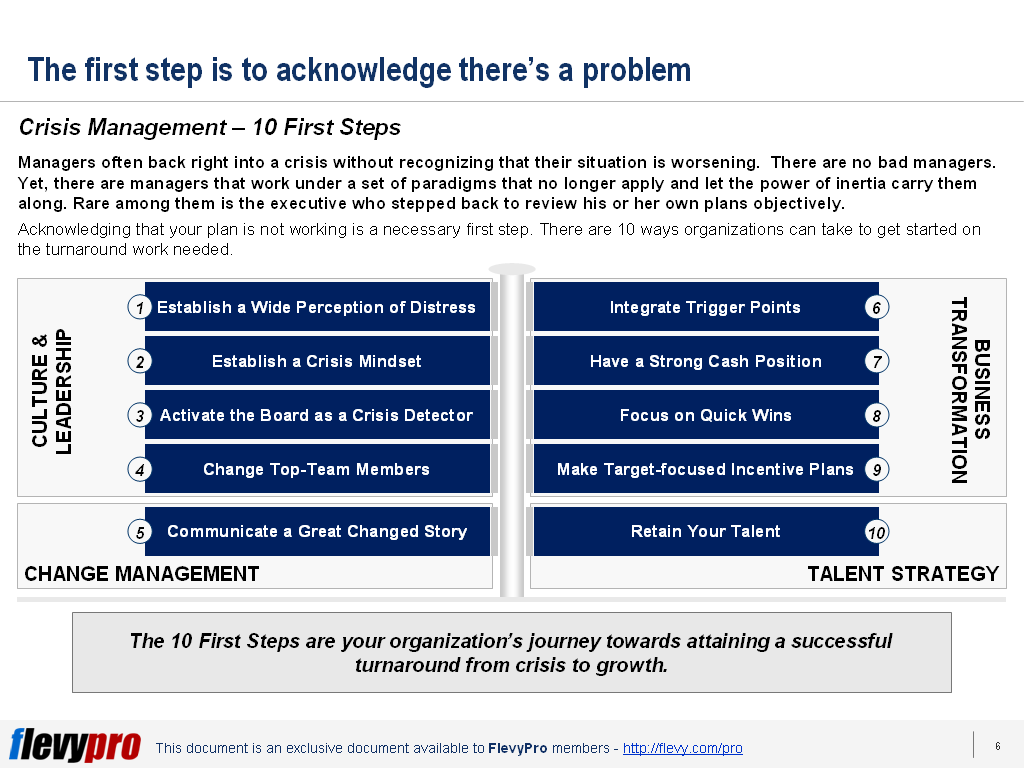 The first 4 steps focus on Culture and Leadership.
Establish a Wide Perception of Distress
Establish a Crisis Mindset
Activate the Board as a Crisis Detector
Change Top-Team Members
The first 4 steps will widen one's understanding of distress and move people to actions at the time of crisis. It is at this stage that the Board will be empowered to see the forest for the trees and can enable organizations to focus on tough movers that can successfully make organizational changes.
The 5th step focuses on Change Management.
Communicate a Great Changed Story
Communicating a Great Changed Story can create positive motivation to spur action towards change. When Change Management starts evolving, the organization is now ready to advance towards Business Transformation.
The 6th to 9th steps focus on Business Transformation.
Integrate Trigger Points
Have a Strong Cash Position
Focus on Quick Wins
Make Target-focused Incentive Plans
Business Transformation starts when trigger points are integrated and a strong cash position is maintained. Management can focus on quick wins to create a trajectory effect to spur actions and develop target-focused Incentive Plans to achieve a successful turnaround.
The 10th and final step is sustaining the gains through effective Talent Strategy.
Retain your Talent
The final step is Retaining your Talent. It is recognizing those that can make a difference and finding the next level of talent that can create and sustain change.
Organizations can build its Crisis Management capability following the 10 first steps.  Crisis Management is not anymore a matter of choice; it has become a necessity.
Interested in gaining more understanding of the first 10 steps to surviving a crisis?  You can learn more and download an editable PowerPoint about Crisis Management: 10 First Steps here on the Flevy documents marketplace.
Are you a management consultant?
You can download this and hundreds of other consulting frameworks and consulting training guides from the FlevyPro library.
Most Transformation initiatives fail to achieve their anticipated objectives.
Change Management is all about engaging and rallying people — at all levels in the organization — to make the transition and sustain that change. It is critical to ensure that the entire workforce is eager and ready to embrace the required new behaviors. More often than not, the technical side of a change initiative is well planned, but it's the implementation part that fails — particularly, changing the mindsets and behaviors of the entire workforce to enable change to stick.
Managing change is not an occasional affair; it is an iterative process that works on motivating human behavior to accept and adjust to a desired state of mind. The process is naturally evolving as it adapts in accordance with the feedback from the people.
Change Management demands a thorough yet organized approach to enable the "people side" of change to work — essential for accommodating and sustaining Business Transformations. This entails assisting people incorporate new mindsets, processes, policies, practices, and behaviors.
A methodical approach to make the entire workforce accept and support change constitutes 8 critical levers:
Defining the Change
Creating a Shared Need
Developing a Shared Vision
Leading the Change
Engaging and Mobilizing Stakeholders
Creating Accountability
Aligning Systems and Structures
Sustaining the Change
Now, let's discuss the first 4 levers in detail.
1. Defining the Change
The first step entails outlining the rationale, scope, and results of the change initiative for the enterprise, key departments, and roles. There is a need to define critical elements, including the requirements from the initiative, the execution planning, and the adjustments needed to encourage people to work better.
The project sponsors need to clearly outline the essence of the proposed Transformation initiative, to realistically embed Change Management into the design of the program, and develop effective Change Management plans. An initial baseline of the expected effect of the program on people should be performed. The baseline also helps analyze the impact of the change program — in terms of skills inventory, head-count indications, adjustments in accountabilities and relationships, shifts in incentives and pay structures, and future learning needs.
2. Creating a Shared Need
Once the change and its impact has been delineated, the next thing to do is to create a shared understanding of the rationale for Transformation across the organization. To create a shared need for the Transformation endeavor, the change sponsor needs to build awareness of the necessity for change amongst the senior team, key stakeholders, and the entire organization; demonstrate to the people the benefits of change; and set up a feedback mechanism across the organization. The alignment afforded by developing a shared need for change helps build a strong footing for Transformation.
3. Developing a Shared Vision
An essential element of implementing transformation entails delineating a clear vision that outlines critical actions and the anticipated outcomes. It helps in encouraging and involving the workforce in the Transformation initiative, giving them a sense of purpose by becoming a part of something bigger. The vision of the organization after Transformation should be coherent with the company values and mission.
4. Leading the Change
This lever entails developing change leadership and implementation skills needed to drive and enable sustainable change. Engagement and commitment of senior leaders is essential for leading change. They are responsible for planning their and the entire workforce's actions, demonstrating or role modeling the new mindsets and actions, designating program sponsors — e.g., business unit leaders who are enthusiastic about the Transformation initiative and also act as change agents — motivating others to support transformation, and setting up a road map for the change leaders to steer the organization to achieve the anticipated performance milestones.
Interested in learning more about these levers to Change Management? You can download an editable PowerPoint on 8 Levers to Change Management here on the Flevy documents marketplace.
Are you a Management Consultant?
You can download this and hundreds of other consulting frameworks and consulting training guides from the FlevyPro library.
Big corporations, by nature, maneuver like battleships. Held back by their own inertia and current business strategies, turning quickly can be
difficult when the competitive environment changes. Likewise, high performance as measured by shareholder returns is impossible to sustain over a long period of time.  No company consistently beats the market.
A recent in-depth study of long-term performance, however, suggests an alternative point of view about business strategy. A few large companies outperform peers when the measure of performance is profitability. They maintain this performance edge even during a significant business change in their competitive environments. Agility is one factor that differentiates them from others.
Agile companies adapt business change more quickly and reliably than competitors.  Even as battleships, they have learned to turn quickly as speedboats. Learning the routines of agility makes them be at the forefront of competition.
The Link Between Agility and Performance
 A survey was conducted to determine the link between agility and performance. The survey was focused on determining the way organizations formulated strategy, designed their structures and processes, led their people, and made changes and innovation.
More than 4,700 Directors and Executives from 56 companies were surveyed, of which 34 companies were Fortune 500 firms.
The survey was able to find out that when markets and technologies changed rapidly and unpredictably, the outperformers had the capability to anticipate and respond to events, solve problems, and implement change. As such, this enables Agile companies to easily adapt. Agility is not just the ability to change – it is a cultivated capability that enables organizations to respond in a timely, effective, and sustainable way when changing circumstances require it.
Many an Agile organization involves 4 complementary sets of activities, what we will call Agile Activity Groups.
The 4 Agile Activity Groups to Managing an Agile Company
Dynamic Strategy Development. This is having a clear, relevant, and shared strategy that is undertaken with 3 key activities integrated within the strategy.
Market Environment Response. This ensures an effective response to the implications of outside signals. Market Environment Response provides an accurate sense of what is going on in the environment.
Response Refinement. This encourages innovation and tolerates failures. These are insights refined from the perceiving routing with a relatively high number of low-cost experiments.
Change Management. Change Management is the mastery of internal program management capabilities needed to convert successful test and innovations into widespread practice. It builds the company's capability to adopt unambiguous commitment with speed, certainty, and precision.
With the 4 Agile Activity Groups, Competitive Advantage is gained through an ongoing series of advantages that exploit current business conditions.
Interested in gaining more understanding of 4 Agile Activity Groups? You can learn more and download an editable PowerPoint about Agile Activity Groups here on the Flevy documents marketplace.
Are you a management consultant?
You can download this and hundreds of other consulting frameworks and consulting training guides from the FlevyPro library.
Most Product Managers have relatively narrow roles and decision rights on product portfolios are fragmented on various functions. This creates
incoherence between a company's product and its overall Corporate Strategy.
What is needed is more accountable decision rights that align responsibility for results to one person who also has cross-functional decision-making authority. This realignment is at the core of Strong-form Product Management.
What is Product Management
Product Management is an organizational lifecycle function within a company. Product Management deals with the planning, forecasting, production, and marketing of the product or products at all stages of the product lifecycle.
The Product Life Cycle (PLM) Management integrates people, data, processes, and business systems. It provides product information for companies and their extended supply chain enterprise. One of the ultimate goals of Product Management is to optimize the business at the product, product line or product portfolio level over the lifecycle of the products.
Taking a Cautionary Case in Point: Understanding What Happened to Research in Motion (RIM)
In April 2007, Research in Motion (RIM) was flying high. The Blackberry creator was coming off its best year ever. RIM was experiencing record revenues, record earnings per share, and record shipments. And there was a new reason to be optimistic: Apple had just introduced the iPhone and RIM executives took it for granted that their product—a runaway hit in the business world—would grab a huge share of the burgeoning consumer market as well.
However, the confidence proved to be ill-founded. The iPhone reversed the historical pattern of computer technologies flowing from the enterprise to the consumer market.
RIM is compelling as a cautionary tale but it is not unique. Many companies falter in the face of discontinuous change. Their failure usually stems from their inability to keep up with technological shifts or the complexity of their product lines. Though often seen as a breakdown at the enterprise level, this starts at a much more granular level, with ineffective Product Management.
A Strong-form Model could have kept RIM stay ahead of change and remain competitive.
The Strong-form Product Management Model
The 5 steps to Strong-form Product Management will keep competition at bay.
Hire Product Managers with Proper Skills
We need to understand that intrinsic abilities are required by Product Managers. These are the abilities to make a judgment to understand trade-offs, anticipate market changes, and make savvy business decisions.
Create Financial Transparency to the Product Level
Companies must realize that a given product may be siphoning revenue from more profitable products. Increase in costs from suppliers that are managed by another function may cause hidden opportunity costs or out-and-out profit surprises. The creation of Financial Transparency down to the product level can address these concerns.
Implement Product-first Decision-making Processes
There is a need to broaden decision rights and increasing accountability of Product Managers for performance and results. Product Managers have a "first among equals" status.
Develop Strong Customer Relations
Product Manager must translate customer insights into product improvement and new products.
Encourage Cross-functional Collaboration
Strong-form Product Management is inherently cross-functional. Communication is essential in developing the relationships between marketing and product management.
In all these steps, the Strong-form Product Manager must be the center of knowledge. However, Product Managers must also realize that the adoption of a Strong-form Product Management Approach requires taking Change Management initiatives.
Undertaking a Change Management initiative can take years to implement. Success can be achieved when anchored on basic principles of Change Management. However, once this is put in place, significant opportunities arise as companies move from strategy to execution.
Interested in gaining more understanding of the Strong-form Product Management Model? You can learn more and download an editable PowerPoint about Strong-form Product Management Model here on the Flevy documents marketplace.
Are you a management consultant?
You can download this and hundreds of other consulting frameworks and consulting training guides from the FlevyPro library.
In a recent update to Flevy, the documents marketplace has allowed select contributors to offer complimentary documents.  However, it takes some digging to find these free offers.  Here, we present 5:
Introduction to Strategy
https://flevy.com/download/introduction-to-strategy-74
What is Strategy? This 20-slide presentation provides an introduction to strategy, separating out the concepts of Corporate Strategy vs. Business (Unit) Strategy.
Introduction to Operational Excellence
https://flevy.com/download/introduction-to-operational-excellence-38
This 48-slide presentation provides a high-level introduction to Operational Excellence. It explains the four building blocks: Strategy Deployment, Performance Management, Process Excellence, and High Performance Work Teams.
A Practical Framework Approach to Change
https://flevy.com/download/a-practical-framework-approach-to-change-65
This presentation presents a flavour of some of the more necessary change components and associated tools & techniques that will require consideration during any change initiative.
Lean Thinking 101
https://flevy.com/download/lean-thinking-101-10
This 32-page presentation that explains the Lean management philosophy, based on the Toyota Production System (TPS).
Delta Model Primer
https://flevy.com/download/delta-model-primer-77
The Delta Model is a growth strategy framework developed by MIT/Sloan professors to help managers in the articulation and implementation of effective corporate and business strategies.
In 2012, Ron Leeman was awarded Change Leader by the World HRD Congress. He has published over 10 frameworks to Flevy, including a Comprehensive Guide to Change Management.
This 191-slide deck contains everything (well almost) you would ever want to know about Change Management. It includes What is Change Management, Change Management vs Project Management, The Challenge of Change, Change Management Models, Ways of Implementing Change, People and Change, Managing Change Resistance, Change Behaviours, The head/Heart/Soul of Change, Change Agents, The Tools & Techniques of Change (inc. Sponsorship, Stakeholder Management and Engagement, Communication, Process Change, Organisational Change, Training, Adoption and Business Readiness, Business Benefits & Continuous Improvement), A Change Story and Success and Failure.
Here is a partial preview.
His other documents on Flevy include:
View all of Ron's documents on Flevy here.
Here is a list of 4 PowerPoint documents that convey over 100+ different business frameworks and management models. They cover just about every business concept you can imagine. At the bottom, I've listed all the frameworks included in each document.
23 Corporate Strategy and Management Models
https://flevy.com/browse/business-document/corporate-strategy-and-management-models-129
30 Business Performance Improvement Models
https://flevy.com/browse/business-document/business-performance-improvement-models-218
28 Organization, Change, and HR Models
https://flevy.com/browse/business-document/organization-change-and-hr-models-616
28 IT Management Models
https://flevy.com/browse/business-document/it-management-models-224
Flevy's full collection of PowerPoint templates can be found here: https://flevy.com/function/powerpoint-templates-ppt
* * * *
CONTENTS OF CORPORATE STRATEGY AND MANAGEMENT MODELS
1. 3 C's
2. ADL Matrix
3. Acquisitions Integration Approaches
4. Blue Ocean Strategy
5. Capability Maturity Model
6. GE-McKinsey Matrix
7. OODA Loop
8. Profit Pools
9. Resource-based View of Firm
10. Scenario Planning
11. Strategy Maps
12. Application Portfolio Optimization
13. Value Stream Mapping
14. Six Thinking Hats
15. 4 P's Marketing Mix
16. 7 P's Marketing Mix
17. 6 Change Approaches
18. Cultural Dimensions Theory
19. Six Sigma Quality Management
20. Change Management Iceberg
21. Organizational Learning
22. Performance Prism
23. Crossing the Chasm
CONTENTS OF BUSINESS IMPROVEMENT MODELS
1. ISO 9001 Quality Management Model
2. Baldrige Performance Excellence Model
3. EFQM Business Excellence Model
4. Balanced Scorecard
5. Hoshin Kanri Model
6. Benchmarking Model
7. Business Process Re-engineering Model
8. Shingo Model for Lean Transformation
9. Lean Management Model (TPS)
10. Lean Leadership & Kaizen Model
11. Lean Maturity Model
12. Value Stream Mapping
13. Eight Types of Waste
14. Lean Levers
15. Gemba Framework
16. Cause & Effect Diagram ( Fishbone Diagram, Ishikawa Diagram)
17. 5S Principles
18. Plan-Do-Check-Act Model
19. PDCA Problem Solving Process
20. Total Productive Maintenance (TPM) Pillars
21. DMAIC Process Improvement Model
22. Law of 10
23. Training Within Industry (TWI)
24. A3 Storyboard Template
25. PACE Prioritization Matrix
26. Payoff Evaluation Matrix
27. Cost of Quality Model
28. SERVQUAL Model
29. ADKAR Model
30. Kotter Change Management Model
CONTENTS OF ORGANIZATION, CHANGE, HR MODELS
1. IMPA HR Competency Model
2. NAPA Competency Model for HR Professionals
3. Ulrich's HR Competency Model
4. Ulrich's Matrix on the Four Roles of HR
5. The Harvard Model of Strategic HRM
6. AHRI Model of Excellence
7. People Capability Maturity Model (PCMM)
8. SHRM Elements for HR Success
9. Ulrich's Stages of Employee Connection to the Organization
10. Talent Management Framework
11. Novations Four Stages of Contribution Model
12. Ulrich's Five Rules for Leadership (Leadership Code)
13. ASTD Competency Model
14. Senge's Learning Organization Model
15. High-Impact Learning Organization Model
16. Tuckman's Model of Team Development Stages
17. The Emotional Competence Framework
18. Bridges' Transition Model
19. Lewin's Three Stage Change Model
20. The McKinsey 7S Model
21. ADKAR Change Model
22. Kotter's Change Management Model
23. Cause & Effect Diagram for HR Systems
24. ISO 9001 Quality Management Model
25. Baldrige Performance Excellence Model
26. EFQM Business Excellence Model
27. Kaplan & Norton Balance Scorecard
28. Xerox Benchmarking Model
CONTENTS OF IT FRAMEWORKS
1. IT Infrastructure Library (ITIL) Model
2. ISO/IEC 20000 IT Service Management Model
3. ISO/IEC 27000 Information Security Management Systems Model
4. COBIT 5 Model
5. Capability Maturity Model Integration (CMMI)
6. People Capability Maturity Model (PCMM)
7. ISO/IEC 15504 (SPICE)
8. Organizational Project Management Maturity Model (OPM3)
9. Portfolio, Programme, Project Management Maturity Model (P3M3)
10. Portfolio, Programme, Project Office Model (P3O)
11. PRINCE2 Project Management Model
12. IDEAL Model
13. Waterfall Model
14. Agile Model
15. Scrum Model
16. Enterprise Data Architecture Models
17. COPC-2000 Model
18. Lean Levers for IT Outsourcing
19. Cause & Effect Diagram ( Fishbone Diagram, Ishikawa Diagram)
20. DMAIC Process Improvement Model (Six Sigma)
21. ISO 9001 Quality Management Model
22. Malcolm Baldrige Performance Excellence Model
23. EFQM Business Excellence Model
24. Balanced Scorecard
25. Xerox Benchmarking Model
26. SERVQUAL Model
27. ADKAR Model
28. Kotter Change Management Model
Subscribe to our Newsletter

PowerPointing Templates

Error: Twitter did not respond. Please wait a few minutes and refresh this page.