Currently viewing the tag: "lean management"
Lean Management plays a significant role in putting in place processes, capabilities, and tools to improve how businesses operate. But, the
Digital Age has increased both the opportunities for businesses who know how to react and the difficulty of getting it right.
Tasks performed by humans are now more complex be it accessing information in multiple formats from multiple sources or responding to changing market and customer dynamics at an ever-increasing speed. As an increasing number of tasks become automated or taken over by cognitive-intelligence capabilities, companies need to learn from lean management. Like a sprinter who needs all her muscles to be finely tuned and working in concert to reach top speeds, fast-moving institutions must have a system to continually synchronize strategies, activities, performance, and health.
Many organizations understand the need to change how they work and have embarked on numerous initiatives, yet few have been able to get beyond isolated success cases or marginal benefits. Most companies recognize the need for a Next-gen Operating Model to drive their business forward their Digital Transformation initiatives. But, how they develop it makes a big difference.
The Next-gen Operating Model
There are 4 core pillars of a Next-gen Operating Model. Putting these in place will ensure its successful implementation.
Autonomous, Cross-functional Teams. The first pillar is focused on empowering the team to own products, services, or journeys. Having autonomous, cross-functional teams, organizations can become nimble in building skills across their teams. They make anchor hires for key roles, set up rotational and train the trainer programs, and commit to ongoing capability building and training for key roles.
Flexible, Modular Platform. The second pillar is focused o supporting a faster deployment of products and services. Having Flexible, Modular Platforms will enable technology teams to better collaborate with business leaders in assessing which systems need to move faster.
Connected Management System. The third pillar focuses on driving a culture of continuous improvement that cemented on customer needs. A Connected Management System will ensure that Management systems are evolving to create feedback mechanisms with and between various operations and teams.
Agile, Customer-centric Culture. The fourth pillar is focused on speed and execution over perfection. Having an Agile, Customer-centric Culture is critical to success. It leads the change from the top and builds new ways of working across organizational boundaries. When functions and teams collaborate, effective time to market to reduced as well as operational risk.
The path to building up the Next-gen Operating Model follows well-defined approaches to guide organizations. These approaches will be every organization's guide to operating model transformation during the first 12 months.
Following the 4 Critical Approaches to Operating Model Transformation
The 4 critical Approaches to Operating Model Transformation works well when there is a broad and top-down organizational mandate for change. Before anything else, organizations must make sure that the change mandate is in place so that the entire organization is aligned with the proposed change.
One of the 4 Critical Approaches is the Innovation Lab. The Innovation Lab is a dedicated unit set up to be entirely separate from the historical culture, decision-making bureaucracy, and technical infrastructure of the main business. It hatches new business models in an informal setting. It is best used when there is a need to move very quickly in response to market pressures.
Mastering these various approaches will enable organizations to better go through the Operating Model Transformation in the most effective way to achieve Operational Excellence.
Interested in gaining more understanding of Operating Model Transformation? You can learn more and download an editable PowerPoint about Digital Transformation: Operating Model Transformation here on the Flevy documents marketplace.
Are you a management consultant?
You can download this and hundreds of other consulting frameworks and consulting training guides from the FlevyPro library.
As the last decisive step in customer service, a warehouse ensures cost effective distribution.  Latest technological innovation has turned warehousing into a competitive advantage.  It offers untapped potential for improvement. However, warehousing is a hugely neglected part of global supply chains.  There is inconsistency in picking, packing and shipping orders, storing receipts, and managing inventory and logistics operations.
These and the following roadblocks in the way of smooth warehousing operations and Lean Management exist in every traditional warehouse:
Lack of focus on acquiring technology to facilitate in improving efficiency and quality.
Inability to utilize a structured approach to ascertain the reasons for poor performance.
Lack of a big picture viewpoint pertaining to processes, costs, or external supply chain partnerships.
Absence of a continuous improvement culture to achieve warehouse operations excellence.
Lack of communication, organization, and proper training of resources.
These shortcomings call for implementing Lean Warehousing methodology to unlock improvement opportunities and savings in operational, efficiency, and maintenance related costs.  First initiated by Toyota, the Lean Warehousing approach has a deep emphasis on eliminating 3 basic limitations: waste, variability, and inflexibility. The Lean Warehousing methodology focuses on the following 3 improvement areas:
Cost Reduction
Customer Quality
Service Levels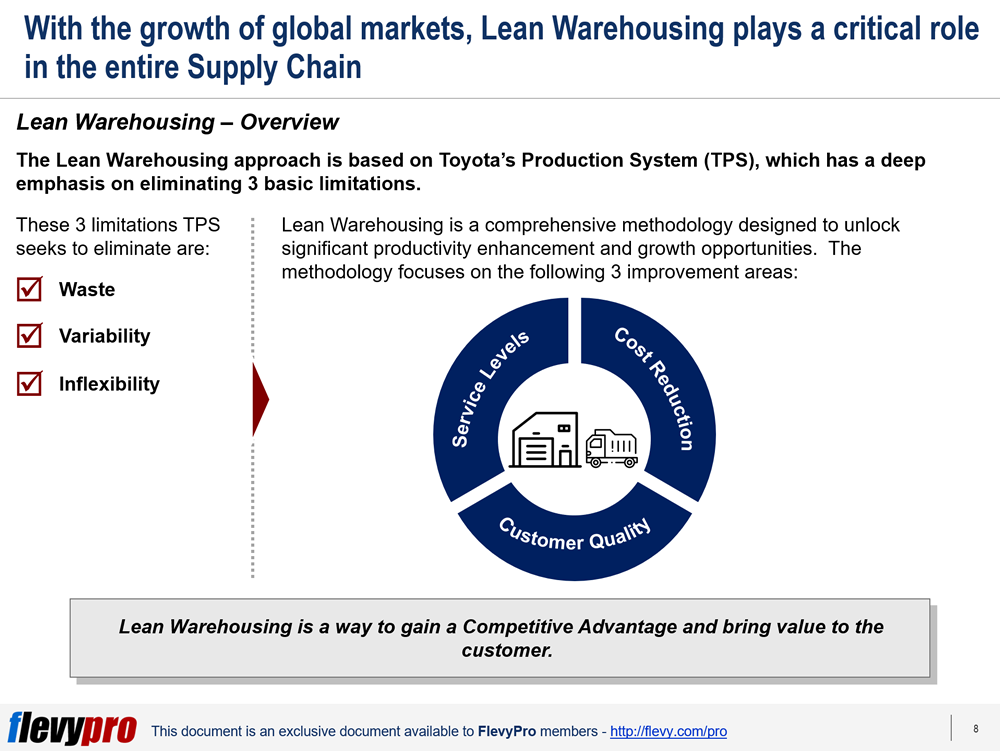 Cost Reduction
The Lean Warehousing methodology concentrates on increasing productivity and reducing operating costs.  This is achieved by:
Cutting undue walking and searching
Preventing needless replenishment, reworks, waiting times, and double handling
Upgrading demand and capacity planning and manpower allocation
Customer Quality
A Lean Warehouse seeks to take the customer quality to the next level by avoiding:
Order deviations
Picking errors
Damaged goods
Service Levels
Improving service levels is at the center of a Lean Warehousing methodology, which involves:
Reducing lead times
Enhancing on-shelf availability
Lean Warehousing Transformation

Lean Warehousing Transformation entails streamlining operations to identify waste, know how to increase service levels, implement standardization and innovative ideas, and learn to evaluate and manage performance.  Such transformation becomes a reality in an experiential learning environment and by developing organizational capabilities in 3 critical areas:
Operating System
Management Infrastructure
Mindset and Behaviors
Operating System
The organizational capability to configure and optimize all company physical assets and resources to create value and minimize losses.  The focus areas under operating systems include eradicating variability, encouraging flexibility, and promoting end-to-end design.
Management Infrastructure                                                                   
The organizational capability to strengthen formal structures, processes, and systems necessary to manage the operating system to achieve business goals.  The focus areas under Management Infrastructure are performance management, organizational design, capability building, and functional support process.
Mindset and Behaviors
The organizational capability to manage the way people think, feel, and act in the workplace individually as well as collectively.  The target areas to focus on here include a compelling purpose, collaborative execution, up-to-date skills, drive to improve, and committed leadership.
Model Warehouse Implementation
Lean Warehousing Transformation necessitates developing a "Model Warehouse," which presents facilities for supply chain people to practically experience state-of-the-art warehouse operations in a modern warehouse and shop-floor environment.  The Model Warehouse incorporates newest technology and systems, and offers real-life conditions for building capabilities—i.e., optimization of storage, pick and pack, and dispatch processes.  Newest technologies—e.g., Smart Glasses and HoloLenses—available at the facility help improve the performance of pickers significantly and execute multi-order picking efficiently.
Such a setting allows people to observe and analyze the performance of an exemplary warehouse and implement this knowledge at their own premises.  Leading organizations organize a week-long rigorous knowledge sharing workshop—in an experiential learning environment of a Model Warehouse—for their people to have a hands-on experience to learn Lean Warehousing, actual picking, packing, root cause analysis, and performance management.  The participants of the Model Warehouse Knowledge Sharing Workshop are excellent candidates for "change agents" to implement Lean Transformation.
Interested in learning more about Lean Warehousing, Model Warehouse Implementation, and Lean Warehousing Transformation?  You can download an editable PowerPoint on Lean Warehousing Transformation here on the Flevy documents marketplace.
Are you a Management Consultant?
You can download this and hundreds of other consulting frameworks and consulting training guides from the FlevyPro library.
This week, LearnPPT added a new section to their site: Operational Excellence.
What exactly is Operational Excellence?
Operational Excellence is a set of business principles, tools, and frameworks aimed to achieving sustainable improvement of key performance metrics. Much of this management philosophy is based on continuous improvement methodologies, such as Lean Management (or Lean Enterprise), Six Sigma, Kaizen, Hoshin Kanri, 5S Workplace Productivity, and PDCA. The focus of Operational Excellence goes beyond the traditional event-based model of improvement toward a long-term change in organizational culture.
The page is currently divided into 4 main sections:
Questions, thoughts, concerns?  Go to my site (learnppt.com) and shoot me an email.
For other business frameworks, visit our library of consulting-quality business frameworks and methodologies here: http://learnppt.com/powerpoint/frameworks/.  These diagrams were professionally designed by management consultants. Give your presentations the look and feel of a final product made by McKinsey, BCG, Bain, Booz Allen, Deloitte, or any of the top consulting firms.
Subscribe to our Newsletter

PowerPointing Templates

Error: Twitter did not respond. Please wait a few minutes and refresh this page.